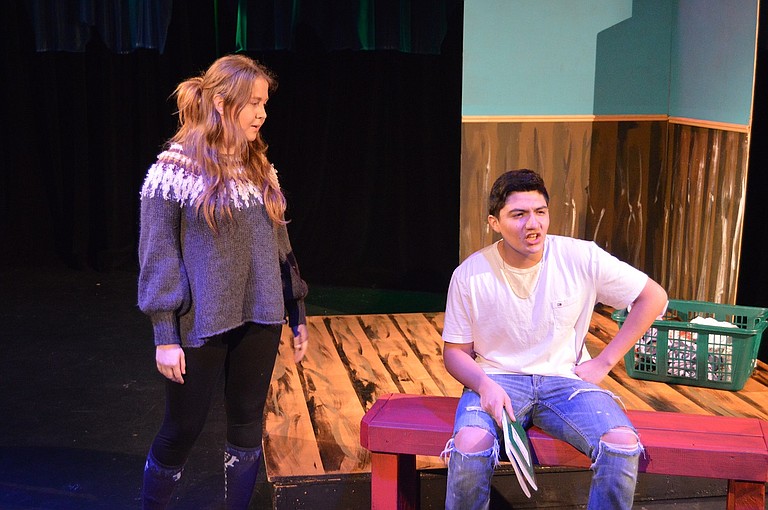 Wednesday, April 12, 2017
Hood River Valley High School theater students have always had two performances a year: the fall musical and the winter play. Until this year, when a second winter play was added to the schedule.
The first, "She Kills Monsters," which ran in March, was a huge production involving complex fight and dance scenes, costumes and characters. The second, "Almost, Maine," debuts this weekend at Columbia Center for the Arts — another first for the program — and is "Monsters" opposite.
The set is simple, as are the wintery costumes. The theater space makes you feel like you're standing next to the characters, watching them explore various themes of love.
"Almost, Maine" is a series of vignettes involving two and sometimes three characters, all in the same small town of Almost during the Aurora Borealis. These are stories of love lost and found, mysterious and settled, heartwarming and heartbreaking.
"Like a small town, each scene is a story unto itself, with connections to all other scenes in the play," said Director Rachel Harry, longtime HRVHS theater arts teacher. "The compassion of the playwright (John Cariani) to his characters reminds me of Thornton Wilder … The play is hilarious and poignant all at the same time."
Harry decided to put on two winter plays this year because many of her students will be graduating this spring.
"I … have 21 seniors leaving this year," she writes in her director's notes. "Twenty-one! Twenty-one beautiful, talented, wonderful actors that I will miss dearly. For various reasons, some of them could not do 'She Kills Monsters,' so it seemed I was fated to do both plays."
Several of the actors from "Monsters" are in "Almost," and worked on both productions simultaneously, meeting privately with Harry to work on characterization and blocking. The more experienced actors, she said, worked with younger actors on advanced acting theory to help create convincing characters.
"This is more intense work in some respects, as the size of the venue is more intimate," she noted of the art center's theater space. "Gestures are more subtle than what one uses in the Bowe, and there is less projection of action."
She had 22 actors cast for "Almost, Maine," but only 21 roles, so she enlisted HRVHS theater alum Cayla Sacre, who is studying playwriting at Chapman University, to write a scene "in the spirit of the play," Harry said. Audiences will have a hard time distinguishing between Sacre's scene and Cariani's; the notation in the playbill is the only hint, so well does it mesh with the story.
A constant throughout is the Aurora Borealis, which casts a "magical spell" over each vignette. "I grew up having my dinners eaten outside at the picnic table when these special lights occurred," Harry said, who was raised in northern Wisconsin. "As a child, I felt both the amazing sense of being the center of my parents' universe as well as tiny and inconsequential in the presence of the brilliant dancing night sky. Cariani … captures this same duality in his writing.
"I appreciate the way the playwright weaves this magical aspect of our universe into the common but oh so uncommon story of love," she said.
The play has been described as "Thornton Wilder crossed with The Twilight Zone" and "An excellent date play." Ultimately, audiences will "fall in love with the characters, rooting for each one to find what he or she is searching for," said Harry.
TICKETS AND TIMES
"Almost, Maine" will run at the Columbia Center for the Arts at 7 p.m. April 14-15, with a 2 p.m. matinee on April 15. Tickets are $20 for adults and $15 for students and seniors.
Advanced tickets are available at Waucoma Bookstore or in the gallery; whether purchased ahead of time or at the door, cash and check only are accepted.
Cast: Vicente Calderon, Westlake Cannon, Thomas Lovejoy, Ami Santillian, Alex Gamez, Nathan Daniel, Jasper Krehbiel, Bayly Stevens, Aidan Tappert, Sam Hannigan, Matt McCravey, Cooper Case, Savannah Rogan, Ann Marie Goodman, Katelyn McAllister, Emily Spezia-Shwiff, Lauren Church, Emma Dexter, Anna Ticknor, Lucy Fine, Sara Zeman and Cathryn Kellett.
Crew: Rachel Harry, Paul Hargrave, Matilda Kahler, Sullivan Cannon, Skyler Maden, Zach Amsberry, Zack Barbour, Kathy Peldyak and Olivia Acosta.
•
Next up for HRVHS: Student Directed One-Acts Festival April 28-29 at 7 p.m. in the Bowe Theater. The event is free, but donations will be gladly accepted.