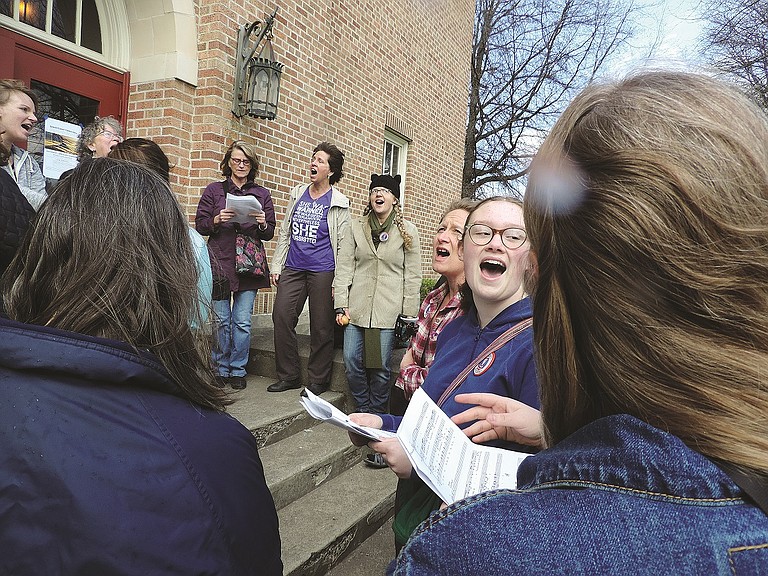 Wednesday, April 12, 2017
He wasn't there to hear, but Gorge residents had plenty to say to Rep. Greg Walden.
Saturday's citizen town hall, with more than 200 people in attendance, engendered plenty of questions and statements about health care, immigration and global warming, along with comments about Walden's overall record and engagement to the community. In addition to verbal questions, attendees also wrote down questions to be submitted to Walden.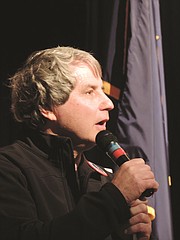 "You call yourself a policy guy. But you've turned into a political guy, and there is this whole different Greg Walden in Washington, D.C., guy," said Guy Tauscher of Hood River, who was among many to challenge Walden over the topic of ill-fated Republican efforts to repeal the Affordable Care Act.
"How can you call (the GOP proposal) a 'Better Way'?" Tauscher asked, invoking a common question: "It is not a better way if people lose health care."
A videotape was made of the 90-minute session at Hood River Middle School auditorium, which is where Walden will appear today at 3 p.m. (story on page A1) for a town hall. The organizers of the Saturday event had invited Walden in March, but he declined, stating he had scheduling conflicts.
Organizer Bonnie New said a digital copy of the video and scans of all written questions will be presented to Walden at today's town hall.
"We want more bipartisanship and less finger pointing and posturing in D.C.," said Rusty Whitney of Wamic.
A call for "single payer health (insurance system), and Medicaid for all" drew the largest applause of the day. One speaker pointed out to Walden that nearly 90,000 Dist. 2 residents stand to lose health insurance.
Rick Davis of The Dalles asked Walden to state whether or not he is part of new conversations with the GOP Freedom Caucus to revive the Trump administration's abortive health care plan.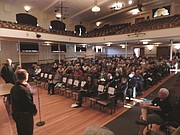 "You don't serve Donald Trump or Paul Ryan, you serve those of us in District 2," one speaker said.
"You're serving your party rather than your constituents," said John Schwartz of The Dalles, one of 12 speakers from Wasco County. (Only District 2 residents were allowed to ask questions.)
Schwartz, a doctor, called on Walden to heed the 71 percent of District 2 residents who in a recent poll said they support federal funds being used to study climate change.
Schwartz said, "Ninety-seven percent of scientists are on record that climate change is human-caused, yet Donald Trump has said global warming is a hoax. Would you prefer that I, as a doctor, not treat you with best available evidence? I ask you to denounce Donald Trump's suicide course on global warming."
Issues raised also included federal land policy, press freedom, the military budget, and environmental regulations.
"You are aligned with an administration dedicated to taking away (environmental) regulations intended to protect us," said Dr. John Nelson of The Dalles. "What are your priorities? In what way can you defend policies that do not benefit the health and welfare of your district?"
Questions on Saturday were voiced from a microphone at the front of the auditorium, while a chair with the placard "Greg Walden" sat on stage.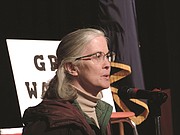 One speaker, Becky Rawson, turned and spoke directly to the chair on the subject of how families, and the economy, are affected by the Trump administration's heightened immigration enforcement.
"If people are coming to this country and wanting to make a difference, they deserve to be given a hand," Rawson said.
It was a common theme for the afternoon.
"When will you act and call for a moratorium on ICE incursions?" asked Mark Reynolds of Odell.
Several speakers took Walden to task over federal immigration law, including Hood River Valley High School senior Morgan Totten (statement below) and HRVHS teacher Nan Noteboom.
"Why have you not joined in supporting the bipartisan Bridge Act, which extends DACA protections for people brought here as children?" asked Noteboom.
"Donald Trump claimed that his deportation target would be 2-3 million undocumented criminals — people who are convicted of or wanted for serious crimes. But ICE, under his directions, has detained many people outside this target, including Dreamers, or young people protected under DACA. Do you support these deportations, yes or no? If you do, shame on you. Do you also condone Trump's lie about these actions? If you don't why have you not spoken publicly against them?"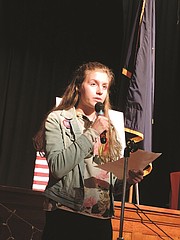 Jenny Ouzonian told Walden, "Your supporting this administration angers and scares me more than I have ever been afraid in my 61 years."
Morgan Totten read this statement from a fellow HRVHS senior:
"Every day I see my dad come home from working all day in the orchards. During peak season my mom drops off my baby sister at my aunt's house to sort fruit in the packing house. My parents are the hardest working people I know. They pay taxes, own their own home, and would never intentionally break the law. The love the United Sates, and they love their family. But they are undocumented. They came here for a better life, and they brought me along. I'm lucky. I have DACA, my little brother was born here, and my baby sister was born here. This is my family, and this is my country. But many people think we don't belong here. They just label us as criminals, anchor babies, aliens. Yes, my parents came from another country, but we really are Americans ..."
I Can't Keep Quiet singers at "Citizen Town Hall"