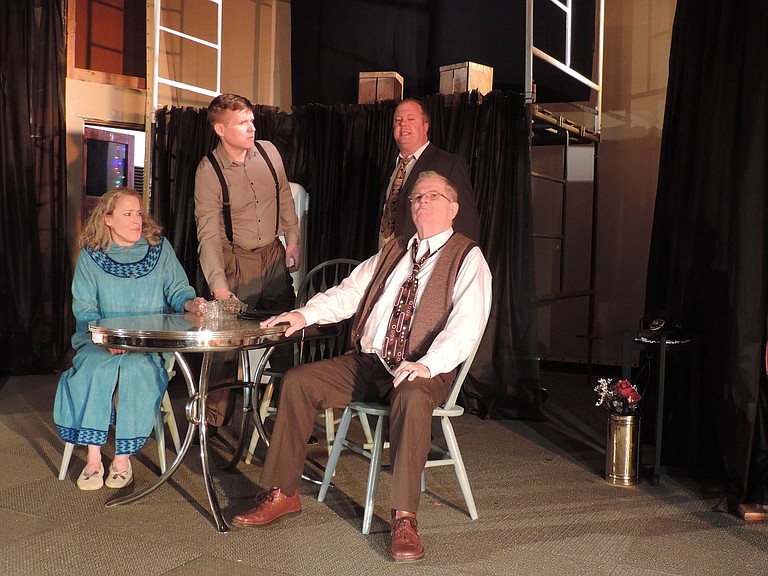 Wednesday, April 12, 2017
Willy Loman's troubles come down to this: "A man can't go out the way he came in, Ben, a man has got to add up to something." So Willy says to his brother in "Death of a Salesman," opening Thursday at Bingen Theater in Bingen, Wash., a production of Columbia Gorge Orchestra Association. Arthur Miller wrote the Pulitzer Prize-winning tragedy, which premiered in 1949.
Director Deborah Langlois notes, "'Death of a Salesman' is one of the most powerful theater experiences, because it embraces our inner core of universal truths. Willy Loman, an iconic character of the American stage, is a tragic hero, one who is ready to lay down his life, if need be, to secure one thing — his sense of personal dignity. In this respect, Willy lives in all of us."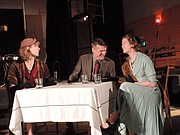 "Death of a Salesman" gives away its ending in the very title, but consider the rarely-mentioned subtitle Arthur Miller gave to his classic tragedy: "Certain Private Conversations in Two Acts And A Requiem."
"I still feel — kind of temporary about myself," Willy says, in a moment when he grasps at a calm way to wrangle his ugly, even violent, truths.
Penguin's notes on it say it is a play that compresses epic extremes of humor and anguish, promise and loss, between the four walls of an American living room.
Four walls being a loose allegory, though: Willy's visits to the garden outside, and to look up at the moon and stars, are critical motifs.
"I've got to get some seeds, right away. Nothing's planted. I don't have a thing in the ground." Willy, in one of his frequent reveries mixing past and present, needs to know he left something behind as he reels from the knowledge that he is a failure, and so are his sons. Biff, the older son, is portrayed by David Dye; Happy, the younger son, is played by Erik Lundby.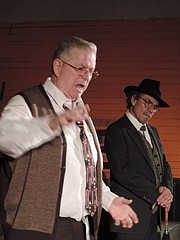 Tom Burns slumps and rails through a play he has loved and prepared to do for years. He brings a pained bonhomie to the role, just as he did three years ago as Joe Keller in "All My Sons," another Miller tragedy involving a disillusioned, doomed father figure and estranged male offspring.
"Will you take that phony dream and burn it before something happens?" cries Biff.
Willy is a man of contradictions who may or may not realize that is so; in the space of one conversation he calls the Chevrolet the greatest car ever made and then says, "They ought to prohibit the manufacture of that car!"
"I'm very well-liked in Hartford," he says, then adds, "You know, Linda, the trouble is, people don't seem to take to me."
This is a vital point on the Loman compass: "Because the man who makes an appearance in the business world, the man who creates personal interest, is the man who gets ahead. Be liked and you will never want."
The hollowness of Willy's existence is seen in his line, "It's not what you say but how you say it — because personality always wins the day."
Quoting the stage directions when Willy admits he talks too much, he says, "What the hell, life is short." (A smile.) "A couple of jokes." (To himself) "I joke too much." (The smile goes.)
Kathleen Morrow plays Willy's staunchest ally, his wife, Linda, who endures his anger and infidelity.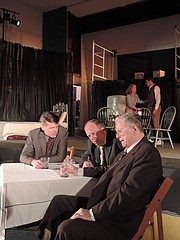 "Willy Loman never made a lot of money. His name was never in the papers. He's not the finest character that ever lived," she tells her sons. "But he's a human being, and a terrible thing is happening to him. So attention must be paid. He's not to be allowed to fall into his grave like an old dog."
A motif that circles around the play like a bad memory is that of his brother, Ben (Dennis Castanares), who found success in Alaska and Africa, who went into the jungle and found diamonds and came out rich. The jungle is symbolic of life, and diamonds of success. As Willy's life is crashing down around him, he says, "The woods are burning! I can't drive a car!" The CGOA production poster invokes this line, with Willy standing in front of a wall of flames.
Langlois said, "This Pulitzer Prize winning play is timeless, thereby making it a classic in the American theater. It not only embodies the loss of an American Dream, its inherent message that lying destroys a family also mirrors our political landscape in this historical time filled with uncertainties and untruths."
One of his sons tells Willy, "We never told the truth for 10 minutes in this house."
In 1998, playwright Miller stated in an interview that "Drama, any theater, is a manifestly, preeminently public art which exists in historical time. It prospers when the evolution of a society has reached a certain point. But we know politics is embedded in every work of significance. The politics of America is implicit in the whole of Death of a Salesman. The salesman is close to being the universal occupation of contemporary society — not only in America, but everywhere. Everybody is selling and everything is for sale." (Colby H. Kullman)
TICKETS AND TIMES
April 13-15, and 20- 22 at 7:30 p.m. and April 23 at 2 p.m.
Tickets are $15 for adults and $10 students, at the door or at gorgeorchestra.org.
Also in the cast: Jason Carpenter as Howard; Hugh Amick as Charley; Brenda Hering as The Woman; Matt Rankin as Stanley; Dana Ticknor as Jenny and Amy Courtney as Miss Forsythe and Letta.
Credits:
Music Composer, Mark Steighner; Stage Managers / Prop Masters, Adrian Chaton/Dell Charity/Kathy Williams; Set Construction, Howard McBain, Tom Butler, Peter Tappert, Douglas Hawksworth; Lighting Designer, Charlie Mortensen; Sound Designer, Dennis Castanares; Sound, William Thayer-Daugherty; Poster Designer, Mark Steighner; Program, Hugh Amick; Langlois thanked Columbia Gorge Orchestra Association, theater owner Rod Krehbiel, Glenn Wood, Antiques & Oddities, Dell Charity, Lisa Roth, Ian Sitton, Dave Adams, Kim Robichaud, Jim Oates, Mark Kendrick, Edward Langlois, Peter Witham, and Erik Lundby.