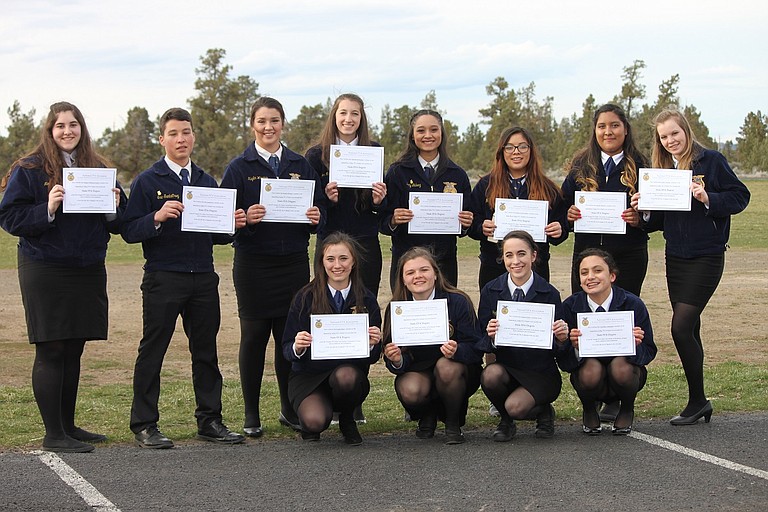 Wednesday, April 12, 2017
Gaby Santa Cruz, of the Hood River Valley High School FFA Chapter, was elected to serve the Oregon FFA Association at the Oregon FFA State Convention in Redmond on March 24-27.
Also at the state FFA Convention, Courtney Castaneda placed first in the FFA Talent Competition. Castaneda won the competition completing a tap dance routine to "Man I Feel Like a Woman" by Shania Twain.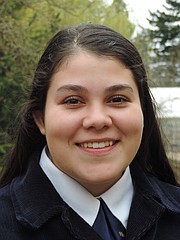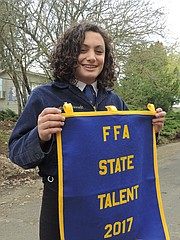 Santa Cruz, a senior, is one of six state FFA officers for the 2017-18 school year. Santa Cruz emerged from 48 hours of interviews and mock situations as one of 10 high school seniors for the six state officer positions. The Nominating Committee, which conducted the interviews, slated Santa Cruz at the Sentinel officer position, the office to which she was eventually elected.
Santa Cruz is the first Hood River Valley FFA member to be elected to State Office since 2002. She served the Mt. Hood FFA District president and the HRV FFA chapter president for this past year.
Santa Cruz said, "This is an amazing opportunity for me to serve Oregon FFA for this next year. I am excited to meet new FFA members from across the state and to learn about their FFA story."

She added, "I would like to thank my agriculture teachers and family for their support throughout my journey leading up to being elected as a state FFA officer. Without their support, I would not have been able to accomplish my goal of serving Oregon FFA."
Santa Cruz will spend the next 12 months, together with her state officer team, traveling throughout the state visiting FFA Chapters, conducting leadership tours, facilitating leadership camps, and representing Oregon FFA to industry partners.

With her talent show win, Castaneda earned the right to audition for the National FFA Talent competition in Indianapolis, Ind., in October.
"It was a fun experience to use the skill I have been developing from an early age. I am excited to audition for the National FFA Convention," Castaneda said.
Hood River Valley also sent 14 FFA members to receive their State FFA degree at the convention. Fourteen was the highest number from any one FFA Chapter receiving their degree this year and a record for the HRV FFA Chapter. Typically, about 2 percent of the state FFA membership earn their State degree in any year. HRVHS has 125 FFA members, making the percentage of state degree recipients over 11 percent.