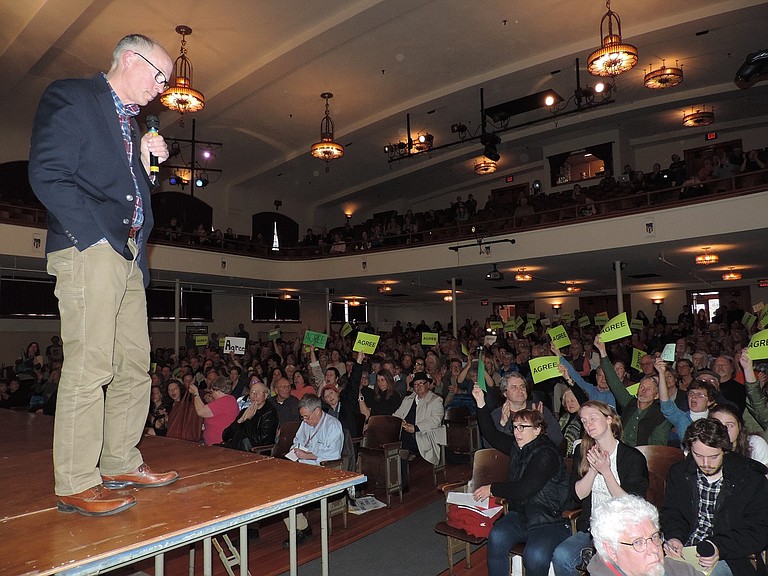 Originally published April 15, 2017 at midnight, updated April 15, 2017 at midnight
Rep. Greg Walden's hometown audience held back nothing during a tense town hall meeting at Hood River Middle School Wednesday.
A crowd of about 800 packed the school auditorium, several dozen of whom were waving "disagree" and "don't deflect" signs as the Oregon Republican fielded an array of pointed questions and demands for two hours. Brian Schultz of Mt. Hood printed up and handed out the signs.
Voices rang out decrying Walden's stance on health care, immigration, climate change, and President Donald Trump's leadership.
"I'm here to listen to you," Walden said at the outset. "Normally, I would give you an update on what we're working on and all, but I know you've come wanting to share comments and that's why I'm here."
Walden represents the 20-county Second District, which spans central, southern and eastern Oregon.
The town hall followed a similarly rowdy meeting in The Dalles Wednesday morning, which drew about 500 people.
It was Walden's first formal appearance in Hood River since House Republicans' failed effort in March to repeal and replace the Affordable Care Act passed under former President Barack Obama. The overhaul plan died due to lack of consensus among GOP leaders.
Walden pointed to popular health care concepts he supports, such as protections for pre-existing conditions, removing lifetime caps, and patients staying on parents' health plans until age 26.
However, he called for GOP reform efforts to continue: "The (insurance) exchanges aren't working right."
Walden, Oregon's only Congressional Republican, chairs the influential House Energy and Commerce Committee that oversees health care.
Leading up to his Gorge public sessions, the legislator came under scrutiny for what critics said is a lack of response to their concerns and inquiries. Comments flooded in from Hood River and beyond.
Walden said his office received almost 2,000 messages from Hood River County this year and responded to about 1,755.
The Hood River event served as a civics lesson, as eighth graders at the middle school sat in the balcony for part of the meeting. Walden also fielded questions from several high school and middle school students on issues including Syria and immigration.
Hood River Valley High School students presented Walden with a star-spangled box full of 108 comments gathered at a constituent's town hall last Saturday at the same location. Advocacy groups scheduled that meeting prior to Walden's staff announcing his official town hall, but he did not attend.
He met a highly vocal crowd at Wednesday's public session. Attendees sometimes applauded his points but more frequently cried out against them.
On Walden's support for Trump's order to bomb a Syrian airport, and his backing of Supreme Court Justice Neil Gorsuch, he drew loud booing.
Walden met interjecting comments off and on throughout the event. He tried cooling tempers by urging the crowd to do things the "Oregon way," and joked that they were acting "like Congress." His attempts didn't quell the hostility.
On climate change and energy policy, audience members claimed Walden hasn't done enough to address the issue.
"Your record is not great in this department. I would like to have a stronger dialogue with you given all the work we're putting in locally," said Becky Brun, a Hood River City Council member who has spearheaded local energy initiatives.
Brun asked if Walden believed humans contribute to climate change and Walden agreed that "in part, we have to be a contributing factor to it," and said he supported certain renewable energy initiatives.
A student question, echoed by adults, tackled Walden's immigration policies. The Representative opened the topic by honoring America's immigrant heritage, prompting applause.
"Unless you're Native American, we're all immigrants one way or another. The great strength of our country is that we are and that we come together, and no country allows more people in legally than the United States," he said.
He then stressed border security concerns. "But I tell you what, there are enormous backlogs of people who are seeking to come in legally. There are other issues relative to security of the border; we've got to fix it all," Walden said.
He met recently in Washington with Northwest fruit growers such as Parkdale orchardist Mike McCarthy, Walden said, and relayed their worries about migrant workforce reform. "We have a bigger problem to deal with in immigration than we have in Hood River," Walden said. "I think we need comprehensive immigration reform (and) border security and I conveyed that to the president."
But challenges continued.
"We are not criminals," Graciela Gomez said, rebuking Immigrations Customs Enforcement deportation policies affecting Latino populations. "What are you doing for the immigrant peoples?"
Walden called for general legislative fixes.
"As I said before, I think we need immigration reform. It's time for Congress to act to resolve these issues. There are actually people working on this right now who have jurisdiction on the judiciary committee. I'm just telling you what I know," Walden said.
Pressed on ICE, he said that enforcing laws against violent crimes should be the agency's top priority and "I don't control ICE."
Someone took Walden to task for supporting Trump's plan to build a wall on the Mexican border.
Walden gave a multi-tiered answer. He referred back to the 2006 Secure Fence Act that authorized building roughly 700 miles of wall and fencing. He advocated for a mix of security measures, such as a wall in some places, and aerial and boat patrols in others.
On Trump, Gwen Thomas asked, "Please explain to us and especially the remaining students in the audience why you remain silent as Trump makes dehumanizing and threatening remarks about immigrants and women?"
Walden said he spoke out against Trump's Muslim immigration ban and Trump's taped "Billy Bush" boasts about sexually abusing women. But he supported Trump and opposed Hillary Clinton's bid for presidency.
"I represent the entire second district; not everybody feels the (same way)," Walden said. "I get that 31 percent of people here (Hood River County) voted for Trump. He carried every other county by a total of 20 percent."
An audience member called out that Trump is "a pig."
"I don't think we should call our president a pig, and I don't think he should call people by names," Walden said. "I don't think it works well for any one of us."
Walden praised the community for airing their concerns. "I'm glad your children are here to observe how democracy works. It can be aggressive at times and that's okay, because we do respect each other … when we have differences of opinion."
As the Congressman stepped offstage, some people applauded while others continued volleying questions.