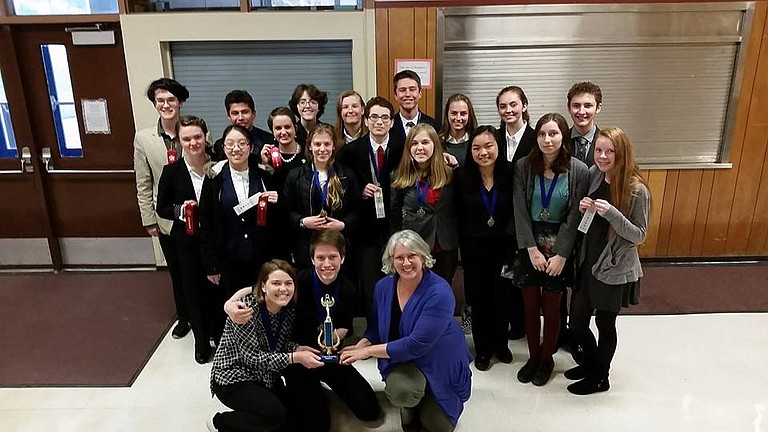 The Hood River Valley High School Speech and Debate Team won its district tournament April 5-6.
They traveled to Halfway, Ore., for the State Qualifier tournament, competing against teams from Pendleton, Monument, and the Pine Eagle Charter School.
First places went to Mason Leavitt in both Radio Commentary and Extemporaneous Speaking, Ruby Patterson in both Poetry and Original Oratory, Soren Rajani in Lincoln-Douglas Debate, Amy Webber Humorous Interpretation, Erick Lizama in Impromptu, Lillian Ontiveros in After Dinner Speaking, and Lillie Tomlinson in Dramatic Interpretation.
Audrey Schlemmer took second in both Humorous Interpretation and Impromptu, Douglas Asai in both Extemporaneous Speaking and Lincoln-Douglas Debate, Grace Skakel in Original Oratory, Sarah Wang for Expository Speaking, and Sofie Larsen-Teskey for Prose.
CJ Thorp took third in Original Oratory, Diego Murphy-Mendez in Expository Speaking, Emily Mitchell in Humorous Interpretation, and Isabella Brennan in Poetry.
Sam Bertrand placed fourth in Radio Commentary.
Placing in partner events were Leavitt and Lizama in first in Public Forum Debate, Murphy-Mendez and Lauren Hegemann in first for Duo Interpretation, Skakel and Megan Church in second in Public Forum Debate, and Wang and Hegemann in third place in Parliamentary Debate.