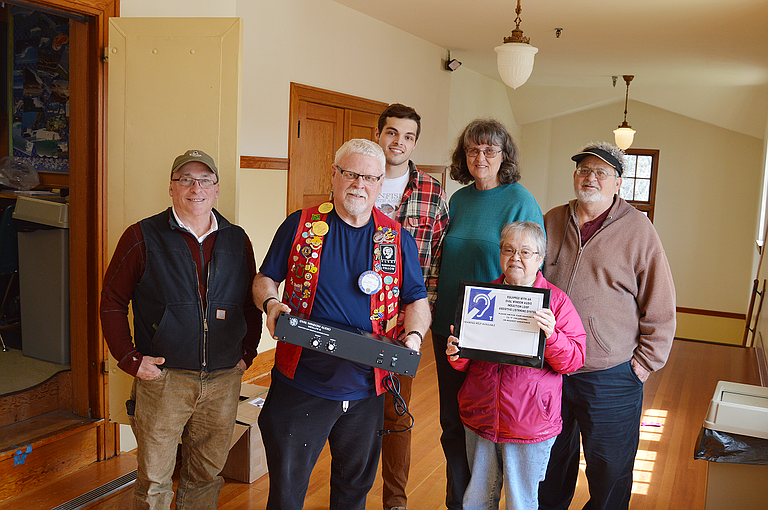 Five members of EyeOpeners Lions Club and one from The Dalles Lions met at Hood River Middle School on Thursday to install a special piece of equipment in the historic auditorium's lower level.
They were there to put in a hearing loop system — an induction system using a magnetic field to send sound directly to a hearing aid's telecoil, turning it into a wireless speaker — just in time for the annual Lions Follies production, which opens next weekend, April 21-23.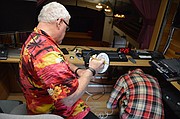 Leonard Hickman, project coordinator, was joined by Erma Hickman, Trudy Tallman, Bill Huff and Chad Tyler from Hood River and Tim McGlothlin from The Dalles. McGlothlin has been setting up the systems locally, free of charge, said Hickman, for clubs who purchase the materials. It took the EyeOpeners a year to go from the planning stages to installation. Funds for the nearly $1,000 project came from community projects such as Families in the Park dinners and working at the Western Antique Aeroplane & Automobile Museum Fly-In.
"We got the idea last March at the district convention in The Dalles — there was a speaker giving a session on hearing loops," explained Tallman. Some members knew how well it worked from experience, having seen it in action at Valley Christian, who installed a system during their big remodel a couple of years ago, she said. With Lions clubs celebrating 100 years in 2017, there's a push for "legacy projects" — long-lasting gifts to the community that make a difference — and EyeOpeners felt this achieved that mission.
HRMS was chosen, said Hickman, because it's the site of the annual Follies production, one of the club's major fundraisers each year.