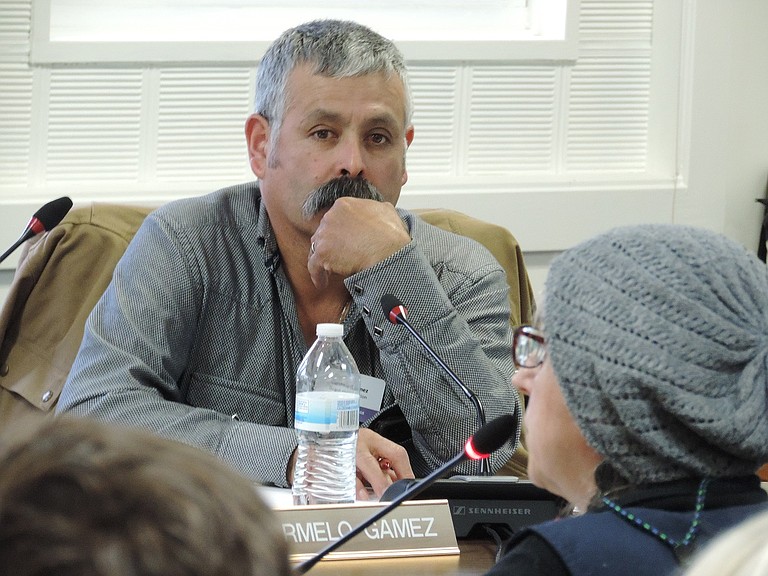 Originally published April 19, 2017 at midnight, updated April 19, 2017 at midnight
You cannot learn when you are afraid.
That was the core message delivered by students, instructors, tutors, and community members to the Columbia Gorge Community College Board of Directors last week in a hearing on the college's proposed resolution on declaring CGCC a Sanctuary College.
"The college motto is 'Building dreams, transforming lives,'" said instructor Dan Ropek. "Think about what that really means: whose lives? Is it just for some people in the community, or for all people?"
Opposing the proposal were two speakers, including Sara Viemeister, CGCC financial aid director, who was concerned about the potential loss of federal funding, including student aid.
Jerry Jones of The Dalles said, "We need to respect the authority the nation has voted in, and to disrespect authority holds some very long ramifications."
Several speakers disputed fears that the college would risk losing financial aid, either because the Donald Trump administration lacked the authority to do so, or would be a protracted process that would have to pass through the courts. Others argued that it was worth it to take a stand and the interest of the college's official standing as Hispanic-serving institution.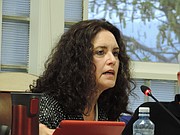 The session was the second conducted by the board on the sanctuary resolution, formally titled "Declaration of Open Access and Protection." The first was held last month in The Dalles. Board Chair Charlotte Arnold said the board wanted to give Hood River County residents the chance to comment. The board plans to make a decision in "a month or two, following a couple more conversations we want to have," Arnold said. The board was scheduled to discuss it at its meeting April 17.
The resolution states, in part, that CGCC "is committed to protection of all of its students including undocumented student immigrants and students who qualify as Deferred Action on Childhood Arrivals (CACA)."
According to the winter 2017 edition of Today's OEA, "from local education associations to school districts, to cities and beyond, educators have rallied to have their districts pass resolutions declaring them sanctuary disticts — places where students and families can feel safe, where schools don't track immigration status or share private information with federal agents, and where teachers and students can do what they're there to do: teach, learn and treat everyone with the respect they deeply deserve." CGCC will continue to be within its legal rights to decline to provide information to assist the federal government with deportation of any of its students, and as a Sanctuary college, it will in no way assist the U.S. Department of Homeland Security and Immigration and Customs Enforcement (ICE) with federal immigration law.
"CGCC will oppose any change in federal law requiring it to aid the federal government in immigration law enforcement and, if necessary, it will seek its own legal counsel in this effort.
"CGCC is committed to the safety and privacy of its students, and as a Sanctuary college, funded by the Family Educational Rights and Privacy Act (FERPA), it will continue to protect all of its students."
After an hour of testimony by 26 people, all but two of whom voiced support for the Sanctuary proposal, Arnold said, "These were incredibly heartfelt and passionate words, from people new to the area and people who have been here as I long as I have been.
"I am extremely grateful, and overwhelmed with appreciation for helping us get clarity for our thoughts," Arnold said.
Speaker after speaker implored the board to adopt the resolution, citing safety and security of students and their families and the message it sends to the community and farther.
"Sanctuary means 'sacred place'" said Ariana Smith. "Millions are dying to find a place to live. Our (U.S.) president has put a tag on people of my culture, calling us rapists, drug dealers and 'bad person.' That makes a lot of you afraid of me and that scares me. Trump is trying to divide us. You have the opportunity to make me feel equal to you, to make me feel like we belong, to say that to thousands of people."
CGCC student Sergio Garcia, a citizen, has a brother who was born in Mexico and he fears could be deported.
"With what's going on he is fearful," Garcia said. "He is afraid of peoples' attitudes, afraid to go to class because of bad things that might happen. Sanctuary is necessary to better ensure safety of students like my brother, who want to meet the American dream, which is go out and do their best."
White Rabbit of Hood River, a CGCC student who had gender reassignment surgery from female to male several years ago, said he is also scared because he has had gender transition.
"Sanctuary is a step in the right direction to help us get rid of that fear. It will help me feel safer in my day to day life," he said.
Mark Newcomb of Hood River pointed to the four pillars revered by the Founding Fathers: bravery, freedom, opportunity, and equality.
"We are here today because three of those pillars are being threatened," said Newcomb, a CGCC student.
"Stand up for what is right for the community and show others by example," he said.
"What I ask is not easy given the constant stream of hate, xenophobia, and racism we are fed daily through multiple sources," said Devon Payne of Hood River. "Acceptance of others or those we deem other is hard. What I ask is hard, what I ask requires courage and critical thought.
"When it comes to institutions of higher education and learning, you should be the champion of this culture of celebration and acceptance, a champion of diversity and inclusion. I urge you to designate CGCC as a sanctuary college. By failing to provide sanctuary space to undocumented students, you jeopardize more than their future — you jeopardize this community's economy, you jeopardize this community's reputation, you jeopardize family security, and you jeopardize the opportunity for the Columbia River Gorge greater area to be a leader and a champion of its Latino community members.
"I want to see my fellow Latino community members feel supported by the greater institutions here. I want them to have every opportunity to not only achieve but excel at whatever they do, with the resources they have available to them right here. Why would my success be linked to theirs? Because all of our successes here are linked to theirs, when diverse populations thrive, our entire community thrives."