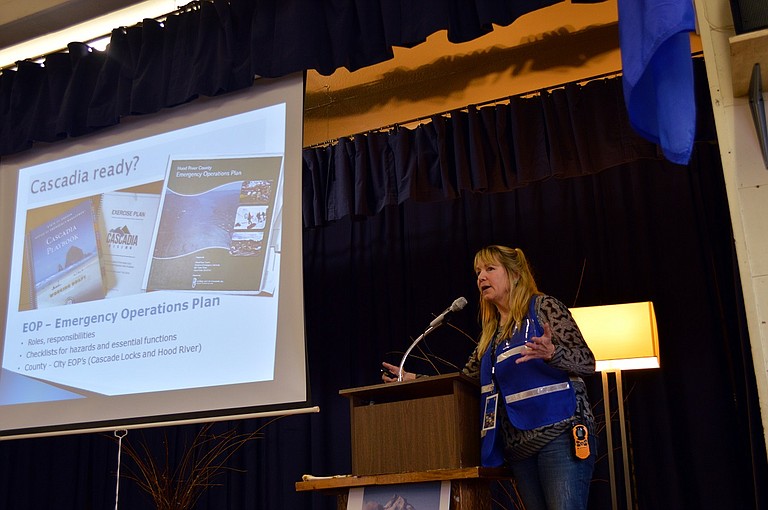 Wednesday, April 26, 2017
Scenes of devastation await Oregon when — not if, according to state emergency officials — the Cascadia Subduction Zone earthquake hits the Pacific Coast, impacting millions.
But a message of confidence overrode fear at "The Big One 2.0," Hood River County Emergency Department's second annual open house, uniting public agencies to inform the community about how they can plan for such a massive disaster.
The well-attended event took over West Side Fire Station and Rockford Grange, with fire crews in the station, as well as health and safety officials at informational booths in the Grange, both upstairs and in the basement.
Participants got to play firefighter or medic for a day, putting out a tiny blaze with a fire extinguisher, or practicing CPR on a dummy. Big rigs and all sorts of tactical gear were on scene for examining.
Fun activities abounded, with valley fire departments grilling up tasty burgers and hotdogs. Smokey Bear and Sparky the fire dog welcomed children, and an interactive model by Pacific Power demonstrated how electrical dangers affect a toy neighborhood and its plastic denizens.
Dr. Althea Rizzo, geological hazards program coordinator for Oregon Office of Emergency Management, gave a keynote speech with an overview of the Cascadia quake and disaster preparation tips, followed by Barb Ayers, Hood River County emergency manager.
"I really want to encourage you … to know that this not something to be fearful about, it is something that you can prepare for," Rizzo said.
Rizzo explained that scientists can't predict when the earthquake will strike; however, based on geologic studies of the past, "There's about a 37 percent chance of this thing happening in the next 50 years and that's pretty high."
She joked, "If the lottery had that kind of rate, I'd be buying a lot more tickets."
Rizzo urged people to prepare for two weeks in a disaster scenario, given the difficulty in obtaining supplies if transportation routes get cut off. For an immediate response to a quake, she proffered the three-part strategy: "Drop, cover and hold on (to something in the room)."
Ayers delved into local endeavors by emergency partnerships.
She discussed last summer's oil train derailment in Mosier and the long winter that prompted Hood River County to seek federal aid for businesses and government agencies suffering from pummeling ice and snow storms. The county activated an emergency operations center for the first time in 20 years.
But the Cascadia quake would be immense in scope of damage and impact.
"Say that Cascadia Quake happens right this second," Ayers said. "We know probably (Interstate) 84 is gone, (Highway) 35 is going to be questionable; both interstate bridges, if they're not in dire straits, are certainly going to be closed for evaluation.
"Let's really band together and get through this," Ayers said, among pointers for joining as a community to make it through disasters.
After speeches, informational booths stayed open until about 8 p.m. for residents to learn more.
Emergency Tips
Emergencies can strike at any time of the year. Flooding, wind storms, earthquakes, fires, and even loss of income from a major accident or illness can be considered an emergency. Experts recommend a two-week plan for disaster scenarios like the Cascadia quake. Here are some tips:
Food Supply
What foods are you going to store? Plan menus, take an inventory of foods that you already have on hand, and then decide how much you will need, based on three elements: variety, balance and moderation.
Where you will store the food? Food will keep longer in a cool, dry, dark location in food-grade containers.
What is your budget? Buy a little extra each time you shop, and you'll soon build up an adequate emergency supply. An average 72-hour supply of food costs about $25 per person.
What resources do you already have on hand? Consider heat sources for cooking in case of power outages. Do you have a wood stove, gas or charcoal barbecue, propane camp stoves, or cookers? Never burn charcoal or propane indoors; the fumes can be toxic.
Cautions
Beware of scams in emergency scenarios. Weigh all pros and cons before buying supplies you don't need to survive. Don't hoard food, but make a food plan part of everyday life.
Foods that store well
Grains and cereals: Breakfast cereal, oatmeal, instant rice, noodle dishes, crackers, pretzels, dried bread, peas, beans, lentils and grains. Loaves of frozen bread.
Vegetables: Canned and dried vegetables, instant mashed potatoes, dried scalloped, Au gratin potatoes, and potato buds. Canned vegetable juices and soup, fresh root vegetables like potatoes, carrots, yams, onions, and squash.
Fruits: Canned and dried fruits, juices, mixes, apples, oranges, and grapefruit (fruits and vegetables will keep in a cool basement, cellar or garage).
Meat/meat alternatives: Peanut butter, canned meat, sausages, chicken, and fish. Canned chili beans, baked beans, stews, pasta dishes and hearty soups. Jerky, dried eggs, nuts and seeds.
Dairy products: Dried and canned milk, mixes, processed cheese spreads, puddings.
Other: Trail mixes, staples like salt, peppers, favorite spices and herbs, sugar, honey, flour, baking powder and soda, creamers, soda pop, other bottled drinks, coffee and tea. Candy or energy bars. Pet food.
Storage tips
• Storage area should be located where the average temperature can be kept between 32-70 degrees. The cooler the storage area, the longer foods retain quality and nutrients.
• Storage area should be dry and adequately ventilated to prevent condensation. Food should not be stored on the floor.
• Large ice chests with wheels or a garbage can with wheels are good choices.
• Keep foods in food‐grade containers. This will prevent contamination of your food with harmful chemicals.
• Remember to rotate foods you store. Products that aren't canned or dried should be rotated every six months. Rotate canned and dried foods at least once a year.
• Rodents and insects love stored grains and dried foods. Don't store foods in open containers on shelves. Keep all stored foods in tight, clean, metal, plastic or glass insect‐proof containers that have tight fitting lids and no open seams or crevices, off the floor and away from damp areas.
Water
Store 1 gallon of water per person per day. A three-day supply is recommended for drinking, food preparation, and personal hygiene. Water should be stored in containers manufactured for food use such as plastic soda bottles, juice bottles and water jugs with screw‐on lids. Special water carriers used for camping are also good. Plastic milk containers are not recommended for long term storage because they are made from a biodegradable plastic.
Store water containers away from cleaning supplies, fertilizer and other products with strong odors. Once the container is opened, use the water rather than re-storing it.
The water heater tank and the toilet tank (not the bowl) are water sources you might be able to use in time of emergencies. If there have been warnings that the public water supply isn't safe, turn off water to your house before using these sources to prevent contamination. Turn off the water heater before emptying it. Open the drain at the bottom of the tank.
Emergency outside water sources include rain water, ponds or rivers, or untested wells and springs; don't drink flood water. Water should be purified when safety is questionable.
Additional items to consider adding to an emergency supply kit
Prescription medications and glasses
Infant formula and diapers
Pet food and extra water
Important family documents (like insurance policies, identification and bank account records) in a waterproof, portable container
Cash or travelers checks and change
Sleeping bag or warm blanket for each person
Complete change of clothing
Household chlorine bleach and a medicine dropper
Fire extinguisher
Matches in a waterproof container
Feminine supplies and personal hygiene items
Paper and pencil
Mess kits (paper cups, plates and towels, plastic utensils)
Books, games, puzzles or other activities