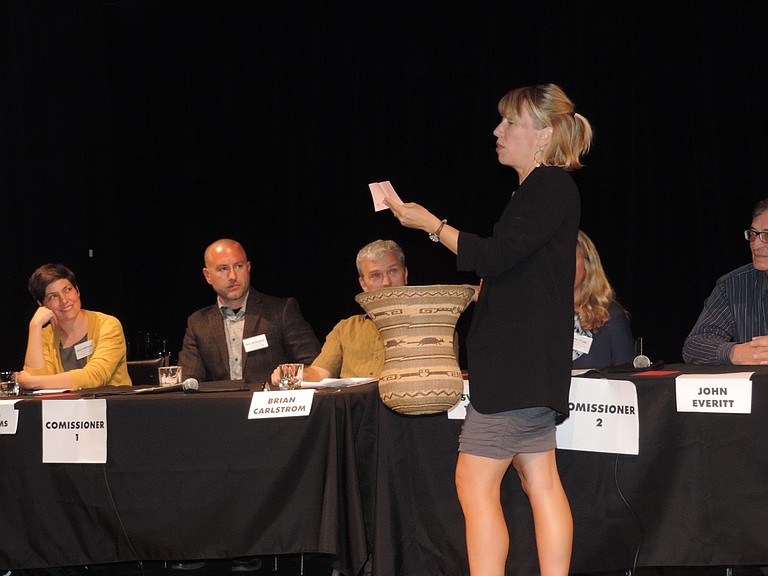 Originally published April 29, 2017 at midnight, updated April 29, 2017 at midnight
Tuesday's candidate forum kicked off the 2017 Special Districts Election season with a lively, though fireworks-free discussion among 16 of the 18 total candidates running for Port of Hood River Commission and Hood River Valley Parks and Recreation Board.
About 75 people attended the event at Columbia Center for the Arts. Attending were eight Parks and Recreation candidates — vying for two positions — and all but two of the nine Port candidates — vying for three distinct positions. (Ten candidates will be on the ballot, but nine are running; Robert Bart has announced he will not run for Port Position 3, though he withdrew prior to ballots being printed so his name will be on the ballot.)
The parks and then port candidates took turns giving statements and answering questions from audience members with meet-and-greet sessions both before and after the forum.
Port candidates Laurie Balmuth, Position 3, and Jeff Helfrich, Position 2, did not attend.
Attending were parks and rec candidates Jim Klaas, Nick Kraemer, Steve King, Matt Rutledge, Steve Hawley, Nan Noteboom, Greg Davis, and Anna Cavaleri. (Will Smith will be on the ballot but had put his support behind other candidates.)
From the port slate were Anna Williams, Ben Sheppard and Brian Carlstrom for Position 1, Svea Truax and John Everitt for Position 2, and David Meriwether and Kristi Chapman for Position 3.
The forum was sponsored by Hood River Valley Residents Committee, Liveable Hood River and League of Women Voters.
Among port candidates, general agreement prevailed that the agency must find a way to replace the Hood River Bridge, above and beyond federal funding.
Parks and rec candidates found common ground in the need for the district to improve its cooperation and collaboration with the city, county, port and school district.
---
Turn to page A10-11 of the News for questionnaires from candidates for the two agencies.
Hood River School District and Hood River County Transportation District candidates' questionnaire answers will be published May 3.
Ballots went out in the mail on April 26, and should be in most homes by the weekend.