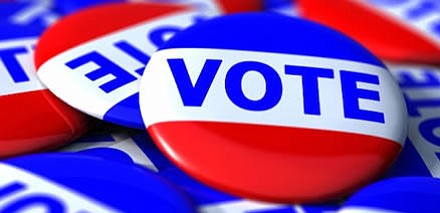 Ballots should arrive by this weekend for the May 16 countywide Special Districts election. (Call County Elections at 541-386-1442 if it does not arrive by May 3.)
This spring's vote is distinguished by a large number of candidates, including eight people running for an unprecedented five School Board positions and three contested races in the Port of Cascade Locks Commission race. Candidate Q-and-As for one of the Cascade Locks positions, and the School Board races, will appear in the May 3 edition.
Note: Q-and-A's reflect those candidates who responded to emailed questionnaires; the questions were emailed on April 14, with a deadline of April 24 to reply. (Robert Bart has withdrawn from contention for Port of Hood River and Will Smith said he supports two other candidates for Parks and Recreation – however, both Bart and Smith will still appear on the ballot. Smith said he will serve if elected, but opted to answer only two of the seven questions.)
On these two pages, we present the Port of Hood River races and the field of nine-candidates – for two positions — for the Hood River Parks and Recreation District board. Here are candidates' responses to seven questions:
Tell us about yourself
What book are you now reading, or most recently read?
Why are you running?
What prepares you for the position?
What are your top three goals should you be elected?
What are the greatest challenges facing the jurisdiction you are running for?
What is the greatest challenge facing the entire area?
Port of Hood River Commission
Brian Carlstrom
Port Position 1
I was born in Seattle. Rather than going to college, I moved to Maui in 1981, when I was 18. I learned to shape sailboards there. In 1983, I heard about the great winds in the Gorge, and spent that summer shuttling from Seattle to Hood River, building boards, booms, and mast bases in my mom's garage. In 1984, I opened the Windance store in its current location. After a few months of running the store, I met my wife, Lorraine. She helped to make Windance become a successful business. Together, we ran it for 25 years. We sold it in 2008. It is now in its 34th year. We moved to Canada for the last decade, and returned in 2016. I presently manage property rentals.
Woody Guthrie's book, "House of Earth."
I am qualified for the position. I think I will have a positive effect on the Port of Hood River.
I have been active in the community for years. When running our retail store (Windance), I started a free used windsurfing equipment program to help people get into the sport. After the program became too large, we transferred it over to the Columbia Gorge Windsurfing Association. I also started a free windsurfing program at the Hook, which offered free equipment use to anyone. We had over 1,500 people use this program through the years. In 2000, I spearheaded the Gorge Earth Day events in Hood River. With a core group of people, we put this event on for four years, and then formed the Columbia Gorge Earth Center. I was president of that for its first few years. There were many offshoots from the CGEC, including the Gorge Rebuild-it Center. I also have experience in manufacturing, wholesale, retail, rentals, construction, distribution, and importing.
Right off the bat, I would open up some of the port's land for temporary summer camping to help alleviate the housing crisis in the Gorge. If we can accommodate some of our visiting tourists in campgrounds, this will help reduce the need for short term rentals during those key months. I would like to see more solar and wind power production on port properties. I would prioritize the replacement of the Hood River/White Salmon Bridge. In the meantime, I would try to find a way that bicyclists and pedestrians could get across the bridge.
We need to move forward on replacing the bridge. I was on the SR-35 committee which thoroughly researched this for the States of Oregon and Washington. More strictly follow the port's mission statement: "The Port of Hood River seeks to initiate, promote and maintain quality of life and a healthy economy throughout the Port District and the Columbia River Gorge." Work with citizens and businesses to find out how the port can help them more.
The greatest challenges facing the world are climate change, the environment, and transitioning away from fossil fuels. As a port commissioner, I will keep these things in the forefront of my mind when making decisions.
Ben Sheppard
Port Position 1
Born and raised in Hood River, I am a fifth-generation member of this community. I am an owner of Sheppard's Equipment, where I have worked for 12 years since returning from college and a brief time in Portland. Along with my wife Brandi, we are raising three young and active boys that keep a 40-year-old on his toes. I am a member of the Hood River Rotary Club, where I have served as president in 2015 and currently as a member of its board of directors.
I just finished "Wings of Chance." It is a first-person account of World War II from a British RAF pilot.
I'm running for Port Commission because it is such an important time for Hood River as the port plans for future development at its numerous properties. The potential replacement of the interstate bridge and maintenance of the current bridge will have long-lasting economic impact in our area and deserve our attention. Additionally, the future of lot one on the port and the lower Hanel Mill site will help shape the industrial future of the area and have the potential for a great mix of job growth and open space for the community. I hope to be an active part of these decisions.
I hope to offer a voice for the entire valley's interests. The port district is a large one encompassing the majority of the valley. With this comes numerous different needs from usage and development standpoints. My daily interaction with residents from all over the valley will help as I strive to represent the needs of the entire community.
First: To continue the work of the current port commission to develop a viable path towards future interstate bridge replacement. With this goal in mind, we must also ensure the current bridge is well maintained and funded. Second: A comprehensive plan for the remaining waterfront property that balances, as much as possible, this community's needs for industrial development with open spaces for our families. Third: To expand the level of community involvement and communication in all port matters.
The main challenges for the port district moving forward will be development decisions, interstate bridge replacement and continuing to try and serve the recreational needs of the community while focusing on the core goal of creating jobs.
The greatest challenge that the port district will face and one that our community as a whole is currently challenged by, are the numerous needs of the county. From jobs and housing to recreation and open space, we need all elected bodies to be able to work collaboratively to identify and plan for the future with these in mind.
Anna Williams
Port Position 1
Age: 37. I've lived in the Gorge for nine years. I manage Volunteers in Action at Providence, a program which connects volunteers with elders and people with disabilities to help them live independently. I teach master's level social work students online, as Adjunct Professor for Simmons College in Boston. I have worked in various industries in the Gorge and have friends who are low-wage workers, business owners, medical providers, and stay-at-home parents. The resources managed by the port affect these people in varying ways — I will invite them into the conversation about managing the bridge, the waterfront, the airport, and the industrial area in Odell.
"You Are Here" by Thich Nhat Hanh.
I am running because my love for this community runs as deep as the Columbia River. The decisions facing the port in the next four years have the potential to impact the whole region — bridge maintenance / replacement, managing the waterfront, the parcels in Odell — these are decisions whose impacts will be felt for generations. I will help ensure the port's positions are considerate of the people, environment, and businesses which make our community so vibrant.
My education and work experience will bring a social policy perspective to the port. I know how to examine the impacts of policy on the people, the environment, and the businesses/organizations in this area.

My three primary goals are: A solid plan for the bridge — outlining how will we balance maintenance, tolling, and state / federal funding with the safety and transportation needs of our community. We need to fix what's broken and determine if a new bridge is possible and desirable. I will keep an open mind on the repair / replace debate and make a final determination based on what will serve our community best for the next 50 to 100 years. Examine options to share our tolling expertise with other entities in Oregon who wish to implement tolling on their roads or bridges, as an income source for the port. Encouraging balanced development which prioritizes sustainability for people, profits, and the planet.
The three main challenges facing the port are: repair/replace the bridge; managing/selling the industrial site in Odell; supporting the staff at the port through the seasonal demands of their positions.
Honestly, I can't name one greatest challenge facing the Gorge. It could be climate change, or political divisiveness, or the Cascadia Subduction Zone. I do know that whatever the challenge, we will be resilient if we have a strong community where we know our neighbors, feel connected to our institutions, and look out for one another. I have been working to build that kind of community for the last eight years, and I hope to continue that work as a member of the Hood River Port Commission.

John Everitt
Port Position 2
I have lived in Hood River for 17 years with my wife and our daughter, and in Oregon for nearly 45 years. My Hood River community involvement includes Port Budget Committee (2014-current), Planning Commission (2001-2007 / chair 2005-2007), Parks and Recreation Budget Committee (2010–2016), and member of the Waterfront Children's Park Citizens Advisory Committee (2007-2009). My professional background is as a partner in Current Commercial Property Management (2011–current), small residential builder (HR 1999–2008, Portland 1995–1999), project manager for Semiconductor Industry High Purity Piping Projects (Portland and International 1986-1988 / 1989-1993), and owner Economy Plumbing Company, Ashland (1975-1986). I am a member of Local Union 290 and a commercially licensed real estate manager.
"All the Light We Cannot See"
I believe the port is a regional resource that strengthens the fabric of our community and directly contributes to the economic and lifestyle vitality of Hood River County, and the adjacent areas that benefit from port investments. In recent years as the county, city, and port have found common ground and vision, as well as leaders that collaborate to achieve the goals of the people they serve, local government has become much more effective. I want the port to continue focusing resources in a way that extends that success. Evolving the role of the port to stay in synch with technology, recreational and economic advancements in the Gorge.
I offer strong skills in public and business fiscal management and transparency and a "community as owner" perspective that can help find balanced solutions. My history on local land use, parks and port budget committees, combined with having run small business' and raised my family here will bring diversity to emerging new roles and objectives for the port. I enjoy finding common goals between interests of various groups, have a proven ability to be effective and offer lots of enthusiasm.
I would want to: Address the issue of the Hood River bridge repair and maintenance costs exceeding the income, help integrate the waterfront and downtown, and consider how the airport can better support and contribute to our future.
Financing the Hood River bridge repair and maintenance, Seeing that future development at the waterfront contributes to community-wide vitality, Focusing on the concept of our regional economy and how to make it better.
I think the greatest challenge we face is how to absorb the influx of people who will move here because it is special. It is a challenge that many small towns that get discovered have faced and to my knowledge no one has overcome. I am convinced it requires a regional response and thinking of ourselves, from Stevenson to Biggs as a distinct region that benefits from regional decisions and collaboration. Then a lot of work, by local governments, ports and people to get to know each other well enough that we understand what we have, and have some chance to share and preserve it.
Svea Truax
Port Position 2
My family and I moved to the Gorge in 2005. Our daughter graduated in 2015 and our son is currently a junior at Hood River Valley High School. My husband and I have enjoyed coaching youth sports and volunteering at schools and events in many capacities for many years. And since you asked, I am 54. I have a BS degree in chemistry from Western Washington University-Bellingham and a MS degree in environmental engineering from the University of Washington-Seattle. I have over 20 years of experience serving private and government clients in the engineering consulting field. Currently, I am president and co-owner of a successful engineering consulting firm based in Hood River since 2007. In addition, I am also part owner and family asset manager of a 130-acre agricultural farm in Franklin County, Wash., that my grandfather homesteaded over 100 years ago.
"The Lemon Tree" by Sandy Tolan.
After attending regional and local port meetings, and engaging with the current Hood River Port staff and officials, I was encouraged to run for the port commission. This position is an excellent fit for me to serve my community and region.
Critical thinking for decision making and the willingness to actively promote the Hood River Port goals at a local, regional, and national level. With my engineering and business background, I understand long range planning, budgeting, government agency requirements, and financial accounting. I have a team building personality which is well suited to the collaborative structure of the port commission.
Make proactive decisions to move forward with bridge repair or replacement strategy, Continue economic opportunity developments via the port's unique position to create jobs (i.e. Odell's Hanel Mill site) and actively support aviation based jobs and training opportunities for our youth at our airport facility, and Actively steward our waterfront asset for the local community and effectively manage increased tourism use.
Final decision making and working through the wide range of actions required to repair or replace the Hood River bridge, Determining the best strategies for economic development and resulting jobs from current port assets, and Capitalizing on opportunities to work with other local and regional entities for the benefit of the entire community and Gorge region.
I view extreme partisanship as a great challenge for our national as well as local decision making process. It creates pre-determined decision making by "someone else" and removes critical thinking by individuals.

Kristi Chapman
Port of Hood River Position 3
Currently I manage the business we started here in 2013, Waterfront Endodontics, located at the port waterfront. My previous experience has been in management, development and real estate. I am a communicator; I enjoy ensuring information is available. I have been involved in Families at Family Man for the last three summers. I am almost 41, mother of two, and have lived in Hood River for four years. My husband, Travis, is from here. We not only work at the port, but use the port recreationally year round and consider it an important asset for Hood River.
I'm currently reading "How to Raise an Adult." The future is children and I hope to create good adults.
I am running because I want to be connected with the future of the port. As a business owner operating at the port, I feel it is important to stay involved and share information with the businesses.
I offer an open mind to this position. I have no formal government experience, but have been an entrepreneur for most of my life. I try and seek out all solutions before making a decision and I understand that there are many facets to the port that all have special considerations to be made. I am fair, kind and understand that there are always more than two sides to every story. My empathy is helpful in communicating with others.
My three primary goals: To continue a path making sure the port remain profitable, To maintain / expand the port portfolio through improvements, additions and business models put in place to protect investments, and To manage the growth that is happening at port locations and make certain that everyone's needs are being met. Tourist, farmer, business, port, recreational user — they all have a place that need to be balanced and protected.
Challenges for the port are very dependent on what you are specifically looking at. The bridge is its own issue — do we maintain or steam forward with a new bridge? If we try for a new bridge, how do we manage the existing bridge while we wait? Summer tourism is awesome; however, with no sales tax and users not paying for the use of port facilities is an issue in upkeep. The other properties of the port also have their own greatest challenges and I feel they all need to be scrutinized to ensure we are doing the best for our community.
I think the amount of growth and seasonal use in Hood River County plays the biggest challenge to everything. Our town is a very different landscape throughout the year and has had a huge change since I originally lived here in 2002. There are so many aspects of the port, each with their own greatest challenges. We need to have a feasible and flexible plan in place for all of them in order to sustain and embrace the growth that is naturally happening. It's a beautiful place to call home.
David Meriwether
Port of Hood River Position 3
I've lived in the Gorge since 2001. Until last summer, I served as the Hood River County Administrator for 15 years. I have 30-plus years of experience in local government as a city manager and county administrator. I'm 62 years old and am now retired.
I'm an avid reader and am currently reading "The Boys in the Boat," a true story about the University of Washington's rowing team that won a gold medal at the 1936 Olympics in Berlin. It's an inspiring story about overcoming obstacles and developing selfless teamwork to achieve a common goal.

I'm running for the port commission because I want to continue to contribute to the quality of life in this community. The port's mission and role offers the opportunity to do so. The primary purpose of the port is economic development, which necessarily includes other elements of community life such as education, transportation, housing, recreation, and many others. Some of these elements are the charge or focus of other organizations, but the port can serve in a collaborative role in helping them be successful.


I believe I have the skills, experience and perspective that are well suited for this position. I believe strongly in partnerships and collaboration among public entities, and — if elected — will bring that philosophy to my role with the Port of Hood River. With over 20 years of public service in Oregon, I am well acquainted with the federal, state and regional agencies with which the port interacts, the roles they play, and how to effectively navigate those complex systems. I also hope to bring a perspective that includes consideration of the port's entire jurisdiction, notably the mid and upper Hood River Valley.
If elected, my three primary goals are: replacing the Hood River Bridge is critical, and current efforts to do so must be supported and enhanced. The magnitude of this project is daunting, requiring a long-term strategy and dedicated effort to see it though successfully; ensuring that the port is collaboratively engaged with the community and other agencies and organizations, thereby enhancing the community's quality of life in a comprehensive way; work to make sure the development of the port's properties is thoughtful, sustainable and appropriate, and is consistent with community values.

The three main challenges facing the port are: Replacing the Hood River Bridge. While this is a Gorge-wide issue beyond the scope of just the Port of Hood River, the port is a lead agency tasked with moving it forward; Continuing to be an economic development catalyst, given the scarcity of viable and available properties, and Continuing to operate and maintain the existing Hood River Bridge until such time that it can be replaced.

The greatest challenge facing the area is the availability of affordable housing. Our social and economic future will depend greatly upon our efforts in this area.

Parks and Recreation Board
Anna Cavaleri
Parks and Recreation
My name is Anna Cavaleri. My husband, our 6-year-old daughter and I moved to Hood River from Denver two years ago. As a contracts attorney, my day job involves drafting, review and negotiation of commercial agreements for Insitu. When I am not working or hanging out with my family, friends and neighbors, I am riding in Post Canyon, paddling on the river, playing tennis, wishing I had time for yoga, volunteering in my daughter's classroom, working on a Resident's Committee project or attending community and Parks & Recreation District meetings. I also love to read.
I am currently reading "Notorious RBG: The Life and Times of Ruth Bader Ginsburg." She's awesome.
I am running for the Parks and Recreation District Board because having attended district meetings for the past 18 months and by participating on the District's Budget and Pool Enclosure steering committees, I have learned a lot. I am amazed by what the district has accomplished with their limited resources. In addition to managing our pool, the district developed and maintains the Indian Creek Trail, our skate park and is developing more park projects. However, I believe there is more to be accomplished.
Some challenges facing the Parks & Rec District are funding; public relations; and an aging Aquatics Center. I believe the district's biggest challenge is financing the development and maintenance of recreational facilities for our growing community. To address the challenges facing the Parks & Rec District, I would bring enthusiasm, creativity and a fresh perspective to the board.
If I am elected to serve on the Parks and Rec District's Board, my four primary goals would be: Accountability — ensure the district wisely allocates and tracks financial resources and plans for a range of recreational facilities; Collaboration — foster mutually beneficial relationships with city, county, port, school district and other partners to implement a Parks Master Plan to expand recreational opportunities; Communication — work to ensure that the community knows who the district is and what they do; current and long term Parks & Rec projects — not what the board wants to do, but communication should be an exchange of information — what does the community want the Board to do?; and how the community can be involved; and Creativity — Parks and Recreation shouldn't just be about the pool; we need creative solutions for funding the development of new parks, trails and recreational facilities.
Parks matter and I would like to see more recreational opportunities for everyone in Hood River.
Greg Davis
Parks and Recreation
I am the current president of the board of directors for the Hood River Valley Parks and Recreation District, a board member of the Gorge Tech Alliance, and the founder and manager of Overwatch Imaging, a local business that makes aerial photography systems for use in agriculture, forest fire management, and train rail inspection. I am a father of three girls, and my wife works as a high school science teacher in Hood River. I have lived in Hood River since 2006 and I love spending time outdoors here, enjoying all the beauty and recreational opportunities in our community.
"Hyperspectral Remote Sensing of Vegetation."
I am running to continue promoting recreational activity and responsible park management for all members of our community. As our district grows, I will continue to provide a voice for our kids, our seniors, our Latino community, our pet owners, and our tech industry, to make sure we all have access to great parks, programs and trails.
I bring a moderate, consensus-seeking attitude along with management and financial oversight experience to the HRVPRD board.
My goals include updating the Aquatic Center to support the next 20 years of pool sports in the district, expanding the district's recreational programming activities to connect more people in our community to the area's amazing recreational opportunities, and leading the development and approval of a multi-agency parks master plan to guide park and trail creation as our population grows.
We need to carefully manage the balance between affordability and expanded services. We need to defend against those who seek personal gain by taking away parks. And we need to continue winning grants and outside funding to help fund new parks. We can do all this by working closely with our local government agency partners and keeping focus on all our community members.
Our greatest challenge is choosing between all of the incredible recreational activities we can enjoy here in our district!
Steven Hawley
Parks and Recreation
I'm a native Oregonian, graduate of Southern Oregon University, nine-year resident of the Gorge, eight of them in Hood River. I'm a freelance writer, a regular contributor to a couple fly-fishing magazines, and am currently working on my second book — both books are about river conservation. I'm also on the board of the Deschutes River Alliance and Pacific Rivers. I live in west Hood River with my wife Kathy, two children, Elliot and Annabel, and dog Maizy. I'm 47, have been employed, at various times, a high school teacher, writer and stream surveyor. I've always been active in civic matters, especially as they pertain to land and water use.
"Barkskins" by Annie Proulx.
Hood River County needs to design and implement a better long-term plan for parks and open spaces. Particularly in west Hood River, the lack of parks, coupled with pressures from pending housing development, will require creative vision, more opportunistic and perhaps wiser land acquisition, and better prioritizing of community needs.
As a parent, teacher and writer, and volunteer on a couple of non-profit boards, I feel I'm a competent communicator and collaborator.
West side Hood River park acquisition and development. Development of adequate ball field space to accommodate all turf-based youth sport practice needs. A hard look at increasing the level of funding for parks at the county level.
Community engagement. Land acquisition. Funding.
Accommodating growth while maintaining and hopefully improving quality of life.
Steve King
Parks and Recreation
I'm 43 and I've lived in the Gorge for eight years. I'm currently the program manager for StRUT, a computer recycling and repurposing organization that helps our schools afford technology. My wife Jenifer and I have a 10-year-old son and a 12-year-old daughter. My son plays soccer, and my daughter lacrosse. We swim in all the water holes, and hike to all the falls, we camp, we backpack, we bike, and run with our dog.
My favorite book that I have read recently is "City of Thieves" by David Benioff. It's not quite Vonnegut, but it's close.

I'm running to increase my civic involvement in the town and region I love, and because I'm not sure that the town and region are getting properly navigated into the future.

I've been on the board of the Columbia Steamship Operators Association and was chair of that body in 2013. I know that the job of the parks and recreation district board member is not going to be just dreams of trails and bright ideas about green spaces. The real work and progress to be made is in the details — the sometimes boring and complex details. I'll pay close attention to the bottom line financially, and I promise to get the maximum bang for every dollar spent. Since registering for this election, I've talked to or interviewed a former P&R board member, a former county commissioner, a member of the Residents Committee, the superintendent of schools, a soccer coach in Hood River who has been coaching for over 30 years, and most of the Saturday morning running group in Post Canyon in addition to others. I've read the last P&R Master plan (2012), attended a budget meeting and board meeting of the P&R district and tracked down how the district is funded and its financial status. And I don't even have the job yet. As a board member, I'll find the facts, make them available to every stakeholder, and listen to feedback and input from others. Then I intend to make decisions based on their possible benefit for the greatest number of people.

I want trails that go places, rectangle fields for sports, and to help put the park district on solid financial footing, now and for the future.

The P&R district is about to start research into a new master plan. It's a challenge that is also a great opportunity to plan for the future with the city, the county, the schools, and the people who live in the Hood River Valley. The Aquatic Center is in need of repair and we've got tough choices to make about its future. Finally, we need to connect our trails. I'd love for our trails to connect the town to the Hood and Columbia Rivers.

I think the cost of land and its availability will be the greatest challenge facing Hood River in the near future. They're not making any more of it.

Jim Klaas
Parks and Recreation
Jim Klaas has been an active member of the Hood River community for over 25 years and has been advocating for parks, trails and public access throughout that time. Klaas coached youth lacrosse, is currently a coach for the Steelhead robotics team, heading to FIRST Worlds in Houston after being a 4-H robotics coach for six years, is the committee chair for the Hood River Lions Boy Scout Troop 282 and Eagle Scout adviser, and is a volunteer ski patroller on Mount Hood, just finishing his ninth season. Klaas originally moved to Hood River to work in the outdoor sporting goods industry and then transitioned into prototype design work. In his spare time, Klaas is a freelance photographer focusing on outdoor action sports.
Currently reading "Permaculture: A Designers' Manual" (Amazon) by Bill Mollison. Permaculture (permanent agriculture) is the conscious design and maintenance of agriculturally productive ecosystems which have the diversity, stability, and resilience of natural ecosystems. It is the harmonious integration of landscape and people providing their food, energy, shelter, and other material and non-material needs in a sustainable way.
Klaas is interested in becoming a Hood River Valley Parks and Recreation board member to be a voice for more parks, trail connectivity and an advocate for open space. As a board member, Klaas would work on creative and innovative solutions to refurbish or replace current infrastructure while expanding the parks footprint to reach as many citizens as possible in a growing city. You can't stop growth, but you can plan for it. As population and density increase, so does the need for open space and trail connectivity. Electric bikes are coming online much faster than anyone expected. Now is the time to build our park's infrastructure to meet growing demand and take advantage of emerging technologies.
Klaas offers unbridled enthusiasm, wide ranging life experiences, boy scout honesty, and uncompromising drive to find the best solution to any problem, all with a dash of humor thrown in.
Klaas' three goals if elected would be: Increase the footprint of parks as identified in the Parks Master Plan. Trail connectivity — connect parks, neighborhoods, schools, town, Historic Columbia River Trail and the Hood River Waterfront. Upgrade or replace the parks aging infrastructure.
The three main challenges facing the parks district are: population growth, loss of open space, and Hood River's aging infrastructure.
The greatest challenge facing the area is growth. According to a recent Travel Oregon workshop, The Gorge is "being loved to death," traffic congestion is increasingly becoming a problem and has started to negatively impact the entire region. Klaas feels the best way to overcome the negative impacts of growth and increased density is by developing an infrastructure of connected parks. As cities increase size and density, people are willing to give up a little of their yard as long as they live a short walking distance to a connected park system or green belt.
Nick Kraemer
Parks and Recreation
Hello, my name is Nick Kraemer. I moved to the Gorge 11 years ago for an AmeriCorps position with the University of Oregon's RARE Program. I was drawn to Oregon because of its progressive land use planning laws and the protection of farm, agricultural land. After my AmeriCorps year, I enrolled in the U of O's Masters of Community and Regional Planning program, where I was able to pursue planning as a career. While at the U of O, I worked with a number of Oregon communities develop Parks Master Plans. When I finished grad school, I returned to the Gorge and began working as a grant-writer. I have also served on the board of Gorge Owned, Hood River Valley Residents Committee, and the local Unitarian Universalist Fellowship. Now, I work as a city planner for The Dalles, Mosier and a number of frontier rural communities like Maupin, Dufur, and Arlington.
I'm currently reading a book called "House of Tomorrow" by Peter Bognanni. It is an entertaining story — with biographical information about Buckminster Fuller, whom is a personal hero of mine, interspersed throughout. "We are called to be architects of the future, not victims." — Bucky Fuller
I want my son and all members of our community, both young and old, of all abilities, to be able to safely access parks and green spaces throughout our community.
I believe I am uniquely qualified to serve in this role. My understanding and background in land use planning, grant writing, and parks master planning helps me to see the big picture of how parks fit into broader community design.
My number one goal is to seek out opportunities for collaboration — we need to work together on multi-benefit projects and find opportunities to increase efficiencies in operations/maintenance of existing parks. I was impressed by the community support of the West Side Park planning efforts and would like to continue to pursue a large community park on the Westside of Hood River. Lastly, I would like to encourage public input and open dialogue with folks that live in the parks district.
I think the main and most immediate challenge facing the parks district is the cost and availability of land to develop new parks to accommodate the ongoing growth in Hood River. This is the same challenge that is shared by agencies working on affordable housing, developers, and basically any other community development efforts. The pool is in need of major repairs and it will be a challenge to find the funding to address the situation. I think the community is generally unaware of the complicated, multi-jurisdictional management of parks in Hood River — and it will be critical engage the public more on this issue.

Hood River will continue to grow — which will bring challenges — but we need to work together to maintain the things we currently love about our community and make strategic efforts to accommodate this growth.
Nan Noteboom
Parks and Recreation
As a young teacher married to a younger teacher, my husband Steve and I turned to Oregon, my birthplace, to anchor our teaching careers and lives. I have been teaching at Hood River Valley High School since 1996. I teach mostly writing classes, primarily the dual credit Writing 121/122 class. I am also yearbook adviser. Our three children, Noah (19), Clay (16), and Josie (14), grew up in Hood River. I am also a licensed realtor, ordained minister, certified food handler, certified alcohol server, and licensed boater. Just in case. I am 52. My interest in local government is pretty recent, to be honest. I've been a shaker and mover at Relay for Life, and I've probably spent years of my life helping at high school events beyond the school day. In the past six months, however, I've attended city council meetings, school board meetings, community college board meetings, protests, rallies, and just basically woke up. I intend to stay woke. I love this town, and I love its parks, and I love its kids.
"The Handmaid's Tale," by Margaret Atwood. Again.
I want to start a revolution. A little one.
Energy. Commitment. Ideas. Humor. Estrogen. As a realtor, I understand land use, environmental impact statements, conditional use permits, amortization, the built environment, and zoning; I know what NIMBY means (Not In My Backyard). As a teacher, I understand kids. Kids need to be outside, and they need to move. And as a mother, I deeply value park space, trails, parks and rec programs, and our community pool. I could not have done it without you.
Ensure that the county of Hood River is equitably represented (Odell! I am for you!). Doggedly pursue the guiding principle of the parks and rec board to "sustain and grow parks" in our community. Learn.
Balancing the need for other uses (affordable housing, for example) with the need for parks, trails, and programs. Developing more field space. Growing pains, just balancing the old and new, the orchards and the parks, the hikers and the cyclists, tradition and progress. It's a tale as old as time.
I respectfully decline to answer.
Matt Rutledge
Parks and Recreation
I came to the Gorge in 1999, like many others before and after, to immerse myself in the incredible beauty and pursue the world-class recreational opportunities that the Gorge provides. I worked seasonal jobs for the first few years but, over time, slowly shifted to more permanent employment and a career working for a local web development company. After being laid off in 2010 as a result of the economic slowdown, I reevaluated my career and decided to pursue something that was more personally satisfying and provided the opportunity to give back to the community. As a result, I went back to school (after having earned a BA in recreation administration) and earned a Master's in teaching in 2012, and am now in my fourth year as a fourth and fifth-grade teacher at Mosier Community School. In my 45th year, the 17-plus that I have spent in the Gorge have been the longest I've lived in any one location and I am proud to call Hood River home.
"Barbarian Days: A Surfing Life" by William Finnegan
After running, unsuccessfully, for a seat on the parks and recreation board in November 2015, I was appointed to a vacancy in the spring of 2016. In the past year, I have been involved in the hiring of a new district director, the successful completion of requisite planning for the execution of an Oregon Parks and Recreation Department Grant for Golden Eagle Park, the hiring of a firm to conduct a feasibility study for various options related to the repair or replacement of the aquatics center, and many other equally important activities that will benefit the residents of and visitors to Hood River County. I am asking the voters to support me so that I may continue to represent them on the board and continue to work towards the proactive development of parks and recreation resources.
I bring a passion for recreation, both for myself and my family, a deep understanding of the challenges that face today's youth and the benefit that recreational opportunities provide them, a strong academic background in recreation administration, and a desire to continue to build a parks and recreation district that is on par with the world class scenery, agriculture, recreational opportunities, and constituency that surrounds us on a daily basis to this position.
My top three priorities are building partnerships with local agencies like the partnership with the county and school district that resulted in the development of Golden Eagle Park, the completion of an adopted multi-jurisdictional parks and recreation master plan, and the expansion of recreational opportunities and offerings including finding a way to alleviate the high demand and low availability of field space and addressing the aging aquatics center.
The three greatest challenges facing the HRVPRD are real estate costs, zoning challenges, and adequate revenue to operate and maintain the parks and recreation facilities that the community deserves.
The greatest challenge facing our area is an ever-increasing population bounded by geographical and non-geographical constraints to growth.
William Smith
Parks and Recreation
I have decided to support the candidacy of Nick Kraemer and Anna Cavaleri. I am enthusiastic about planning healthy communities. Land use patterns have a major impact on a community's well-being and the proper administration of local parks and trails play a major role in encouraging Active Living. The current Parks District Board has made some decisions that I disagree with and I believe these two candidates, who have been so active in the Parks District already and share many of my sentiments, would best represent the needs of the area on the board. The Hood River Valley Residents Committee approached the current board last year with a well thought out, inclusive plan to create a large 20-acre community park across from Westside Elementary School. Unfortunately, the board missed this incredible opportunity to create a landmark park for this county. Instead they chose to focus again on Barrett Park and expand Golden Eagle park — one on land with zoning that makes it impossible to develop as they wish, and the other far too small and distant from dense neighborhoods to satisfy our needs. With Nick's professional understanding of Oregon's unique statewide planning program, including Scenic Area specific concerns, he is the ideal candidate to tackle this issue in the future as Westside planning efforts continue. Anna has already proven her dedication and wisdom as a member of the Parks District budget committee, and with her ability to effectively engage in the public process will be most valuable to our community as a full board member herself.
The greatest challenge in the area is maintaining the proper balance between affordable housing and park needs. As Hood River grows rapidly, it will be crucial to ensure that both are developed to adequately serve the needs of a thriving, healthy city. Containing dense housing and associated developed parks within the Urban Growth Boundary also helps preserve critical farm and forestland in the county. Nick and Anna understand these issues, and as the master planning process approaches, will effectively integrate the needs of a diverse county wide population into the future of parks planning.
•
When you cast your ballot, remember to sign the envelope for your ballot only, and return by mail or at drop-off locations at Sixth and State and Cascade Locks City Hall (deadline is 8 p.m. May 16; postmarks do not count). Voters who have not received ballots by May 3 may call County Elections at 541-386-1442.
Several hundred voters will receive duplicate ballots — and should keep the one with a green sticker and discard the other. The green-sticker ballots are those that had changes prior to the county sending its elector list to its out-of-county mailing service.