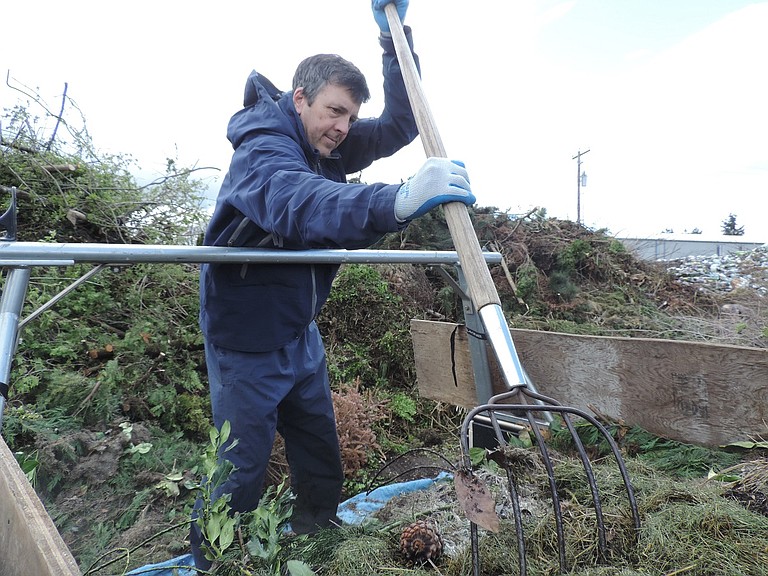 Originally published April 29, 2017 at midnight, updated April 29, 2017 at midnight
The waste bin roll-out was hardly a sneak preview.
The 65-gallon bins are more than a familiar sight around town; Hood River Garbage Service, which holds the exclusive contract to serve city residents and businesses, quite literally rolled out the program over the past two weeks.
The old 32-gallon bins will no longer be collected, though Hood River Garbage will take away your old can (details at end of this story).
The sheer logistics of delivering three large bins to the front of more than 1,900 locations required the deployment of crews unloading trucks laden with 15-foot stacks of bins, patrolling neighborhoods for two weeks. They could still be seen as late as Friday, delivering the gray bins with the green (compost) blue (recycling) and black (garbage) tops.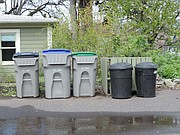 Now comes the educational period for homeowners, who are responsible for getting the right product into the right receptacle.
Be sure to hang onto one of your small rectangle blue bins — for glass.
A three-minute video now on the city web site spells it all out. Filmmaker Manny Marquez produced it, with help from the city, Dirthugger, Tri County Recycling, and Hood River Garbage
City officials said the change was made because roll carts deliver increased recycling and landfill diversion rates over customer provided cans, will add yard debris and food waste collection which addresses a potent source of methane, and aligns with the city's climate goals.
Composted yard/kitchen waste produces end-products that will benefit local farmers and gardeners.
Organic material accounts for 30 percent of all waste, according to Jim Winterbottom of Hood River Garbage. The new system will make it easier for customers to separate organics — yard waste and kitchen scraps — for composting, to be handled by Dirthugger. The company accepts material at its Dallesport location and turns it into compost material for gardens.
The wheeled roll carts will be easier to move to the curb, reducing the risk of homeowner injuries, according to Winterbottom. New trucks that empty the carts will improve worker safety, decrease workers' compensation claims.

Roll carts with integrated lids are better rodent deterrents and will virtually eliminate the existing problem of windblown cans, lids, and material.
According to Winterbottom, the main driver of cost and environmental footprint is the number of truck routes per week. By collecting garbage and recycling every other week, it limits the number of truck routes per week to two. This is taken from nationwide best practices.

All current customers of Hood River Garbage will receive roll carts to accommodate their current level of service.
You can swap your garbage cart for a smaller one in the future if you wish.
For customers with weekly 32-gallon service, there will be a monthly increase of $7.25 ($16.40 increases to $23.65/month). For comparison, this rate is lower than Troutdale and Portland.
The cost of a new truck is $315,000 and the new carts are $300,000. Those numbers divided by the roughly 1,900 ratepayers of the city of Hood River equals roughly the $7.25/month increase, according to Winterbottom.
Anyone may opt out of the new service, but you will opt out of all curbside collection when doing so. Opting out means you would need to self-haul all materials to the Guignard Drive transfer station.
What if I have more yard waste? Is it still free to drop it off Wednesday?
For city customers who create extra yard debris, the transfer station will still allow drop off of additional yard debris on Wednesdays for a nominal, subsidized, cost of $5 per load. This service is for residential city customers only.
Will placing yard debris and food waste in bins create odor and attract rodents?
Unless you already have a backyard compost system, food waste and yard debris items are currently in your waste stream. The only difference in the new program is that you would be required to separate them. The key to avoiding odor and rodents is keeping carts and home containers clean. Materials that could cause odors are collected on a weekly basis to minimize this (just like the current system). Remaining landfill items will be collected on an every other week schedule.
Waste Basics
What goes in each of the three carts?
Green lid - compost (food scraps and yard debris)
Blue lid - recycling (paper, plastic and metal)
Black lid - garbage
Glass? Use your old square blue bin.
What should I do with my old garbage cans?
If you no longer want your old garbage cans, you may leave them at the curb on your garbage pick-up day. Hood River Garbage will take them away. Don't leave them out on compost pick-up day.
Leave any extra blue bins at the curb on your garbage pick-up day. Hood River Garbage will take them away. Don't leave them out on compost pick-up day.
Compost will be picked up weekly.
Garbage will be picked up every other week
Recycling – including glass bin – will be picked up every other week.
It will work out like this:
Week 1: Garbage and compost.
Week 2: Recycling and compost.
Week 3: Garbage and compost.
Week 4: Recycling and compost.
For details call Hood River Garbage at 541-386-2272.
You can also visit hoodrivergarbage.com for more information.