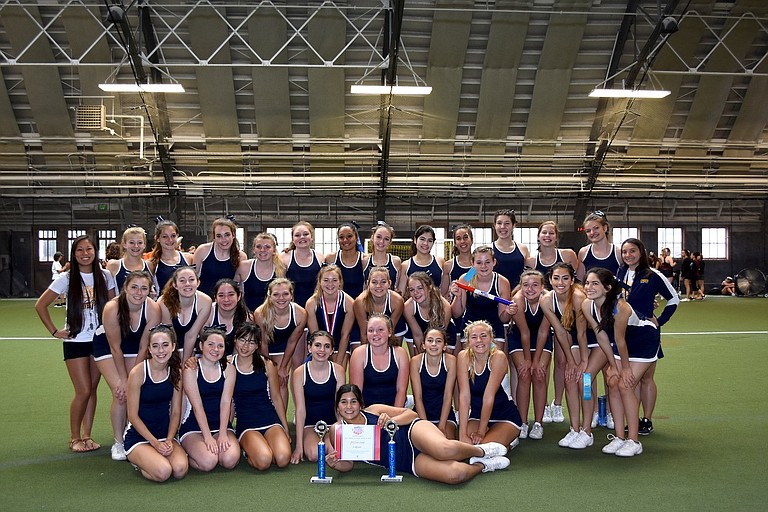 Originally published August 2, 2017 at midnight, updated August 2, 2017 at midnight
The Hood River Valley High School cheerleaders attended a four-day National Cheerleading Association "Get Shocked" camp at Oregon State University in July and returned home with much to celebrate. Their honors included both JV and varsity placing second overall, earning several All-American nominations, one Top Gun Dancer award, and securing one All-American.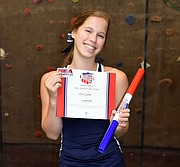 HRV competed against other schools at camp and took home second-place trophies for their final-day performances. Individual skill and effort was also recognized as 14 HRV cheerleaders out of the 31 that attended camp were nominated to try out for All-American. Nominees were selected by camp staff after excelling in tumbling, jumps, stunting, dance, motions, leadership, or any combination of skills that exemplified their abilities as a cheerleader. For final selection as All-American, nominees performed three consecutive jumps, a specified cheer, and a tumbling pass individually in front of the camp. They were judged on difficulty, proper technique and execution, energy and spirit, voice, and sharpness of motions. Incoming HRV senior Rosie Dillon was one of seven cheerleaders from the camp who was awarded All-American status, the camp's highest honor, based on her performance.
Another camp honor for HRV included sophomore Soleil Pelletier claiming the Top Gun Dancer award given to the best dancer at camp. HRV did well in this category as three out of the four finalists were Eagles. Dillon and Brooklyn Holman, a junior, competed for the title in the final round of the competition alongside Pelletier.
With camp behind them, HRV cheer, comprised of 15 JV cheerleaders and 17 varsity, is now in the midst of summer practices and focusing on their upcoming season. They will be making their first team appearance at the Blue and Gold Game on Aug. 18 at HRVHS.
The HRV cheer team with their awards on the final day of camp. Above, from left to right, back row, Coach Kristen Kawachi, * Gabby Wilson, * Brie Peterson, * Jude Bokovoy, Gabby Shepard, * Brooklyn Holman, Bety Galvez, Lilly Robarts, Eden Castillo, * Ariana Munoz, Alexandra Buckles, * Rosie Dillon, Shae Burck, Coach LisaAnn Kawachi. Middle row, * Linsey Back, Lexy Duback, * Maria Kupchin, * Georgia Mason, * Soleil Pelletier, * Saige Brennan, Chloe Cantrell, Lexie McCafferty, Tori Perkins, * Jordan Ziegner, Katelin Marquez. Bottom row, Jazlinn Fisher, Emma Berens, Emma Burck, Gilly Wolf, Brynne Holman, * Kali Wetherell, Maddi Simonds. Center, * Alexa Jimenez. Not pictured, Sonja Joplin-Clay. (* Denotes All American Nominee)