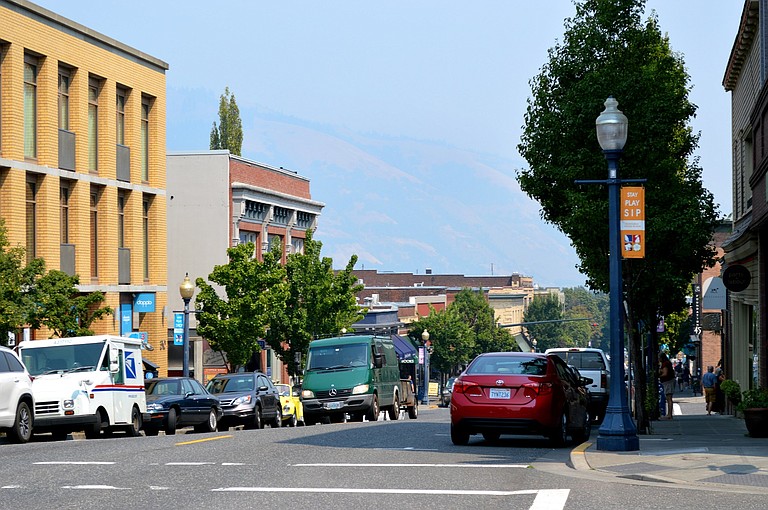 Originally published August 2, 2017 at 3:09 p.m., updated August 2, 2017 at 3:09 p.m.
Wildfires around the Northwest have caused smoky conditions in the Columbia River Gorge today, Wednesday, Aug. 2.
David Bishop, a meteorologist with the National Weather Service in Portland, explained a handful of major fires — such as the Whitewater Fire near Mt. Jefferson, and other blazes as far as British Columbia — may be causing the smoke.
"The wind right now is coming from the north-northwest," Bishop said, which is bringing smoke to the Gorge.
While hot today — roughly 97 degrees — temperatures may be lower than expected due to a cooling effect from smoke.
Forecasts are expecting smoky conditions to continue until a wind shift Thursday night.

---
Hood River County public health officials urge people throughout the county to take precautions as air quality may deteriorate and reach unhealthy levels with smoke from regional wildfires over the next several days, coupled with extreme heat.
"People with chronic lung or heart conditions, the elderly and children have higher risk of health problems from the fine particles in wildfire smoke," said Bruce Gutelius, deputy state epidemiologist with the Oregon Public Health Division. "People who suffer from asthma or other respiratory conditions should follow their breathing management plans, keep medications on hand, and contact health care providers if necessary."
Oregon Department of Environmental Quality urges residents to take the following precautions to avoid breathing problems or other symptoms from smoke:
Be aware of smoke concentrations in your area and avoid the places with highest concentrations.

Check air quality conditions on DEQ's website at www.deq.state.or.us/aqi or call 503-229-6397. The DEQ station in The Dalles is listed at "moderate" health quality today.
Avoid outdoor activities when air quality is unhealthy and hazardous.

To avoid smoke, either leave the area or protect yourself by staying indoors, closing as many windows and doors as possible without letting your home overheat, and using a filter in your heating or cooling system that removes very fine particulate matter.

Avoid strenuous outdoor activity in smoky conditions. Young children and persons with heart or lung problems are especially vulnerable.
Persons suffering from asthma or other respiratory problems should follow their breathing management plans or contact their health care providers.
Helpful links: DEQ's Air Quality Index, for current air quality conditions: www.deq.state.or.us/aqi. Oregon Smoke blog, for the latest on fires across the state: oregonsmoke.blogspot.com.

---