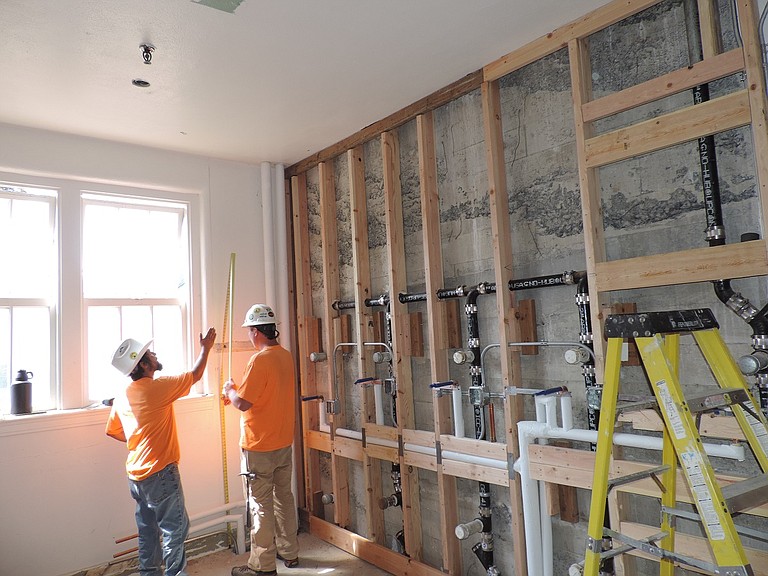 Wednesday, August 9, 2017
Hood River Middle School will be a "smart building with an old look," said the man overseeing the transformation of one of the county's most iconic structures.
"It's a major crunch, a lot of scope of work," Josh Grubb, project supervisor, said last week as the middle school renovation project enters the eighth of 11 weeks of work. Much remains to be done as Grubb's company, Kirby Naglehout Construction, approaches the critical Aug. 28 deadline: that's the day teachers will come back to work. Classes resume Sept. 5.
"This is huge for us," Principal Brent Emmons said. "Hood River Middle School is this tremendous structure, an amazing building, but the interior of the school has really needed substantial work." The project is paid for by construction bonds approved by voters in 2015; other than some minor upgrades to the 2001-built west wing, the project involves only the main building and a seismic retrofit to the Multi-Purpose Room, built in 1978.
"Some of it is ancient technology; the HVAC system and boiler went out a couple of years ago and we limped along with a temporary one," installed in the front courtyard, Emmons noted. HVAC condensers have been installed in the same location, behind a row of arbor vitae. Crews built a special ramp to roll the new boiler into the basement location.
No more banging and clanging radiators, no more old, broken furniture, no more maps showing the USSR and other outdated curriculum. There's new paint on all walls and new flooring in all classrooms and hallways in the main building, a National Historic Register structure built 90 years ago (as Hood River High School).
Grubb said that throughout the building, the plaster behind the wallboard was in solid shape, with a few cracks.
"It's pretty stout — amazing how sturdy this building is," Grubb said.
Phase one of the project, June 17-14, was complete abatement of asbestos, along with removal of all old curriculum and equipment that was either surplused, recycled, made available to other school buildings, stored, or discarded. Horizon Christian School and The Next Door's Klahre House were invited to take what they wanted, but most of what was removed from the school in June is materials that were being stored and not used — curricula and textbooks dating to the 1960s, and "a whole lot of broke chairs, furniture that was not working well," Emmons said. "We had 90 years of teachers' own personal items that are bought in to the schools and got transferred from one teacher to another — Mrs. Johnson's table from the 1960s and it's falling apart." (Over the past eight years, bonafide items of historic value have already been identified and either archived or placed in the new HRMS museum, which opened a year ago).
The new HVAC system will make a big difference, according to Emmons. "Some of the classes on the south side of the building, when it is 100 degrees outside it easily gets into the 90s inside. We have individual classroom spaces that needed some air conditioning, and it will be good to do without the banging and clanking."
The existing steam radiators will be replaced with radiant heat panels a third the size and more efficient, said Grubb.
"It's a huge scope of work but we have a good team and good plans, and we used as many local subs as we could to help," Grubb said. "It is a great opportunity to work on an old building and bring it back to life.
"The old steam piping in the oil boiler room was amazing," Grubb said. "It was massive, and the building will be going from a 10-inch steam pipe to three-inch lines" — managed by a computer in the school office.
"These boilers will be so efficient, they won't run all the time," Grubb said. "When kids come in at the start of the day, and you have a lot of opening and closing of doors, the system will be ramped up and then slowly regulate down, and gradually idle."
Students will make use of technology that will not be obsolete when this year's kindergarteners arrive in six years. HRMS, along with Wy'east Middle School and Cascade Locks School, will be the first in the district with a new "one-for-one" technology system: each morning every student will check out an iPad loaded with instructional apps and other curricula, and check the device back in at the end of the day. Staff control the devices systematically, including a "blackout" feature for when they want to the attention of the entire classroom.
When staff and students return, they will find a new domestic water system — a complete set of copper pipes delivering water to science labs, kitchens, and restrooms. They will enjoy fully updated heating and ventilation system and every bathroom will have been renovated "head to toe," Grubb said; the sealed-up third floor restroom will be fully revamped and ready to help meet the needs of the growing, 585-student school.
The entire building will have a new security system, with each classroom on a separate button-operated lock, and electronic card readers will be required to enter the building, other than the main entrance.
What's no longer in use is locker number 48: that's where Opsis architects arranged to install a "mechanical chase" — a vertical column of electrical and other utility lines.
Bathrooms have new few floor drains, tiles, sheetrock, urinals, fixtures and stalls, the sinks and drains connected to a new domestic water pipe. The original plan was to remove bathroom sheetrock four feet down, but Grubb said crews ended up replacing it all.
Grubb said Friday that the third story is completed painted and the crew is working on the second story. New flooring starts this week, with all new carpet tiles.