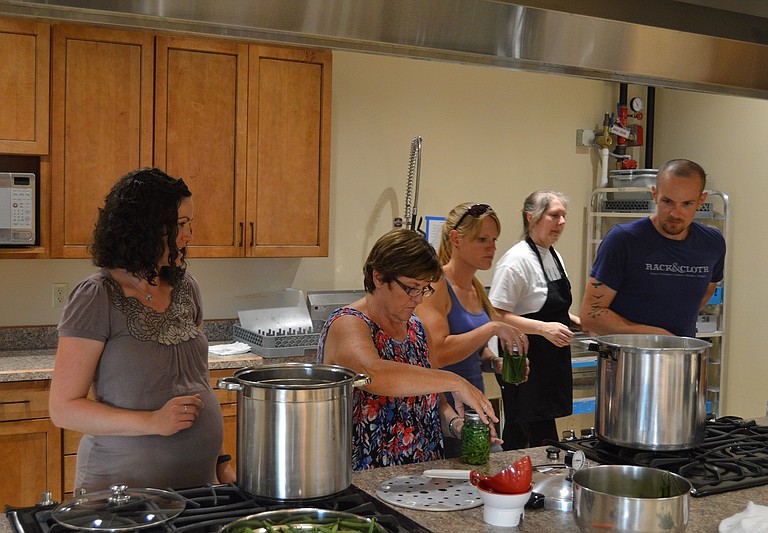 Originally published August 9, 2017 at midnight, updated August 9, 2017 at midnight
The annual OSU Extension Service Food Preservation course series has been in full swing since early June in both Hood River and The Dalles, with such offerings as "Intro to Food Safety," "Jams and Jellies" and "Dehydrating Foods," teaching Gorge residents how to safely preserve the bounty of the area.
In Hood River, the classes meet on Thursdays from 6-9 p.m. in the FISH Food Bank commercial kitchen, led by OSU Extension Assistant Professor of Practice Lauren Kraemer.
In an age of internet how-to videos, these hands-on courses teach tested recipes, trusted methods and critical thinking skills, and offer a quick answer to any questions that arise.
Upcoming Classes
Aug. 10 — Tasty Tomato Products
Aug. 17 — Freezing
Aug. 24 — Cheese Making
Aug. 31 — Smoking/Curing Meats
"People access most of their food cooking and preservation information online, and it's really important to use trusted, safe, tested recipes, particularly for things like pressure canning," she said. "I see a lot of scary things online — what people have posted on their own private blogs, about processes that aren't safe and could lead to foodborne illness.
"Part of our approach is to teach critical thinking skills in classes — 'If someone gave you a jar of beets that was merely labeled beets, what kind of critical questions would you have?' It helps people be better consumers not only of canned goods, but day to day life in general."
Some of the classes are basic techniques offered at OSU Extension sites statewide; others Kraemer added because of interest or need, such as cheesemaking (Aug. 24) and smoking/curing meats (Aug. 31).
"For many, these are skills they didn't learn at home — they weren't canning with their parents or grandparents or gardening, so in many cases, they're learning for the first time," Kraemer said.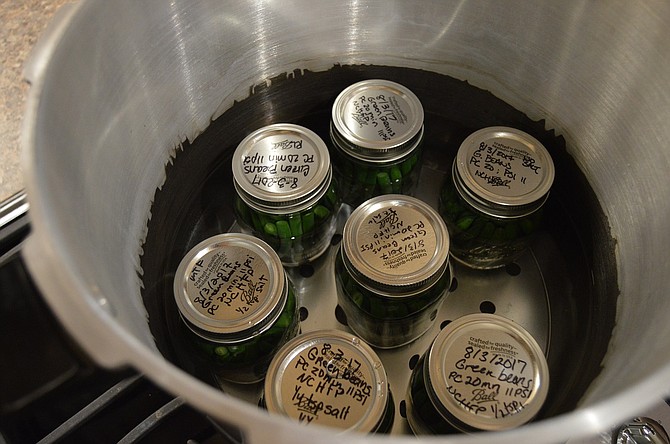 "People appreciate having the hands-on opportunity to practice the skill," she said. "... Sure, you can YouTube it, but to go through the process of chopping your own cabbage, massaging it, and packing it gives you confidence to do it yourself, and you don't have to pause the video. For those skills in particular, if you haven't canned before, it's important to walk through it."
The classes are offered for $10 each, but there's a group who attend each under the Master Food Preservers umbrella. These students are required to complete homework, take an annual exam and volunteer in the community, at events like farmers' markets or food preservation classes.
Generally, the Master Food Preservers program is held in the spring, with individual classes repeated in the summer. This year, Kraemer combined the two, and with good reason — she's expecting her second child in October. It's the first time in the state the two programs have run in tandem.
The benefit: She is able to rely "pretty heavily" on the Master Food Preservers cohort, which comes in handy for classes like cheesemaking. This is the second time she's offered it; last year's class drew 25 students.
"There's a point in cheesemaking where you have to do specific things in that moment, so eight groups needing me to check pots at the same time can be a little chaotic," she said. "Having volunteers is really helpful."
The most popular class she offered this summer was "Food in Emergencies" in early June, the idea of which stemmed from "all the buzz about Cascadia and resiliency in the Gorge after our crazy winter," she said. A record-breaking 35 students attended in Hood River. It was the first time she'd offered the course, which she called a "really basic overview for the typical person who hasn't thought a lot about this," she said.
But she found that some in attendance "were preppers and people who were way beyond what the general population has in terms of knowledge and skills," she said. "I think in the future, there could be a level 2 or level 3 class."
Another popular offering was "Fermenting" in late July.
"Fermentation was a huge hit — everyone really likes that," she said. "It's sort of a representation of regional and national trends; people are really fascinated by probiotics, gut health, all of those things get intertwined. We see that in our own food marketplace, with beer and wine and cider, but also Blue Bus and Oregon Brineworks coming out in the last couple of years. People are keen to learn about that stuff.
"There's a lot of interest in pie filling, that's particularly relevant to this region with all the food we produce. Cheesemaking has been a huge hit. And there's a lot of interest in smoking and curing meats. That hasn't been offered before."
Kraemer said she gets stopped all the time in the store by people who have taken her classes and want to share their "food preserving adventures," she said.
"It's fun for me to hear that folks do intend to go on."
Anyone can attend the classes, but preregistration is required. See Happenings for each course registration link, or call Kraemer at 541-386-3343 ext. 38258, or email Lauren.Kraemer@oregon state.edu.