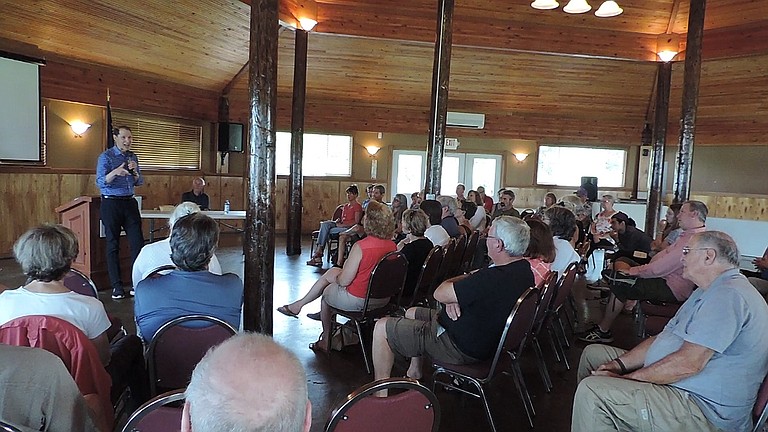 Originally published August 9, 2017 at midnight, updated August 9, 2017 at midnight
This story has been updated.
On Sunday, Sen. Ron Wyden came close to creating a new acronym: NOMY.
"Not On My Watch."
Wyden, speaking to 75 or so citizens at a town hall at Cascade Locks' Marine Park Pavilion, used the phrase repeatedly to assert his firm, if not unyielding, opposition to a number of efforts and proposals put forth by President Donald Trump and the Republican Party.
He applied NOMY to the concept of stripping away Medicare assistance, privatizing operation of federal dams such as Bonneville, removing a woman's right to choose her own doctor, and any repeal of the North American Free Trade Act. He added that, "I will not let the American people be in the dark" on changes to trade policy. (Wyden's committee assignments include Senate Committees on Budget, Finance, Taxation, and Energy, correcting an error in the print and online version of this story.)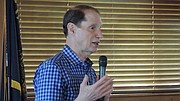 As to Trump's considering privatizing dams and other federal facilities, Wyden called it "such a flawed idea," one floated by past presidents and abandoned for good reason.
"But this time they seem serious about it. You want a recipe for certain rate increases, sign up for this idea," he said. "We will use every rule in the Senate book to stop this," he said.
National issues such as health care, tax reform, immigration law, and public lands, in questions put to him by the audience, formed most of Wyden's focus. Yet Wyden immediately assigned staff members to assist local agencies in addressing two local needs:
---
Convening a Gorge meeting with emergency services officials in Oregon and Washington this summer to assemble budget proposals for increased federal assistance in response to the fast-increasing recreation-related requests for service;
Meet with officials of Cascade Locks and other ports to identify particular infrastructure needs and how to access federal grants to meet their needs.
---
Wyden said that, overall, the federal government needs to do more to assist the state and counties in housing access and transportation facilities and services, in addition to addressing health care. He questioned why Trump did not immediately pursue legislation addressing transportation and infrastructure needs instead of the stalled health care legislation proposals.
"You gotta get down to the nuts and bolts of how you're going to deal with these essential services," he said. "Housing policy in America needs a total remodel. No question about it," he said. "There are so many people who can't afford a place to rent let alone the American dream of a home to buy without having to go all the way to Iowa."
He also vowed to do all he can to revive the 20-year-old State Support for Schools funding initiative that has served Hood River and other Oregon timber counties but has gradually been stripped down in recent years.
Referring to U.S. Rep. Greg Walden (R-Hood River), Wyden said of Walden, "I'm sure you're going to be seeing a lot of him this summer and I encourage you to talk to him."
Wyden debunked Trump's claim of widespread election fraud but said the sure remedy is to enact nationwide vote-by-mail "to ensure a paper trail for each and every vote." That received one of the biggest applause of the day.
"It's amazing," he said. "I can't think of another time when the winner of an election claims a lot of fraud. That's usually something the loser does."
Asked twice his opinion of Trump's fitness for office, Wyden demurred, saying "I'm in favor of holding everyone accountable right now.
"Every single day it is the job of elected officials and every citizen to demand accountability," he said. "Transparency and accountability needs to be insisted upon at every level of government." He said that along with special counsel Robert Mueller, the Senate Intelligence subcommittee on which he serves will pursue accusations of Trump election campaign collusion with the Russians.
"I will not let this be swept under the rug," he said.
Using both humor and references to being the middle-aged father of young children, along with blunt language about things he does not like, Wyden covered plenty of ground in the 90-minute town hall, pausing afterwards to talk with several local officials and business owners. Near the conclusion of his remarks, Wyden said, "My vision of America is built around the middle-class person," and vowed to uphold the interests of the middle class, which he said "is the economic driver of 70 percent of the nation's economy." (This corrects a quotation published in the print and an earlier online version of this story.)
In the face of divisions and dire challenges to the nation and the world, Wyden expressed hope for the future of democracy and public discourse.
"I'm a glass half-full guy," he said. "I believe that when you get the facts in front of people, Americans stop up and get things done."
The final question of the day was on current Trump administration immigration enforcement and the proposal for increased restrictions; Wyden looked back 10 or so years — and 70 years. He said amnesty-style reforms approved years ago by the Senate, but not by the House, are worth considering again to help people with illegal status gain legal status and begin the path to leadership: pay a fine, demonstrate English proficiency and prove no other crimes committed.
"It's a mess," Wyden said of immigration policy. "It doesn't work for communities or anyone involved. You hear suggestion of separate processes for separate groups: the farmers, restaurants, technology, I think that is a very tough go. We're better than just raising a white flag and saying 'that's that.'"
Wyden, who is Jewish, invoked the memory of his German-born parents' flight from the Nazis in the 1930 and the murder of family members in the Holocaust, a personal insight in his support for keeping U.S. borders open.
"My family fled Germany and not all got out. My grandparents would be flabbergasted to see their first generation grandson had all these opportunities for public service," Wyden said.
He said he is dedicated to continuing town halls, a tradition he said not all Americans enjoy. He cited a request at a recent Oregon town hall from a "Town Hall Project" proponent from another state who asked if he would come to another state to do one.
"I am so grateful to the people of Oregon to serve. As long as I'm on the job, this is the way we're going to do it," Wyden said. "I don't have all the answers. Not by a long shot. But I do know, this is the way the founding fathers wanted it. There isn't enough of it going on in America."