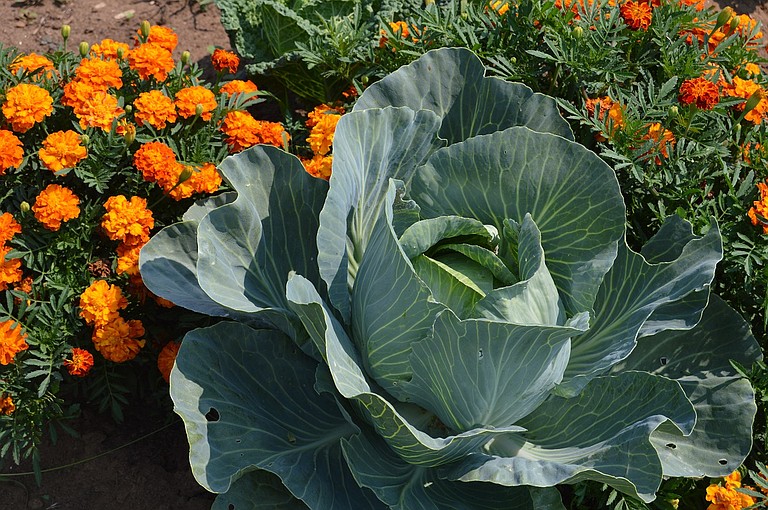 Originally published August 16, 2017 at midnight, updated August 16, 2017 at midnight
The garden behind FISH Food Bank on Tucker Road, next to Spirt of Grace Church, fulfills a simple, yet important, mission: To provide clients with equal access to fresh, nutritious produce and teach the community how to grow their own food.
And the garden has expanded considerably over the years thanks to Spirit of Grace's commitment as a congregation to tackle hunger in the Gorge.
During last week's FISH board meeting, Garden Coordinator Susan Randolph, volunteers Dan Ball, Dennis Carlson and Becky Montgomery, and Spirit of Grace Pastor David King took board members on a tour of the garden to explain its mission, growing techniques, teaching opportunities and the continuous need for more help.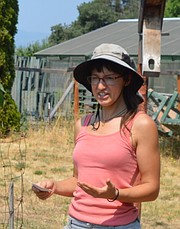 Randolph said that surveys show one in five Gorge residents miss meals; FISH Board President Marianne Durkin said the four food banks in Hood River County — located in Hood River, Odell, Parkdale and Cascade Locks — see a combined average of 400 families each month, and the food bank garden helps meet demand.
Randolph shared statistics from the garden's three years of production in conjunction with FISH: In 2015, approximately 500 volunteer hours harvested 2,581 pounds of food from the garden; in 2016, more than 1,000 volunteer hours brought in 2,131 pounds, and so far this year, over 300 volunteer hours have so far brought in more than 400 pounds of food — "but we've hardly harvested anything yet," she said.
What's grown in Hood River's FISH garden reflects the needs of clients.
"Everything we grow goes to the food bank," Randolph said, gesturing to the 800 square foot space. "The clients really are our customers. We grow food for them."
Staples like onions and potatoes are popular but often in short supply, so volunteers grow those staples. There was also a request for "greens and salad stuff," Randolph said, so they're also growing tomatoes, peppers, kale, chard, broccoli and cucumbers, largely thanks to a seed donation by the Rockford Grange this year.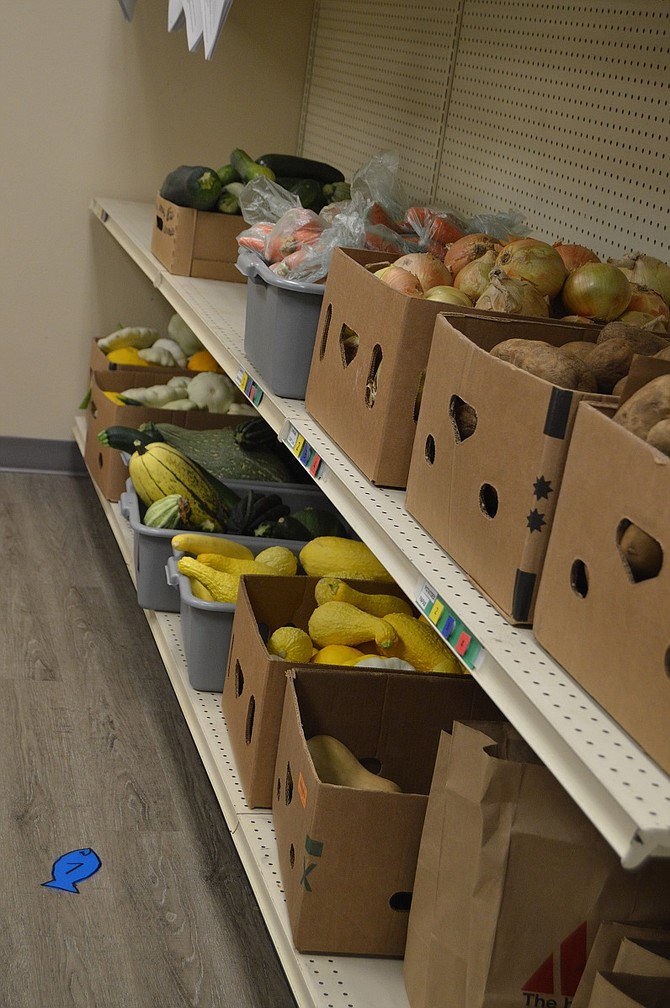 Another benefit: Everything harvested is delivered directly to the food bank shelves.
"Growing produce right here on site means we don't have to transport anything; we can pick exactly when it's ripe, and can identify the food clients like, what's productive for us to grow."
Ultimately, Randolph envisions a garden with "lots of perennials and produce, (where) people come and graze and see how easy it is to grow their own food."
•
The garden and food bank kitchen also serve as education centers. It's now an OSU Master Gardener project, as Randolph recently completed training. This will bring more volunteers into the garden, she said, as well as provide one-on-one learning opportunities for those wishing to expand their own growing skills.
Everyone from school groups to medical professionals have come to the garden to learn about the program and work. Ball said young people are particularly encouraged.
"Fewer and fewer people are involved in agriculture," he said, "and it's good to know where food comes from."
Plus, younger energy "adds to the fun. But they're also learning something valuable," he added. "We provide fresh produce for the community, but we learn a lot, too."
Randolph said that pest control has been an unwritten but huge aspect of her job.
"I've learned a lot about gophers, slugs and aphids this year," she said.
The garden's produce grows alongside flowers in an effort to reduce chemical use, Randolph said, as well as to attract pollinators. It's working — so far this year, she's only had to apply "a tiny bit of soapy water" to keep pests at bay.
Buckwheat also takes up a quarter of the garden, another natural pest controller that also feeds the soil, said Carlson.
"I'm trying to be as progressive as I can (in the garden)," said Randolph. "It's also why people are interested — we're all learning together, and we can swap ideas."
While the garden gets much of the attention, the food bank kitchen also plays a role in education. Any hunger-focused group can use the facility — kitchen and meeting room — for free, said Spirit of Grace Pastor David King, pointing to the OSU Food Preservers program, which meets at the food bank on Thursdays, and 4-H groups.
•
Randolph's position is paid for by Spirit of Grace, who also donated the land on which the new FISH building sits. The garden is much older than the three years it's been used in conjunction with the present food bank, but it's reach is much broader thanks to the updated food bank facility.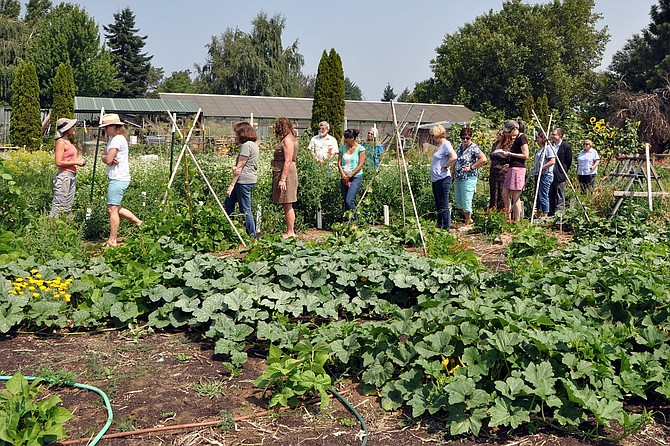 The garden is a ministry of Spirit of Grace, explained King; the congregation has made hunger issues their issue and has grown food in support of FISH for the past 10 years. It's what led to the donation of land for the new FISH site, said Randolph, and why the church continues to work behind the scene in the garden.
While the FISH board concentrates primarily on collecting and distributing food, "as a church, we find ways to help supplement that," said King.
FISH and the garden work in tandem, yet with their own sets of helpers. Garden volunteers come regularly to pull weeds and pick produce, with Spirit of Grace "keeping it all together," Randolph said.
They collaborate with a variety of organizations, including The Next Door, Klahre House, OSU Master Gardeners, Arts in Education in the Gorge, and church and school groups — from all over the state.
"It's really cool to see all of this come together in three years," she said. "It started with organizations all doing their own thing, and I feel like we've all come together to create a higher purpose."
•
Randolph calls the work in the garden "a perpetual mission to feed people," and as such, she has many wish list items and general needs. FISH has an online giving system, said King, but those who wish to give to the garden are asked to mail checks — designated to the garden fund — to Spirit of Grace Church, 1140 Tucker Road, Hood River, OR 97031 or FISH Food Bank, 1767 12th Street No. 147, Hood River, OR 97031. Gardeners with extra produce are also encouraged to drop off donations in the tote box located in front of the food bank.
Those interested in volunteering or donating items on the garden wish list should contact Randolph at 339-368-0233 or surandolph22@gmail.com.