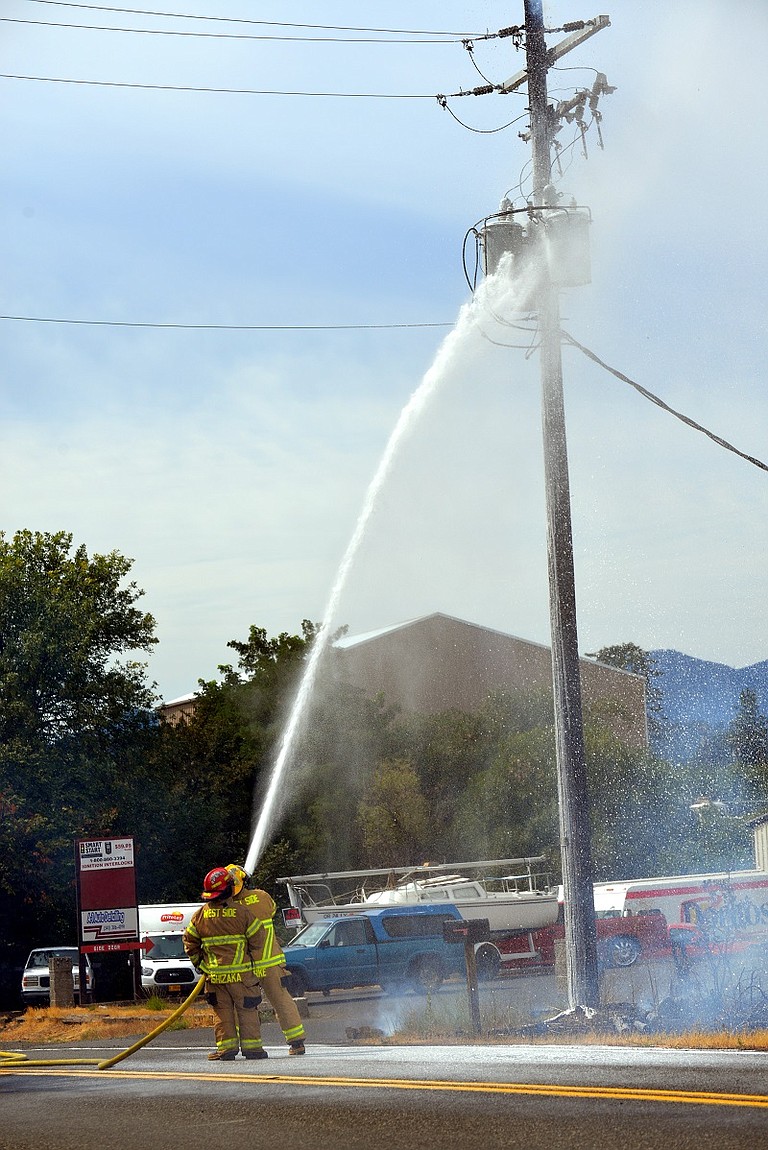 Wednesday, August 16, 2017
A power pole caught fire on Guignard Road Monday but utility and fire crews teamed up to choke the flare-up in less than an hour.
The fire was human caused and details are under investigation, West Side Fire Marshal Jim Trammell said.
West Side Fire Department responded Aug. 14 afternoon from their Tucker Road station to a reported grass fire on nearby Guignard, in front of A-1 Auto Detailing.
When crews arrived, they saw flames spreading over the entire powerline. Fire was also charring a patch of yellow, dry grass along the roadway.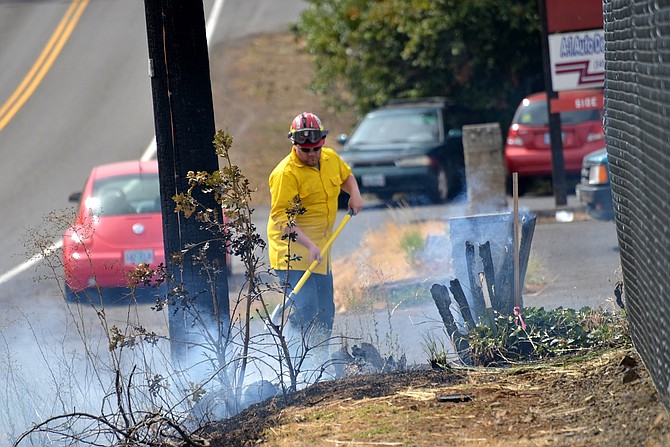 At first firefighters attacked the fire from the ground with a hose, Trammell said, waiting until Pacific Power staff cut a utility line leading to the pole, so firefighters could safely spray the entire structure with suppression foam.
The emergency team then sprayed jets of soap-like firefighting foam at the electrical pole's peak, knocking out the fire in a second sweep. White suds dripped down from the column, pooling in the dirt below. Firefighters also sprayed a smoking mailbox and shoveled over remaining hotspots in the smoldering grass strip.
Trammell said the fire's cause is uncertain, but it might have originated from somebody smoking on site. He said it was not electrical in nature.
Fire risks remain high in Hood River County, Trammell said, despite the recent drop in temperature and a sprinkling of rain over the weekend.
"When you have wind, it will overcome humidity," he said, referring to the breezy day when the fire broke out.
Temperatures will hover around the upper and lower 80s this week, forecasts state.
The county has so far evaded any major wildland fires this summer. The Indian Creek Fire, still burning about 83 acres near Eagle Creek Trail west of Cascade Locks, didn't shrink with precipitation; however, it's not threatening any structures and is not growing.
An interagency fire team reported, "It will take a considerable amount of rain to soak through the forest canopy and the forest floor" before vegetation is wet enough to affect the fire.
A helicopter assigned to the fire took a break to allow the pilot some required rest time. If the fire shows more activity this week, the pilot will be able to drop water on it, the fire team said. So far water drops have been successful in keeping the fire in check.
Oregon Department of Forestry increased fire restrictions in Central Oregon on Aug. 3. Open fires are prohibited, including campfires, charcoal fires, cooking fires and warming fires, except in designated areas.
Most private timber lands in the Gorge are closed, including all SDS trails and private property.
"Don't drop your caution, no matter what you're doing," Trammell advised residents.