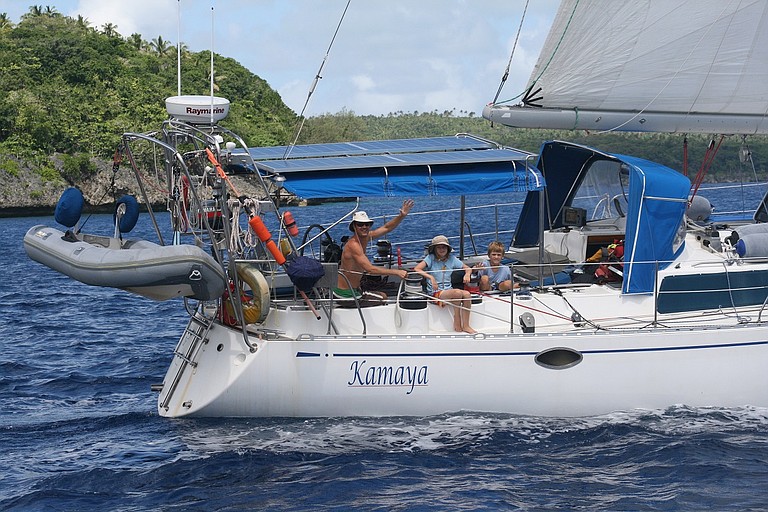 Wednesday, August 16, 2017
During our epic journey sailing across the Pacific Ocean with our family of four, we had the opportunity to witness a total solar eclipse, just south of Tahiti. It required a challenging overnight sail and a little bit of effort to view 100 percent totality.
Our friends questioned why we would sail 40 miles to see totality. "You're doing what?" asked Chris Ellsay, who was also cruising with his children on their own boat. "Sailing out of your way, just to view an eclipse?"
"So the sky gets dark and stars come out during an eclipse, that happens every night, what's the big deal?" piped another sailor.
"Make sure not to blink," she added.
"I've seen a partial eclipse and thought it was no big deal," my wife, Ruth said. I thought I'd get a little more support from my own wife, who reluctantly agreed to go along with my navigation plan, saying that sailing upwind would be my birthday present.
Total solar eclipses occur nearly every year or two, but you have to be in the right spot on earth to see them. The 100-mile wide strip of totality just happened to be passing across the South Pacific a mere 30 miles south of Tahiti and directly over Easter Island and some of the Tuamotus.
From the moment I learned that we would be close to the eclipse, I started planning. I considered Easter Island, but July is not the right month to sail there. Another option was Hao, an atoll in the Tuamotus, but that required sailing one hundred miles out of our way. So this seemed an ideal plan: first sail to Tahiti, then leave the island around midnight and make it in time for the 8:30 a.m. totality.
Because we had already sailed downwind of Tahiti to Moorea, we needed to tack our way back upwind to Tahiti in 25 knots of wind gusting to 30, typical Gorge sailing. Ruth's Dad felt right at home, but we all wished our destination was downwind instead of straight into the teeth of it. The big seas slowed us down as they crashed over our bow. Thirty miles might not seem that far, but sailing into the wind nearly doubled the distance and took precious time.

"Maybe we can find a big cruise ship heading out to view the eclipse," suggested Ruth, voicing some of my own doubts about missing the eclipse and putting the family through the ordeal of beating into the wind.
"Or we could watch it from Tahiti and see 98 percent of the eclipse, we'll miss the 2-3 minutes of totality, so what?" she said, still not convinced.
•
I had never seen a total eclipse, but I knew I'd never forgive myself for being this close without making the extra effort.
Opting to see a partial eclipse felt like eating a wish sandwich, one with only two slices of bread and you wish you had something to put in between. Partial is the equivalent of a cone without ice cream, a swimming pool without water, or a bird without wings. It's literally the difference between night and day.
"Let's continue," I said, trying to ignore the doubts. We anchored for the evening in a little cove on the southwest side of Tahiti for a few hours, gaining protection from the rough seas. We left a bit early at 11 p.m. after just a few hours' sleep. Ruth was up because she felt nervous about our precarious anchorage, and I was awake in anticipation of the extraordinary sun-moon-earth alignment.
That night the weather gods smiled upon us. The breeze eased and we sailed along in a comfortable 15 knots of wind right on course for the eclipse zone. The night was magical and clear. A few shooting stars paved our path, like celebratory firecrackers. We took turns steering Kamaya, our Stevens 50 sailboat named for our children, Kai and Maya, and arrived at the eclipse zone just as the sun began to rise.
It felt a bit odd calculating a course towards an eclipse zone. Instead of our usual navigation to a specific island, we were supposed to find some invisible 120-mile wide stripe across the ocean. We'd be far enough away from Tahiti that we wouldn't see land, so we'd have no frame of reference, just the endless rolling seas on the entire horizon. I'd marked down a few GPS coordinates along the path, but what part should we aim for? I calculated that if we sailed generally south east of Tahiti for at least 20 miles we'd have about two minutes of totality. If we sailed 80 miles we could get nearly 4 minutes; 140 miles and we'd be past it and out the other side. But we didn't need to worry about going too far. Our boat was sailing about 6-7 knots (7-8 mph) and we could only cover about 30 miles by eclipse time at that rate.
Unfortunately with first light, a few scattered clouds appeared. I thought of the story about the French team led by Le Gentil who wanted to record the transit of Venus from India in 1769 just like Captain Cook did from Tahiti. They met delays in sailing to India and arrived too late. But they knew another transit would occur eight years later and just decided to prepare and wait. Eight years later under cloudy skies they still had no view of the transit and upon returning to France in disgrace their families had given them up for lost, even taking other spouses.
At 7:26 a.m. Maya, then 10 years old, tried on her special solar eclipse goggles that I ordered more than one year ago and said, "A little bite has been taken out of the sun."
"Are you sure it's not a cloud?" I asked.
"No, it's a bite and it's getting bigger," she said.
"Wake everyone up!" I eagerly shouted as I saw the same bite through our special viewing glasses.
•
Soon we were all on deck watching the bite grow bigger and bigger over the next hour. The bright sun got dimmer and dimmer and smaller and smaller. People viewing the eclipse from Tahiti also saw this much of the natural phenomenon. But it was the next part which left us in awe.
The clouds came and west, making me fear that they would obscure the sun during our precious two minutes of totality. The crescent of visible sun grew smaller and smaller. About 8:30 a.m., the clouds dissipated as if swept aside by some mystic hand just in time as the moon completely blocked the sun.
"I can't see anything with my glasses," said Maya.
We removed our glasses and witnessed the infamous diamond ring effect. A jet-black circle sat in the sky where the sun used to be. A spectacular ring of fire surrounded the circle, with one piercing bright spot peeking through, like a flaming diamond ring illuminating the sky. This image was temporary. In the next few seconds, the sky turned dark. All that was left was the black circle of the moon with its ring of fire. It was not quite like night time as there was still some dark blue in the sky. We could see some stars and planets, including Jupiter and Alpha and Beta Centauri near the Southern Cross. Sunspots shot jets of fire out the side of the moon. It was a magnificent sight. We were awestruck and speechless.
This too was fleeting. We looked at the moon shaded sun and sky for two and a half minutes watching solar flares jet brilliantly out from the moon. Then we witnessed another diamond, this time on the other side of the moon as the sun peeked its bright face out again. The whole process happened again in reverse. With the first splash of bright light we put on our glasses and watched as the crescent sun slowly grows back over the next hour into its full warm usual self.
We didn't feel our usual selves. That morning, we indulged in a delicious club sandwich, filled with first grade bacon, smoked ham, succulent roast beef, slices of hot house tomatoes and even organic lettuce. To memorialize the event, we decided to revise our reference to time. From now on, instead of 2010 AD, anno domini, our family marks the time AE, after eclipse.
Jumping forward to the current 7 AE, here in Hood River we have the opportunity to see another full solar eclipse. But this time we'll be afoot instead of afloat.
Just like at sea, we have obstacles to brave and concerns about safety, comfort and visibility. We have tentatively picked a mountain lake for viewing the eclipse, but that choice may change at the last minute with the weather forecast. Currently there is a forest fire about five miles from this lake. We have a backup plan of our friends house in Albany and a backup backup of a campsite on the John Day River. Between fog, marine layer clouds, forest fire smoke and traffic, what will be our best way to experience this eclipse? We don't know how, but somehow we will find a way.