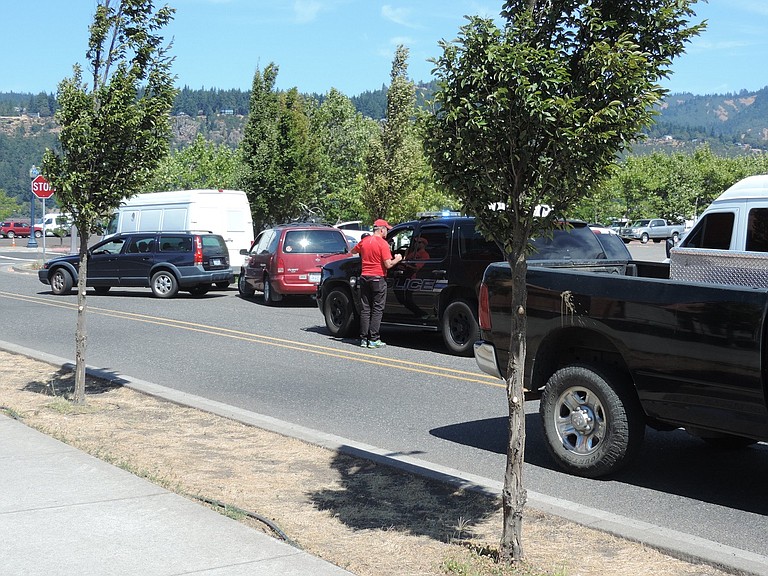 Saturday, August 19, 2017
"Those gentle voices I hear/Explain it all with a sigh …" — "Tuesday Afternoon," Moody Blues
The paper was out and an otherwise quiet Tuesday afternoon brought a scanner call I just had to go check out: two drivers refusing to relinquish one parking spot. What we heard was that one guy was preparing to back into a space when another guy squeezed in and stole it from behind. But both were stuck at angles, and blocking traffic.
And for this, police were asked to respond. Both drivers had called for our men in blue to intervene.
It was happening down on the waterfront. As I drove there, I pulled over for a Hood River Police vehicle, thinking I was going to get there before the officer did. No, it was the second squad car on the scene. I parked around the corner and by the time I got there, officers Mike Martin and Andy Frazier were sorting it out. I stood across the street taking a few photos and watching. Within a few minutes, the first driver left the scene and the other guy was given the space.
No one came to blows, but it points to a rising problem, Portway and Second being one of the flare-points:
People take parking personally.
Police now are not just giving parking tickets, but refereeing when new forms of double parking happen.
The second driver, once parked, saw me across the street and asked me to come over and talk. He said he had seen the space and was approaching it when the other guy backed up from the Portway intersection, a distance of more than two spaces. It seemed like a borderline case of two people with a roughly equal claim to the space, but the guy was pretty aggrieved, calling traffic use "really grim" and bemoaning general lack of civility. (I did not get a chance to talk to the first guy.)
The driver said he is a Bingen resident who comes to Hood River frequently, and to the waterfront in particular; he had his sailboard in the back of the van and had come to go windsurfing. He said one reason he insisted that the space was his, to the point of calling police, is he is tired of the aggressiveness of people, especially by visitors.
"I'm tired of it and I've just decided to get more assertive."
We talked a bit longer; he showed me photos he took of the scene, and the last thing he said, after all this, was, "This has got me upset and ruined my afternoon. I don't even want this space anymore."
I urged him to go get some river therapy, and bid him goodbye. I walked back to my car and drove around the block, counting three empty parking spaces the next block over from the hotly-contested asphalt rectangle. He was sitting behind the wheel of the car. (By the way, driving back to the office, I counted 17 parking spaces available in a three-block stretch of Second Street and State Street; this was at about 2:30 p.m. on a sunny mid-summer day.)
The port is taking steps to deal with the issue, with plans underway for waterfront meters and other enforcement efforts, so stay tuned.
But issues relating to parking will persist and more and more people are likely to get "assertive" in claiming their territory. It's rare that police were called in, but I hope both of those drivers realize the options they could have taken rather than calling in public safety resources to deal with their petty spat.
I have to wonder if the real "parking problem" in town is one of supply, or something else:
People don't want to park where they can. People want to park where they want to park.