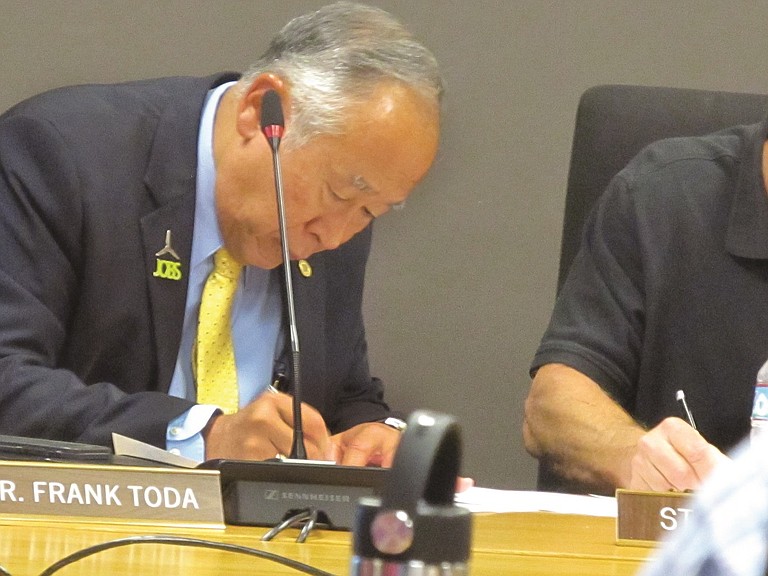 Saturday, August 19, 2017
The Columbia Gorge Community College Board of directors and President Dr. Frank Toda signed a "mutually acceptable separation agreement" effective Sept. 29 in a special board session Tuesday evening at The Dalles campus.
Following an executive session to discuss exempt records, including written advice from legal counsel Jollee Patterson, the board returned to regular session and voted unanimously to let Toda go.
According to the separation agreement, CGCC will pay Toda $89,425, which is equivalent to six months of his regular salary. A search for an interim president will begin immediately while the college recruits nationally for the next chief executive, according to a media release issued after the meeting was adjourned.
"This is a significant moment in the college's history, and I would like to celebrate the many accomplishments Dr. Toda has achieved since he joined in 2001," said Stu Watson, president of the board.
"The board wishes him well in future endeavors as it pursues initiatives to strengthen the college and expand access to education for the entire community."
Toda, referencing a song by The Byrds, said in a letter to the community that "there is a time to stay … and a time to move on." In the letter, he thanked members of the original board of directors that hired him.
Toda noted that "they were very brave to hire a president directly from a command position in the military." He also thanked the additional board members he had served with over the years.
Both Toda and Watson highlighted the many gains the college made under Toda's leadership, including expansion of a Health and Sciences Building and shared space in the Fort Dalles Readiness Center, both in The Dalles, and a new campus built in Hood River.
A number of successful programs were also added during Toda's tenure, including nursing, renewable energy (now electro-mechanical technology) and computer science.
Toda also identified the college's achievement of independent accreditation as one of the proudest accomplishments of his presidency. After 36 years operating under the auspices of Portland Community College, in 2013 CGCC achieved independent accreditation during Toda's tenure.
Additional accomplishments under Toda's tenure include the school's selection this spring as an Hispanic Serving Institution and, with his support, the college board's declaration of sanctuary status for both campuses. More than 30 percent of CGCC students are Latino.
"Going forward, the college board fully intends to build upon the successes achieved during Dr. Toda's tenure," Watson said. "In this ongoing journey, we look forward to the continuing contributions of a talented staff and faculty. Of greatest importance is the trust placed in this institution by our students and community. We will endeavor every day to validate that trust."