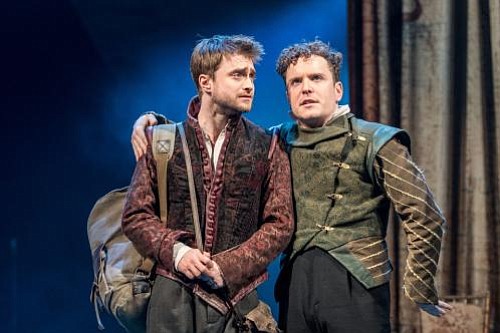 Wednesday, August 23, 2017
The next National Theater Live broadcast, shown at Columbia Center for the Arts, will be Sunday, Aug. 27 at noon.
Daniel Radcliffe ("Harry Potter"), Joshua McGuire ("The Hour") and David Haig ("Four Weddings and a Funeral") star in Tom Stoppard's situation comedy, "Rosencrantz & Guildenstern Are Dead," broadcast live from The Old Vic theater in London. David Leveaux's new production marks the 50th anniversary of the play that turned a young Stoppard into one of the most iconic playwrights of the 20th century, according to a press release.
Against the backdrop of Shakespeare's Hamlet, two hapless minor characters (Rosencrantz and Guildenstern) take center stage. As the young double act stumble their way in and out of the action of Shakespeare's iconic drama, they become increasingly out of their depth as their version of the story unfolds.
Filled with comic wordplay and witty one-liners, the play has received outstanding reviews — especially praising Radcliffe and McGuire's performances and the quality of the production as a whole, stated a press release.
Each NT Live broadcast is filmed in front of a live audience in one of the premiere London theaters, with cameras carefully positioned throughout the auditorium to ensure that cinema audiences get the best seat in the house view of each production. Where these cameras are placed is different for each broadcast, to make sure that cinema audiences enjoy the best possible experience every time. Satellites then allow the productions to be broadcast live to select theater venues around the globe.
Columbia Center for the Arts is proud to present these NT Live productions featuring the best of the best actors working in theater today. This screening is sponsored by Maureen Higgins, Pat and Dick Schmuck, Tom Penchoen, and Kate Mills.
Tickets are $20 for adults and $15 for seniors and students. Purchase tickets online at columbiaarts.org, in the Columbia Arts Gallery at 215 Cascade in Hood River, or at Waucoma Bookstore. Group tickets available for groups of 10 or more at events@columbiaarts.org.