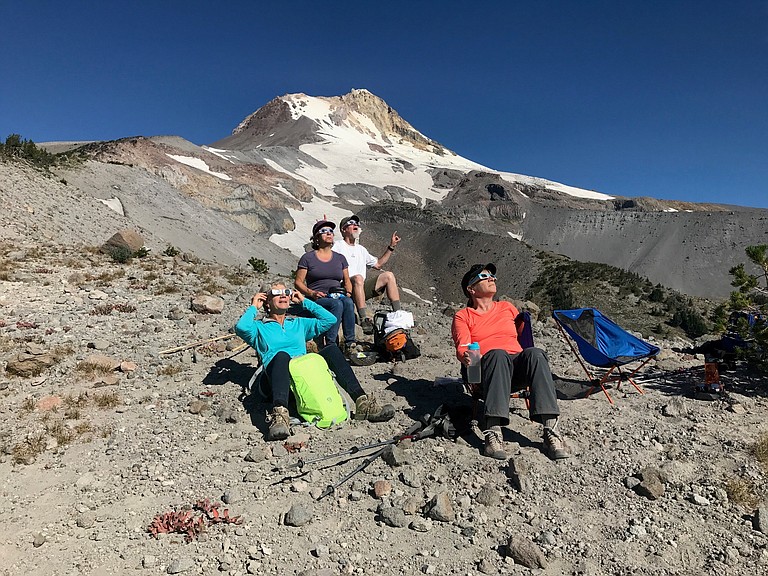 Originally published August 26, 2017 at midnight, updated August 26, 2017 at midnight
On Aug. 21 shortly after 10 a.m. the morning looked like 8:15 p.m. as the 98 percent totality eclipse shaded the Gorge in brief dusk conditions for about two minutes, and caused a notable drop in air temperature.
Although the county activated its EOC (Emergency Operations Center) for the eclipse event from 7 a.m. to 4:30 p.m. Monday with staff and volunteers, there was "no significant emergency information to report," according to Barb Ayers, county emergency services manager.
Interstate 84, Highways 35 and 26 remained clear most of the day, picking up somewhat in the afternoon, Ayers said. (Mid-day traffic did create extensive congestion on Highway 97 between Biggs Junction and the town of Wasco.)
"EOC staff monitored major traffic, wildfire, fuel shortages and other impacts statewide from the eclipse event — impacts were experienced in the metro areas, southern and eastern Oregon counties but not in Hood River," Ayers said.
"The EOC activation was an excellent real time drill of our county's readiness and resilience in the event of an escalating disaster or major emergency incident," Ayers noted. "Hood River County EOC was ready if our community needed help."
— and worked in support of Oregon State Fire Marshall's Office, Oregon Office of Emergency Management, Oregon Health Authority, Hood River Fire Defense Board, and 30-40 city, county, tribal, state and federal agencies in preparing, monitoring and activating for the event."
For reader photos and impressions, see the Aug. 26 print edition of Hood River News or visit our brief online list.