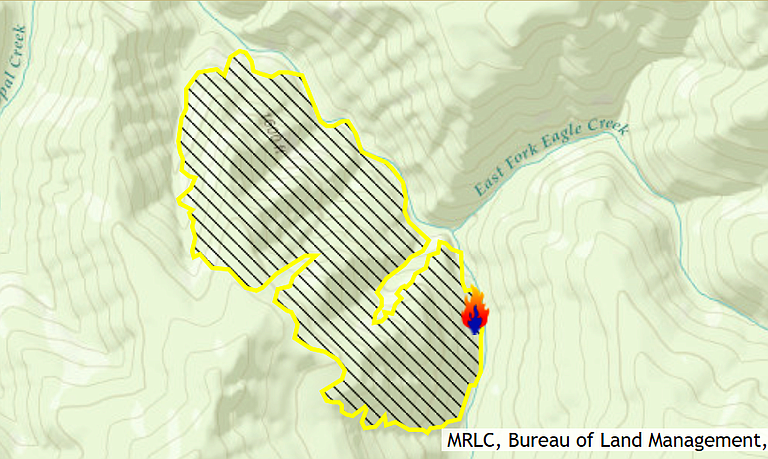 Originally published August 26, 2017 at midnight, updated August 26, 2017 at midnight
The Indian Creek Fire, west of Cascade Locks, has spread to 327 acres, spurring more forest trail closures this week.
The U.S. Forest Service on Wednesday extended its closure of Eagle Creek Trail by two miles to High Bridge for public safety due to the wildfire.
Nearby Pacific Crest Trail remains open. The first 3.3 miles of Eagle Creek Trail, including Punch Bowl Falls, also remain open.

The fire was first detected July 4 on steep slopes and cliffs west of Eagle Creek Trail No. 440. Aircraft have since attacked the blaze with water drops.
Two helicopters and four "Super Scooper" airplanes made repeated water drops on the fire this week, zeroing in on hot areas along the north and west edges. According to a Friday morning report, the fire produced much less smoke than a few days ago, showing that the fire was burning with less intensity.
"Firefighters are bracing for warmer, drier weather in the coming week," the assigned fire team said in a statement Friday.
The main focus remains public and firefighter safety, according to the Forest Service.
A crew has posted closure signs in the area and will be sweeping it to make sure visitors are not within the closed area. They are also contacting nearby hikers, tracking their numbers and travel plans. Please respect the closure for your own safety, as well as that of the firefighters.
The latest updates and a map of the Indian Creek Fire Closure can be found online at www.inciweb.nwcg.gov/incident/5403.
Meanwhile, smoke from other fires around the Northwest has intermittently caused a haze in the Columbia River Gorge. The Chetco Fire, the largest blaze in Oregon, was burning 102,333 acres near Brookings as of Friday.