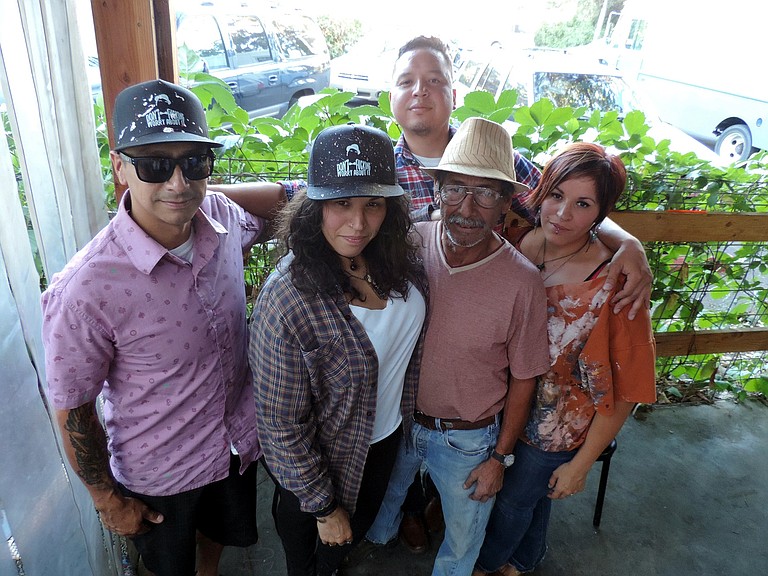 Originally published August 26, 2017 at midnight, updated August 26, 2017 at midnight
Hundreds showed up Thursday at The Red Carpet Inn on West Cascade to show support for the family of the late Hood River artist Nate Chavez. The Red Carpet and other food and beverage providers sponsored a day-long event in which all sales proceeds went to the family of Nate, who died Aug. 13.
Nate's godfather, Jesus Flores, remembered the songs, games, pranks and Halloween costumes that Nate was well known for. Jesus wore a tan fedora given him by Nate, who was rarely seen without any of a rotating supply of natty headgear. Sales were brisk of the cerveza known as El Padrino brewed in Nate's honor by Solera Brewery; all sales at events and at the Parkdale pub will benefit Nate's family. Leah's Lunch and 80-20 food trucks served up food, with proceeds to the family.
A Silent Auction and Party to benefit the family of Chavez will fill Underground Music Station on Aug. 26, from 8 a.m. to 2 p.m., is in back. Underground Station is located at 500 Industrial Way.
Food and beer will be available for sale, along with numerous donated auction items, and "Don't F------- Worry About It" t-shirts ($20) designed by Anneke Ayers of Full Sail Brewing.
Hear bands including The Adoration Society, Feed The Dog, and Vitamin D, and DJ Mexi spinning funk and soul.
Two blocks east of Underground see the continuing work on The Remains Gallery mural, which Chavez began with his gallery partner, Nik Vik.