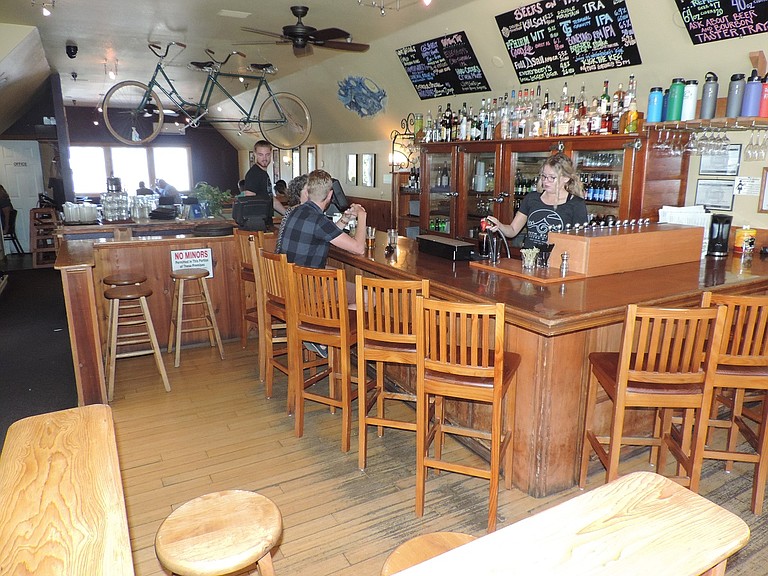 Wednesday, August 30, 2017
Long-time regulars at Sixth Street Bistro and Pub might remember that loft.
The restaurant —formerly "6th Street Bistro and Loft" — has been a downtown anchor since the building was constructed in 1985. Chris and Stacie Creasy, owners since 2009, held a street party this month to mark 25 years as 6th Street (see chronology, below). Food was served under tents and Tony Smiley and the band Anodyne performed. Foto Bus was parked next to the entrance for guests to pose for photos, and face painting with Stephanie Delgado and corn hole games kept kids happy. The Creasys and former owner Maui Meyer joined once-and-current employees for a reunion photo.
Said Stacie, "Given the restaurant business, 14 years is a long time, it's something worth celebrating."
"It's kind of like dog years, restaurants come and go fairly often," Chris said.
"We like people, and we like cooking really good food, and when everyone leaves we try to say thanks, given them a hug or a handshake, and make them feel at home," he said.
•
The biggest change with the 25th anniversary is a new logo, the familiar looping "6" now formed by a yin-yang joining the stylized waves on the Hood and Columbia rivers, Mount Hood the backdrop. The name change — no more "loft" — reflects the interior change that happened 20 or so years ago after the restaurant became 6th Street.
Entering from Sixth Street, you used to be able to look down into what is now the ground-floor. That opening was closed off in the early 1990s and the bar moved there from the east end of the main floor. (The outside entrance on Sixth Street looks largely similar to 1992: even the "OPEN" sign is the same; just inside the door, '90s tap handles celebrate history while holding guests' coats.)
Maui Meyer bought the business in 1992 and turned it into 6th Street. Meyer bought the building in 1995, along with Ben Stenn and Jaqueline Carey. (Meyer and Stenn remain partners in Copper West Properties, Oregon Grower Shippers, and Celilo, and Carey with Celilo.)
"We stand on the shoulders of giants," Chris Creasy said. "They built this restaurant. We worked in it, and when we took it over our number-one goal was what they had always done, which was quality food at a fair price."
Meyer said, "Considering 40 percent of restaurants go out of business in three years and 60 percent in the first five years, having a restaurant last 25 years in a small rural community makes me pleased."
He said the restaurant continues to rely on the local produce emphasis that distinguished it since 1998.
"We were one of the first to switch to that format, certainly in that price point, and it was made possible by the Green Smart, run by Kristin Reese (through Hood River Chamber of Commerce)," Meyer said. Though no longer in place, Green Smart was "an incredible program that does not get any of the credit for (its role in) the way many businesses operate, and we were one of the first."
Meyer said Carey oversees the same foodstream at Celilo, one based on local produce "and standing on the fact that the food comes from here and tastes like here," Meyer said.
"They (local growers) just kind of approach us. It works out in our favor really well," Chris said. "Nightly specials allow the kitchen to look at the produce that might come in and devise specials from that.
"When Ben was chef here, they set the groundwork for us as far as foragers come to the back door, local fruit companies come to the backdoor, and it was up to us if we want to continue that tradition, and we have. It supports the local economy."
Stacie said, "I think there is more available in the area, more people who are farming locally, which has been great, and it's nice to incorporate that when we can."
•
In 1985, Doug Beveridge built what was originally The Tree House Inn.
"Which was a losing proposition, let me tell you, and then I figured out renting it is better," Beveridge said. "I rented it to a number of people until Maui got it, and then he didn't want to pay rent anymore," and Beveridge sold it.
Beveridge pointed to the courtyard of the restaurant and said, "That oak used to be huge, so we built around it, and I had a vision of building out (a restaurant in a tree) … that never quite materialized."
"Those are two-by-twelves that go forever," Beveridge said, recalling that he hired Fred Mooney, "one of those framers who uses the axe, I needed someone who actually knew what he was doing. Fred was up there wailing away, it was pretty cool."
He ran it for a while, but then the business ownership changes began.
"I found out I was not a restaurateur. I found it out in three months," said Beveridge, who with his business partner Mike Kitts has built close to 20 percent of the homes in Hood River in the past 30 years.
He said, "Maui really took it to the next level, and the Creaseys are dynamite."
"Keep doing what we're doing," is how the Creasys will start the next quarter-century. "A lot of our customers when they come in they don't need a menu because they've been eating the same thing for 20 years, and we're happy with it."
The 6th Street chronology:
1985 — The Tree House Inn built by Doug and Susan Beveridge
1987 — Cascadia Complex, commercial buildings, built next to restaurant
1988 — Tree House Inn sold to Danny Tschudin, name changes to Chianti's Restaurant
1991 — Chianti's sold to John and Carolyn Layson
1992 — Chianti's sold to Maui Meyer and Tony Kalyk
1992 — Name changed to 6th Street Bistro and Loft
2009 — 6th Street sold to Stacie and Chris Creasy
2017 — Name changes to Sixth Street Bistro and Pub
•
From the Hood River News archives, two items, each one-inch deep, with comments on reasons you would never see such an item today:
March 18, 1988: "Another rumor has it that a new owner is gearing up to re-open the former Tree House Inn restaurant in the Cascadia complex on Cascade Street. No other details for now, except we understand that Italian-style food will be the order of the day."
Comment: We avoid use of the word "rumor" in all but, it appears, this case.
Oct. 2, 1985: "Tree House Inn is in hibernation for the winter season. That's the word from owner Doug Beveridge of the Cascade Street restaurant. They thank their customers for support during their first season of operation and look forward to returning from Florida next spring to re-open."
Comment: Not that restaurateurs don't take well-deserved vacations, but for some they are rare. It was probably 15 years ago that Hood River saw the end of restaurants' common practice of closing for a few weeks or a month (or more) in the winter, owners "heading south until spring." Business conditions, in culinary rich all-seasons Hood River, have certainly changed.