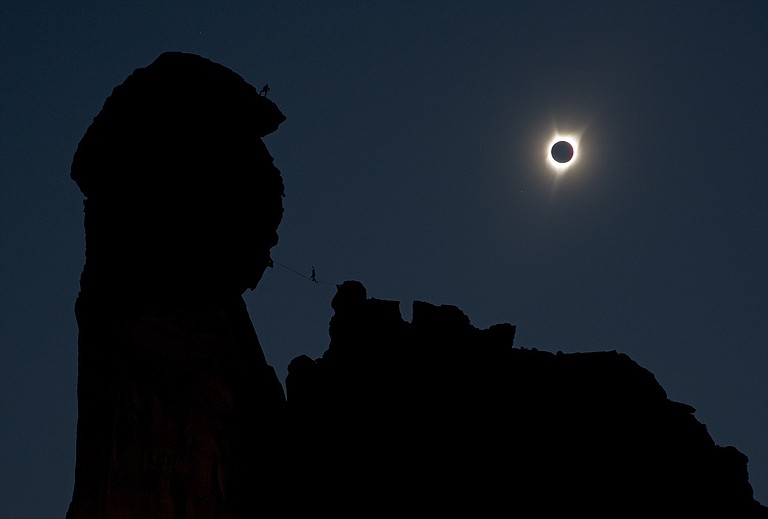 Wednesday, August 30, 2017
From the very beginning of my chosen life as a landscape photographer, I have sought out light at the edges of day. There is a brief moment when shadows emerge, then disappear. It is those fleeting seconds of surreal beauty that I live for.
Over the years I have learned to embrace the darker, shadowy side of being human, of tapping into the healing nature of the dark nights of the soul. But without question, the memory of standing in the path of totality ever so briefly will linger for the rest of my life.
Like thousands of others, I obsessed for months about where to go, studying the online totality path, even taking to the road to drive the path for a first-hand look at options. My priority was to anchor the sun in the sky to an iconic Oregon landscape. I had no interest in shooting an eyeball close-up of totality that could look like anywhere USA. So, I settled on Mt. Jefferson, either from the summit, where one could actually see the shadow race across the landscape, or a silhouette of the summit from the west.
But mother nature is the one factor that cannot be predicted. When the announcement came two weeks before totality that Jefferson would be off limits due to the zero contained wildfire, I needed to think quickly about an alternative site. I briefly flirted with heading for the Grand Tetons in Wyoming but Oregon, like the siren call of a lover, reminded me of what I would be missing if I left her behind. On Wednesday, Aug. 17, I drove to Smith Rocks State Park and hiked all the trails looking for an iconic view and studied where the sun would be at 10:19 a.m. I settled on the profile of Monkey Face, a towering pillar soaring into the sky viewed from river level.
•
To beat the predicted traffic Armageddon, I arrived at 5 a.m. on Saturday, having secured a private space to stay with Mike and Marcia Volk, who run an information site at smithrock.com. Mike is a legend in the climbing community and the original owner and founder of Timberline Mountain Guides. They rented out space to a select small group of RV campers that became this beautiful community of strangers becoming fast friends bonding over this special event. Marcia has a welcoming energy and deep sense of the divine at Smith Rocks. In filtering through the hundreds of calls for camping requests, Marcia later told me she employed her finely tuned radar to buttheads, "but I could tell within 30 seconds you were one of the good ones."
On Sunday, I returned to my spot to study the sun location one more time. I was dismayed to see that several film crews were nearby rehearsing a carefully staged, close-up image where a climber would be dangling in the center of the sun on Monkey Face during totality. I liked my wider sense of place profile so I just kept the faith and remained steadfast that all would be well.
I rose at 5 a.m. on eclipse day to hike the three miles to snag my view point early. An hour before the start of the eclipse, wildlife was quite active. Deer were bouncing along the river like pronged horn antelope. Herons and birds of prey were swooping down to roost. My heart was pounding and my toes and fingers grew cold. The sun was approaching totality. A chorus broke out of human voices, slow at first, then bursting into a symphony of hollering, whoops, moans, shouts of delight (and many cries of 'Oh my God!'). Soon all dogs that came with their owners howled in perfect unison.
The Diamond Ring Effect was about to happen, signaling the beginning of totality. Lasting for just a second, I had to guess at just the right exposure before the eclipse entered into the complete shadow world. Once I knew I had at least one or two good images, I dropped to my knees and steadied my gaze upwards in silent reverence and awe.
•
Words do not exist in our simple vocabulary to describe the overwhelming feelings. If a near death experience is real, then that's where I was. My life flashed before me, speed dialing through moments of joy and pain. I could not feel the ground beneath me. During this brilliant trick of the universe, where darkness and light are equal partners, I experienced a clarity of life purpose. It was this powerful, clear affirmation that the work I am doing, the direction I am headed, starting anew, the willingness to jump into the unknown — all telling me the path I have chosen is right, and good, and honorable.
Had I been there with a woman I loved, in a moment outside of time, we would have shared the kiss to end all kisses, for out of all the ways to truly taste every inch of someone's soul and spirit, the kiss that lingers reigns over all forms of expressed love. You can bet that if I ever have the chance in this lifetime to wade into the path of totality again, I will not be alone.
Throughout the river canyon and cathedrals of stone, you could sense this embrace of the darker base animal instincts of humans, a chance to release tension and be fully present to the moment and those around you.
As I watched people remove their eye masks during totality, I wondered if this experience might embolden people to remove the masks in their lives imposed by man-made societal expectations. Life is short. People ought to lead the life they truly desire instead of a life that is expected.
•
David Couerchne, Ojibe nation member, says the eclipse is a signal for change. "The Great Spirit is speaking to us. We are entering a new time, a time of change, a time when we need to ask ourselves where we are going. This is a time for establishing who we really are, our identity, as beings connected to love and peace. It is a defining moment where we find the power within ourselves."
Last night, I witnessed a setting sliver of a fire red sun disappear over a high wilderness ridge, and at the same moment, a waxing crescent moon emerging from the shoulder of Mount Hood into the space blue shadow world. It was a reminder to welcome the dark moments in life, let the pain move through you, let it go, and boldly emerge from the shadows and become the person you were meant to be.