Wednesday, August 30, 2017
Navy veteran and father of three, Dr. T.J. Finlayson recently joined the dental offices of Dr. Dennis Marshall, 1835 Belmont Drive, on the Heights.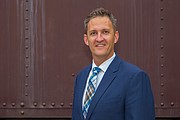 Finlayson did his dental residency at Walter Reed Medical Center in Bethesda, Md., and while in the Navy he was mainly stationed at U.S. Marine Corp bases, including San Diego, Calif., and Okinawa, Japan, reaching the rank of lieutenant. He provided care and managed clinics with up to 12 employees and serving 4,000 Marines and family members.
"I gained a lot of experience, and I did a lot of dentistry in the Navy," Finlayson said.
Finlayson earned his undergraduate degree at Portland State University and gained his dental degree at Oregon Health Sciences University. He grew up in Overton, Nev., near Lake Mead. He has family members who were in the dental field, and said that, "growing up, I knew I would do something in the health care field.
"We're really excited about being here in Hood River. We have already fallen in love with the place," Finlayson said. He and his wife, Breanna, have three children: Dominik, 7, Parker, 3, and Maylee, 6 months. They are currently living in the Portland area and plan to transition to a Hood River home within six months.