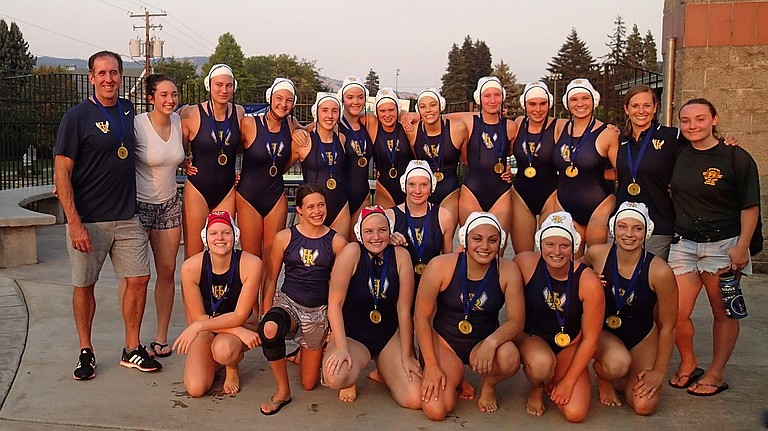 Wednesday, August 30, 2017
Hood River Valley High School hosted its first ever water polo tournament this past weekend at the Hood River Aquatic Center. A field of 16 teams, eight girls and eight boys, came together for some serious preseason competition. Aside from HRV and Bend, the teams were all from large 6A schools. The tournament offered all teams the chance to play their first games of the season in a competitive environment.
The HRVHS girls finished the tournament in first place, beating Lincoln High School in the championship game on Sunday evening. The road to the championship from the girls was hard fought.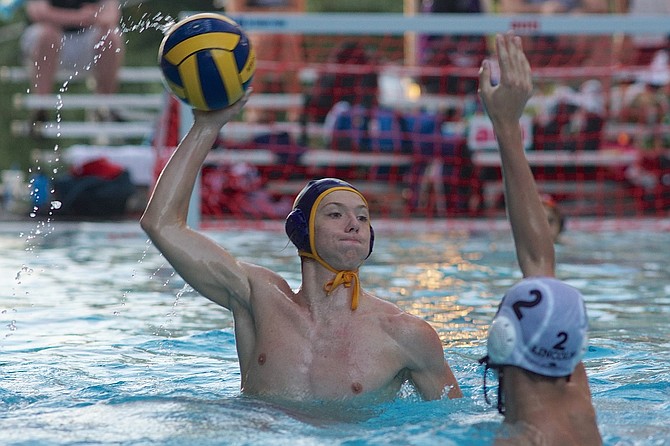 The first game of bracket play on Saturday morning was played without five key seniors who were all taking the SAT. With a much smaller bench and a younger crew than usual, HRV pulled off the win over Grant High School with a score of 7-1. Anna Galbraith filled in as starting goalie and played a great defensive game with some key blocks. Head Coach Kellie Dunn said, "The game against Grant really demonstrated the depth of our bench this year and shows the promise of this program beyond this season."

The HRV girls matched up against Sunset High School in their second game of bracket play. The game went smoothly as the five missing seniors had returned from the SAT and were ready to exercise something other than their brains.

The team fell right back into the rhythm of doing what it does best, that's defensive pressure and quick counterattacks. This game also marked the notable return of starting goalie senior Kat McElderry, who is back from a season ending shoulder injury last October and showing that she's going to be a solid defensive force for the Eagles once again. HRV won over Sunset 14-2. The last game of the first-round play put Hood River against Lincoln High School for the first time this season. "Despite a slow start in the first quarter, the team really came alive and completely took over the game with unrelenting counters and strong defense that Lincoln just couldn't find an answer for," Dunn said. The Eagles won 11-3.
In day two of the tournament, the Eagles cruised their way to the championship game after beating conference rivals Reynolds 8-2 and waiting for them for the title was once again, Lincoln.
It was a pretty rough and hard-fought championship game, but the team rallied together to overcome it. HRV won the game 9-2, with nine of those points coming off eight assists, and took home first place medals from the tournament.
"This weekend really allowed us to get a feel for what our team is going to look like this season. It was a great opportunity to see how our preseason tactical work has done and provided us with a nice roadmap of areas we can work to improve before our schedule ramps up with league play and more tournaments. I am very happy with what I saw in the pool last weekend," said Dunn.
This year's boys' water polo team is expected to be an improvement over last year's showing mainly due to a large group of freshmen having another year of growth and experience.
Playing up against playoff-caliber 6A boys teams this weekend, the boys surprised the field by sweeping all their games the first day of the tournament to be seeded in the top spot in the playoffs for Sunday. They ended up falling to 6A Lincoln in the bronze medal game by a single. "I coached the core of our girls team this summer through Junior Nationals so I knew what to expect from them; the boys are another matter," said Head Coach Dave Robinson.
The biggest surprises were the two additions of Ethan Yoakum, a freshman, and Javier Pico, a Spanish exchange student, who both scored the ball with ease this weekend.
Another player who caught some eyes was sophomore goalie Jed Little. Little displayed natural instincts and reactions that translated to many tough saves on goal.

"I already had a solid core with Cole Rothman, JJ Mears, Chad Klaas, Pelle Bergstrom, Connor McElwee and Saylor Sunby," said Robinson. "But Little's play and having Javi and Ethan come on board are game changers. Not having Chad with us on Sunday hurt us in our loss against Lincoln, but again it was only a one score game and that shows just how competitive this team will be this season."
Statistic leaders from last weekend's tournament: for the girls; Jamie Robinson had a total of 13 goals, 12 assists and 21 steals. Faith Ocheskey also scored 13 goals and had eight assists and 17 steals. With 11 goals, Rose Finstad scored the ball well adding one assist and four steals. For the boys, Pico led the way with 10 goals, two assists and 11 steals. McElwee hauled in nine goals, eight assists and eighsteals. Scoring eight goals was Mears, he also tallied six assists and two steals, and Rothman ended with seven goals, two assists and two steals.
The Eagles face off in their first league games on Aug. 29 at the Hood River Aquatic Center against David Douglas. JV girls play at 4 p.m., JV boys at 5, Varsity girls at 6, and Varsity boys at 8.