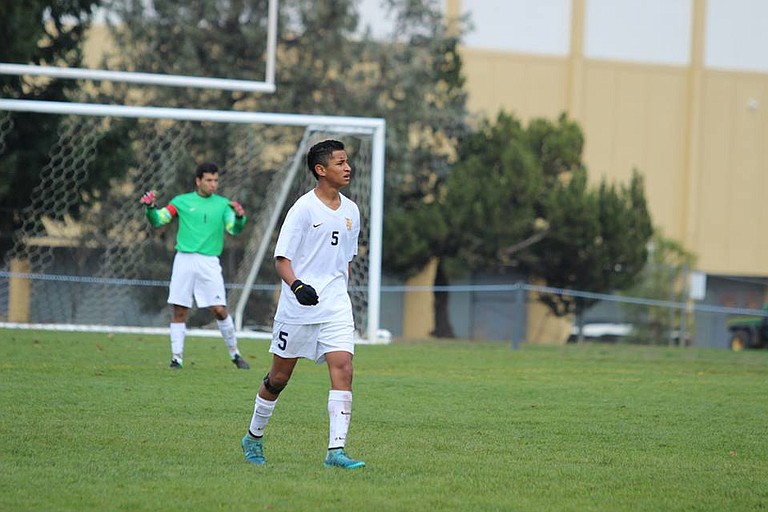 Wednesday, August 30, 2017
The HRV boys soccer team began their season last week with a jamboree in Woodburn against two of the top teams in the state. In their first matchup they beat Silverton, who are potential state contenders, 3-0, and in the final match of the day against defending state champions Woodburn it was a scoreless draw.

This season nine players from last year's 23-man roster are back on the field for the Eagles and 13 new players join them. "We do have a lot of new faces around this program, but there is no lack of talent," said Head Coach Jaime Rivera.
The 13 new players include: Westley Carter, Lodi Castillo, Sam Newton, Miguel Solano, Jonathon Muñoz, Julian Magaña, Alejandro Rodriguez, Adrian Lopez, Damian Charco, Manny Arteaga, Emy Perez, Leo Urenda and Fabian Magaña.
Carter is a transfer student from Ridgeview High School in Redmond and he will play a major role in the attack as a striker. Castillo is a midfielder and coach Rivera believes he adds valuable depth to that position.
At the full back position Newton adds strength and discipline to a position critical of those assets. Another talented player at the full back position is Solano, who also will be rotated into the lineup as a center defender.
The last two seniors, Muñoz and Julian Magaña, will add depth to the back line and midfield.
A battle is going on right now for the starting goal keeper position between Rodriguez and Lopez. "Rodriguez has tremendous natural talent and Lopez has a lot of potential. Whichever way we decide on going, we will end up with a good starter and backup," said Rivera.
Crafty ball handler Charco is competing for a starting job at fullback. Arteaga, who has just moved back from Indiana, and Perez will both join the team in hopes to be that spark off the bench at the midfield position.
Although he's hurt right now, young defender Urenda will be competing for a starting position once he's able to make it back on the field.
Lastly, the youngest of the Magaña boys, Fabian Magaña, doesn't know where he'll end up in the lineup yet, but he's challenging for a starting spot at multiple positions and continues the legacy of tremendous soccer talent in that family.
The other nine players on this roster, that'll provide guidance for this unexperienced group above, consist of three juniors and six seniors.
At the center defender position is two-year varsity player Juarez Ulises. He has an opportunity to become the starting center defender.
Starting at either forward or side midfield will be a strong attacker in Erik Pitones, who will help lead a potent attack.
Alongside Pitones will be Robby Running, a starter at various position including midfield and striker. Running is a three-year varsity player and as a junior he already has one state championship to show for.
In his last season with the program, two-year varsity player Reese Carroll has an opportunity to become the starting fullback. Also entering his last season is Saul Chavarria. "Chavarria will be given the keys to the midfield," said Rivera, as he has tremendous skills and vision that have developed in his two years on varsity.

Jack McCaffrey and Domingo Barragan return for their final season as these two strikers have had previous playoff stints with the varsity team.

Lastly, the two players that will hold this team down, Erik Siekkinen and Angel Sonato. Siekkinen will be a key leader for this 2017 squad as he returns to his role as starter at center defense.

In his fourth year with the varsity team, Sonato is the leader of this team playing both midfield and defense as he approaches his final season and looks to walk away from the program by adding what would be his third state title, if the Eagles can get the job done this year.
"As you can tell, our varsity team is loaded with talent once again," said Rivera. "We just have to maintain a balance between winning games and academic responsibilities. We will do that by establishing high expectations, being accountable, and putting the team first; we do this and we're competing again for a state title."
The team begins competition on the road against McMinnville High School on Aug. 31 at 7 p.m.