Wednesday, August 30, 2017
After a nearly 40-year existence, the Mid-Columbia Council of Governments has voted to find new homes for its four programs and will cease to function as a direct service provider.
The four programs are: transportation, which includes the LINK dial-a-ride as well as a non-emergency medical transport service; the Area Agency on Aging, which helps with meals and other services for seniors; workforce development programs; and regional building codes services.
There is no timeframe for MCCOG divesting itself of its programs, said interim Director David Meriwether. "It will certainly take a few months; how many months is hard to say."
He said there is a potential home for all the services, and there is no expectation that any of them will be terminated.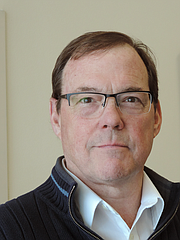 Some elements, including the work force piece and the Area Agency on Aging, may have multiple parties interested in taking it over, Meriwether said.
The MCCOG board voted Aug. 8 to research a path to divest itself of programs to suitable locations. On Tuesday, Aug. 22, the board took the plunge and voted to cease providing services under all its programs and transfer them elsewhere under a process that is mindful of continuity of service to the public.
The MCCOG entity itself will remain, since it could be useful to new entities in providing services, Meriwether said.
Unwinding the MCCOG will involve a myriad of tasks, from selling off its building at 401 Kelly Ave. in The Dalles to notifying contacts that it is ceasing operations.
When he was brought on board earlier this year, Meriwether was charged with evaluating the entity for its viability.
He reported in June that MCCOG was not well thought of and had not had good leadership, including from the board. He said the AAA program, in particular, had not been well-served by MCCOG.
The AAA program has gotten the most publicity over the years, as a succession of AAA directors claimed MCCOG was taking too much in overhead costs and not leaving enough money to run programs. Meriwether agreed.
Another observation Meriwether had was that the MCCOG was a secondary obligation for its board members.
At the Aug. 8 meeting, several board members agreed that they lacked the zeal and energy to maintain MCCOG, and their priorities were with the cities or counties they were elected to represent.
As for who might take over the four programs, multiple options exist.
The AAA program could be absorbed by a non-profit organization, but that would make it ineligible for certain Medicaid funding.
It could also be taken over by a general purpose local government. A legal question remains of whether an interested party, the Greater Oregon Behavioral Health, Inc. counts as a general purpose local government.
The work force entity, the adult and dislocated worker program, which is funded through the East Cascades Workforce Investment Board, will find a new home once a request for proposals is sent out for a new service provider, said Heather Ficht, the executive director for East Cascades. That could take 120 days.
The work force program has three employees between locations in Hood River and The Dalles.
Another workforce component, which provides employment services for folks who are recipients of services from the Oregon Department of Human Services, will be handled at the discretion of DHS.
A youth work force element was recently absorbed by Columbia Gorge Community College.
Employees of the StRUT program, which refurbishes old computers, hope to form a non-profit and become a recipient of the StRUT francise and continue their work, Meriwether said.
The disposition of the building codes program will be at the discretion of the individual counties — which include Wasco, Sherman, Gilliam and Wheeler — since each has authority to provide the service. Hood River County belongs to MCCOG but has its own building codes services.
The counties can either provide building codes services jointly or individually, Meriwether said.
The building codes division has a significant cash reserve of about $3.5 million, mostly coming from wind farm projects in Sherman and Gilliam counties and Google projects in The Dalles.
One question with building codes is how that reserve will be distributed.
As for current building codes work, the vast majority of it comes from within the city of The Dalles, Meriwether said.
The MCCOG has about 60 employees across all its programs and in administration, and has about a $12 million budget. More than half, $6.4 million, falls under transportation.
The transportation program moved to a new location on Chenowith Loop Road a year or so ago.
Discussion thus far has leaned toward possibly having the LINK dial-a-ride service transferred to the Mid-Columbia Economic Development District. MCEDD Director Amanda Hoey said transportation has the closest ties to the work her agency does.
Transportation is an element of opportunity for future economic development as well as a barrier to it if not addressed adequately, she said.
"Essentially, transportation is the key way for getting access to work, employment, health care, shopping, that you take for granted if you have other means of transportation," Hoey said.
The LINK service is one of several transportation providers in the region that MCEDD serves. "There's quite a few opportunities for growth within that," she said.
She said if the decision is made to relocate transportation into MCEDD, "we'll be working with our board and transportation providers on the pathway to that, because if we do take it on we'd want it to be as smooth as possible for the people who use the service, and employees."
The medical ride service is done through a contract with Greater Oregon Behavioral Health, Inc. and Pacific Source. The GOBHI portion of the medical ride service would be assumed by GOBHI directly, Meriwether said.
The other portion of the medical ride service, the fee for service contract, could also end up with GOBHI, or another entity.
A call to GOBHI's director was not returned by press time.
Meriwether himself is only slated to work through November. He couldn't say if he would stay on past that.
"I do have a commitment, I want to see this through in the most beneficial way and the smoothest way, and that's with the employees in mind here, we don't want to leave anyone high and dry," he said.