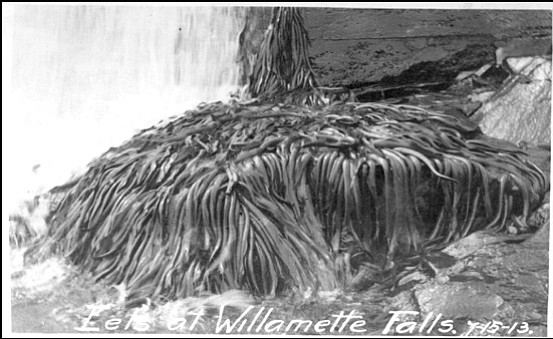 Wednesday, December 6, 2017
Portland — The Columbia River Inter-Tribal Fish Commission (CRITFC) is exploring the historical range and abundance of Pacific Lamprey throughout the Columbia River Basin.
The project will compile historical photographs, written accounts, newspaper articles, and other historical documents that show or reference Pacific Lamprey in Oregon, Washington, Idaho, or British Columbia with the hope that this information will allow scientists to reconstruct the range and abundance of the species in the interior Columbia River Basin.
For the project to succeed, CRITFC is asking the public to dive deep into their family photo albums for pictures of lamprey, often called "eels," and share them with CRITFC.
Anyone wanting to participate can send CRITFC an electronic copy of their photos or documents to the project's website, email address, or a physical copy to CRITFC via mail. If there is any additional information about the photo — for example the location, date (month/year), photographer, where the original is stored, whether the information is considered sensitive, or any other relevant information — send it along, too.
This provides valuable context that can help increase our understanding of this little studied fish, the agency said in a news release.
Those interested can visit http://bit.ly/lamprey-photos, and email lamprey@critfc.org, or send photos to 700 N.E. Multnomah St., Suite 1200, Portland, OR 97232. Call 503-238-0667 for more information.
Pacific Lamprey are among the oldest creatures in the Columbia River Basin. Like salmon, they are anadromous, spending time in the ocean and returning to spawn in freshwater tributaries.
But Pacific Lamprey numbers have seen a severe decline throughout the Columbia River Basin.
Ron Suppah, Tribal Council representative for the Warm Springs Tribe, said, "The Creator told the people that the eels would always return as long as the people took care of them, but if the people failed to care of them, they would disappear."
The development of the Columbia River hydropower system posed a significant challenge to the potentially millions of adult Pacific Lamprey that migrated up the Columbia, Snake, and Willamette rivers to spawn.
This challenge was further complicated by intermittent, inaccurate, or non-existent adult lamprey counts, CRITFC said, creating a large knowledge gap for the region.
To help fill in this gap, CRITFC is hoping that this project will allow scientists to reconstruct the range and abundance of the species in the interior Columbia River Basin.
CRITFC, based in Portland, is the technical support and coordinating agency for fishery management policies of the Columbia River Basin's four treaty tribes: the Confederated Tribes of the Umatilla Indian Reservation, the Confederated Tribes of the Warm Springs Reservation of Oregon, the Confederated Tribes and Bands of the Yakama Nation and the Nez Perce Tribe.