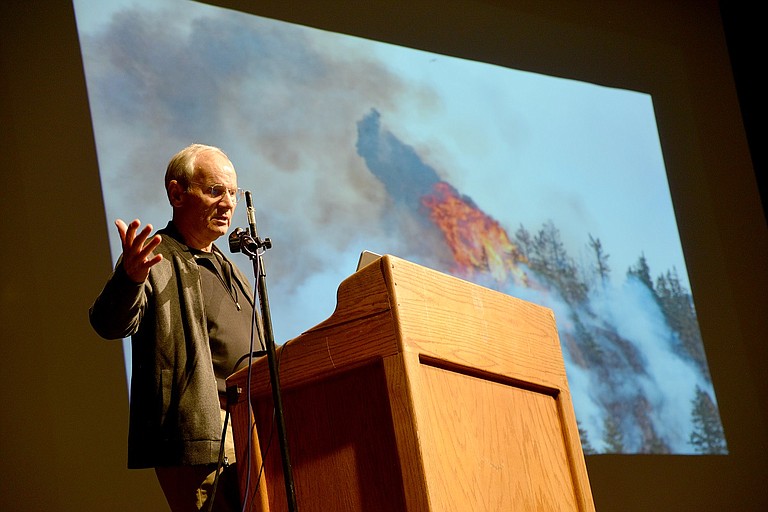 Wednesday, December 6, 2017
More than 200 people turned out for a forum reflecting on forest ecology in the wake of the Eagle Creek fire.
Jerry Franklin, a professor at University of Washington, delivered the keynote at the event titled "After the Smoke Clears," held in Hood River Valley High School Nov. 30. It was hosted by environmental group Friends of the Columbia Gorge and partners.
Franklin focused on fire regimes (behavior patterns), and the nuance of wildfires in different ecosystems.
Massive fires in western Oregon and Washington forests are rare, but intense when they strike.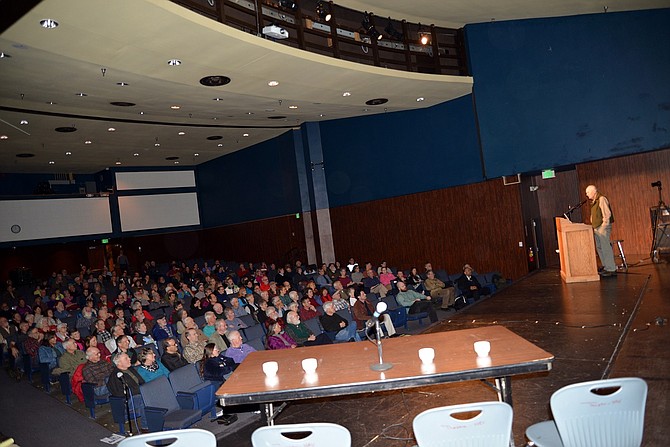 The volatile weather pattern leading up to the Eagle Creek blaze was "hot-dry east winds, which are blowing across the Cascades" and rapidly "dry out the fuels to incredibly low moisture levels."
Franklin argued that post-fire, aggressive salvage logging or replanting is the wrong course, and nature will recover on its own.
"It is going to do a wonderful job of revegetation," leaving a diverse array of forest and wildlife habitat, he said.
Jurgen Hess, a former acting manager of U.S Forest Service Columbia Gorge National Scenic Area, asserted political efforts should go toward restoring the Gorge's recreational trails.
Hess gave his impressions of the fire as a photographer and wildlife storyteller.
He talked firefighting practices, as well as how Scenic Area Act zoning protected communities.
"The real dangers of wildfires … is in what we call the wildland urban interface. These are the areas where people are living," he said.
Caroline Park, co-owner of Thunder Island Brewing Co., delved into personal and business impacts.
The fire and 19-day highway closure had a "compounding effect," leaving the brewery's doors closed during Labor Day Weekend, one of the year's most busy.
"The heart of the Gorge shut down and everything stopped, and when your heart stops your whole body feels it," Park said.
Michael Lang, Friends conservation director, closed the speaker lineup with a fire re-cap, and a breakdown of community fundraising.
After an "outpouring" of concern online, Friends started a campaign that raised more than $46,000 for Hood River County Sheriff's Office. It was the largest unrestricted gift the search and rescue department had received, Lang said.
Also, Cascade Locks Strong, coordinated by Thunder Island, raised $24,000 for local businesses.
Park and Lang urged people to visit local businesses in order to recharge economic vigor and good spirit.