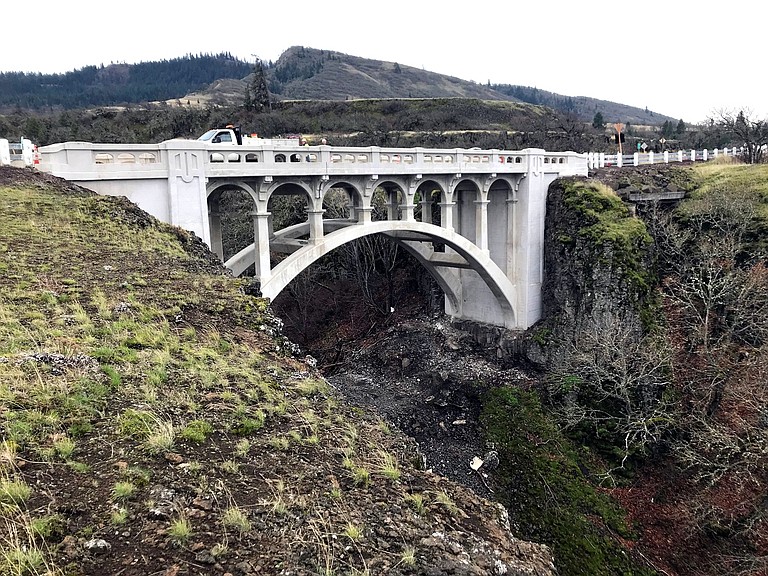 Wednesday, December 6, 2017
Repair and replacement work is nearly complete for three bridges on Highway 30 east of Mosier.
Oregon Department of Transportation's $3.8 million project is wrapping up over the next few weeks, according to spokesman Peter Murphy.
The agency replaced Chenoweth Creek Bridge in August and is making major repairs to Mosier Creek and Dry Canyon Creek bridges. Minor work on site will continue through December.
"There are three bridges … each has a little bit more to go," Murphy said, describing what remains of the project.
Drivers should expect delays of up to an hour on the stretch of highway between Mosier and The Dalles this week as construction continues. Travel lanes will be restricted and flaggers will be on scene directing traffic.
Maintenance issues spurred the replacement project. The bridges were built in the 1920s, and they showed their age.
Bridge inspection reports from 2012 said Mosier and Dry Creek Bridges were suffering flaking, delaminating and "honeycomb" cracking. Areas under the deck overhangs had exposed and corroded steel reinforcement.
The Chenoweth Creek Bridge, most ornamental of the three, has undergone modifications over the years, including a guardrail system that no longer met standards of fit with the nature of the Scenic Byway.
Cracking marred the concrete structure and there was scouring of the stream channel below the bridge. There has been "significant" concrete patching of structural pieces like girders and crossbeams in an effort to maintain it, an ODOT summary states.
Construction kicked off this summer on the bridge overhaul.
The project included:
Mosier Creek and Dry Canyon Creek bridges
• Remove asphalt pavement, install a waterproofing membrane and place new asphalt across bridges.
• Repair areas where the concrete is deteriorating​.
• Replace bridge joint seals and fix drainage issues.
Chenoweth Creek Bridge
• Replace the existing structure and install a bridge railing fitting to the bridge's original 1920s design.
• Restore the stream channel below the bridge to better accommodate fish passage.
Following the heavy-duty work, such as the full Chenoweth Creek Bridge replacement, some duties remain for the assigned crews. There will be minor corrective work on Chenoweth, guard rail work on Dry Creek Bridge, and concrete removal on Mosier Creek Bridge before ODOT's contract is completed, Murphy said.
Murphy explained that the new bridge designs will mimic the old ones, which had stylized features and railing.
Although not a high-volume travel route, Highway 30 has historical significance and provides access to farm land, tourist attractions, such as the Columbia Gorge Discovery Center, and an increasing volume of cyclists.​​
ODOT notes that the section of U.S. 30 from the City of Mosier to the west end of The Dalles is part of the Historic Columbia River Highway and is designated as a Scenic Byway and All-American Road.