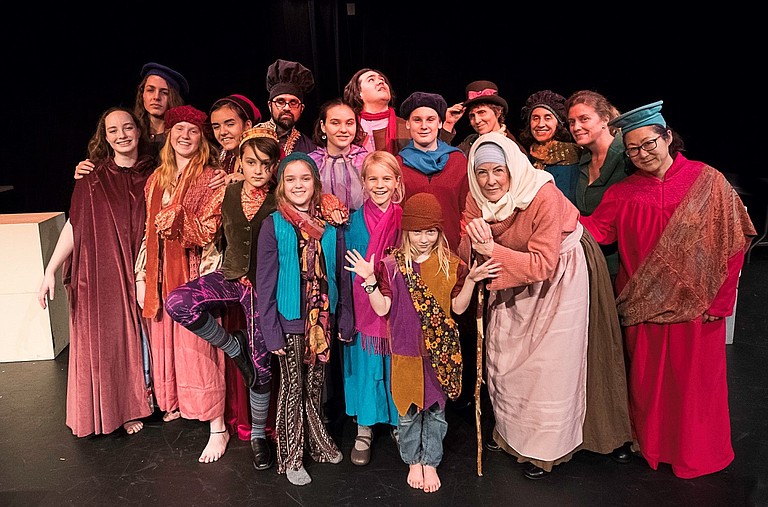 Wednesday, December 6, 2017
A fun, joyful and poignant story of how villagers in southern Italy discover the magic of Christmas comes to the stage in Hood River starting Saturday.
"Merry Christmas, Strega Nona," from one of a series of books by Tomie Paola, opens at Columbia Center for the Arts, with a cast of seven adults and 10 children from Gorge communities.
"It's definitely a family show, but very young kids would still be engaged. We wanted to have as many matinees as made sense, to make it accessible for young kids," said Director Sullivan Mackintosh (see Tickets and Times, below).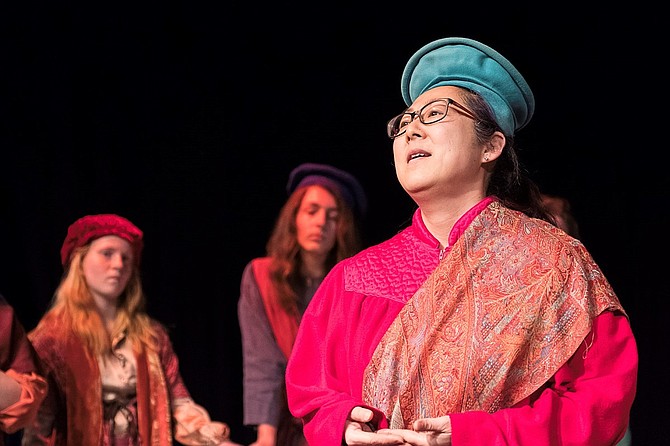 In a nutshell, the "Strega Nona" plot is this: It's Christmastime in Calabria. There's no time for Strega Nona's usual business of curing headaches, mixing love potions, and getting rid of warts. Instead she must prepare her annual feast for the whole town.
How will Strega Nona ever have the feast ready by Christmas Eve?
Will the answer be found in untrustworthy, clumsy Big Anthony?
Most of the action takes place in the town bakery and town square. "We're keeping the set pretty consistent," Mackintosh said. "I'm a fan of seamless transitions, so we have a shadow screen with projected background done in cardboard cutouts.
"The original 'Strega Nona' is near and dear to me. My Mom read to me when I was young," she said. "I was looking for a holiday show, and I'm really drawn to stories based in children's literature. I still get excited by those stories."
Her mom, Desiree Amyx-Mackintosh, plays Strega Nona. The key roles of Big Anthony and Bambolona are played by Noel Oishi and Audrey Fuentes.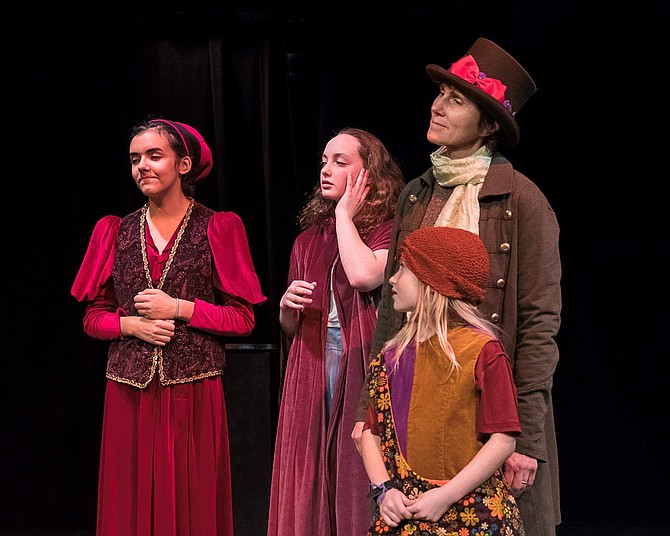 "I found the script, and was surprised it existed, and from the sample pages knew the would be lots of opportunity for physical comedy, but the story is really very sweet and it's got the Christmas spirit that applies to the winter season in general, not just the Christmas holiday," Mackintosh said. "It has the community feel of winter, and the coziness of winter in that season, not only the Christmas holiday specifically."
But "Merry Christmas" is in the title, and the sentiment comes through, in lines such as "Christmas has a magic of its own."
Mackintosh notes, "The line reappears throughout the play and that is the lesson Strega Nona is trying to impart on her young friends. What does that mean to them at the beginning of the play versus the end, and how do they make discoveries about what that really is?"
The play contains "lots of Italian phrases, which is fun," she said, "just to sort of set the atmosphere of this busy bakery in southern Italy."
Mackintosh has help in her production from Nicole Scribner, another HRVHS grad (and director of "The Little Prince" set for spring 2018 at the center) and technical help from HRVHS seniors Zach Barbour and Zach Ansberry.
"The two Zachs are keeping me grounded," said Mackintosh, who splits her time between Hood River and Portland, where she teaches in New Moon Productions' in-school drama program and at Oregon Children's Theater.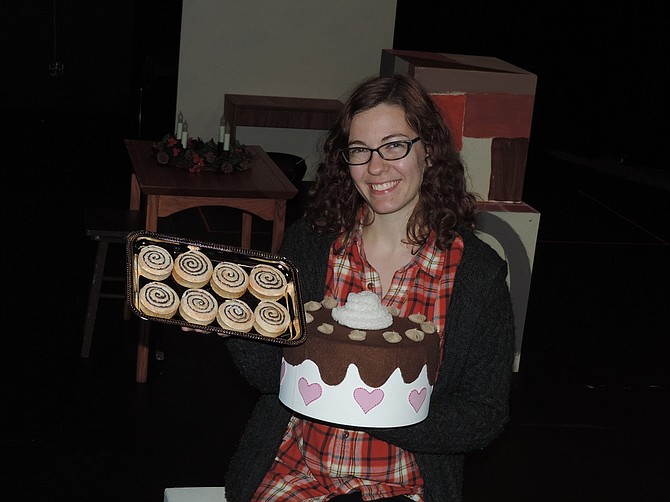 Tickets & Times
"Merry Christmas, Strega Nona"
Columbia Center for the Arts, Third and Cascade
Dec. 9-10, Dec. 14-16 — Shows at 2 and 7 p.m.
Tickets at columbiaarts.org, or at the door: $20 adults, $15 student/seniors and $8 children under 10
Cast & Crew
Strega Nona: Desirée Amyx-Mackintosh
Big Anthony: Noël Oishi
Bambolona: Audrey Fuentes
Little Paolo: Hanna Clute
Nun: Jana Hannigan
Signora Rosa, the Mayor: Cynthia Yoshida
Papa Bambo the Baker: Azmat Bhatty
Paolo's Mother: Carrie Fuentes
Matron: Michelle Nijhuis
Puppeteer: Jana Hannigan
Puppeteer's Apprentice: Sylvia Perrin
Giovani (Teen) Ensemble: Grace Clute, Raven Levine, Hunter Reichel, Zora Richardson, Noble Williams
Bambini (Child) Ensemble: Aneka Diem, Sylvia Perrin, Kyra Williams
Zampognari (Shepherd) Ensemble: Davis Mackintosh, Sam Schultz, Nicole Scribner
Director: Sullivan Mackintosh
Music Director: Sam Schultz
Assistant Director, Puppet Operator: Nicole Scribner
Stage Manager: Zach Barbour
Backstage Crew: Zach Amsberry, Davis Mackintosh
Costumes: Sullivan Mackintosh, Judy Richardson
Props: Jana Hannigan, Davis Mackintosh, Sullivan Mackintosh, Nicole Scribner
Set: Zach Amsberry, Zach Barbour, Sullivan Mackintosh, Nicole Scribner
Lighting: Zach Amsberry, Zach Barbour