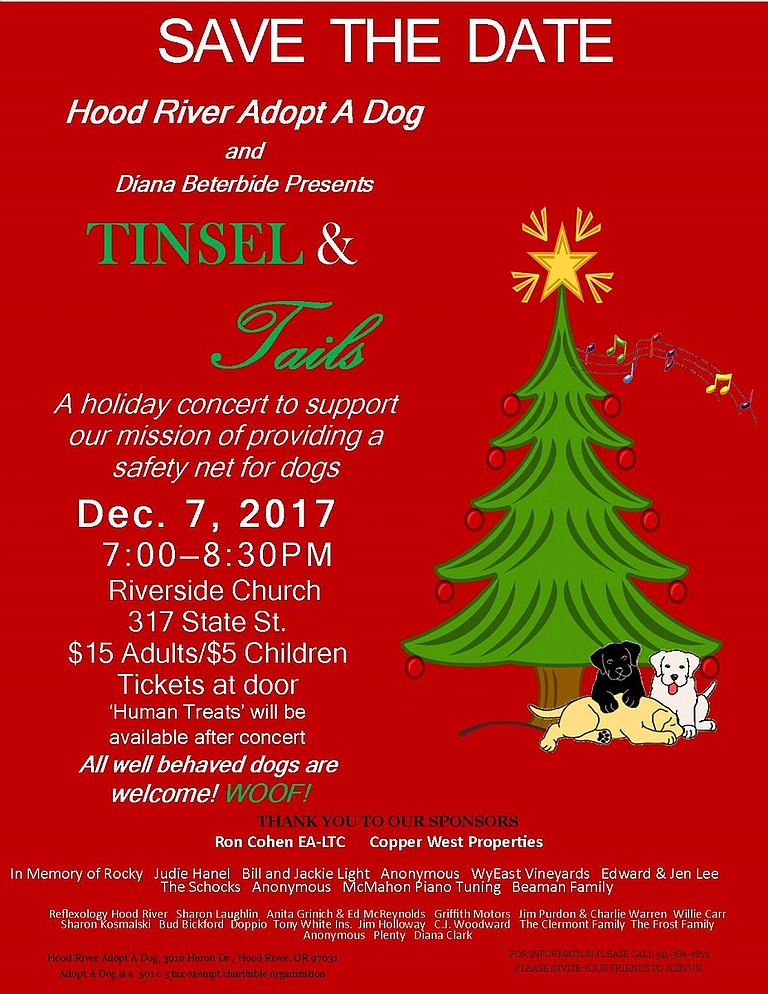 Wednesday, December 6, 2017
On the evening of Thursday, Dec. 7, the annual Tinsel and Tails concert will be held at Riverside Community Church, 317 State St., from 7-8:30 p.m.
Join Hood River Adopt A Dog for an evening of musical holiday cheer. Meet adoptable dogs and enjoy human treats and drinks after the concert. Yes, well behaved dogs may attend! This holiday concert is presented by students and friends of Diana Beterbide.
The concert raises funds for the HRAAD program and to help stray and abandoned dogs. Tickets are $15 for Adults and $5 for children, and are available at the door.
For more information, contact HRAAD at 541-354-1083 or visit their website at www.hoodriveradoptadog.org, or on Facebook at www. facebook.com/HoodRiver-AdoptaDog.
•
Hood River Adopt a Dog is celebrating 10 years of providing adoption and animal welfare services to the community. The program has a small paid staff and a large volunteer group providing care for all shelter dogs, and coordinating veterinary care and adoption services for unclaimed dogs at Hood River County's Hukari Shelter in Odell.

HRAAD receives operates primarily on donations, adoption fees, and funds raised from events like Tinsel and Tails, and encourages everyone to come out, have some fun, and support the dogs in need!