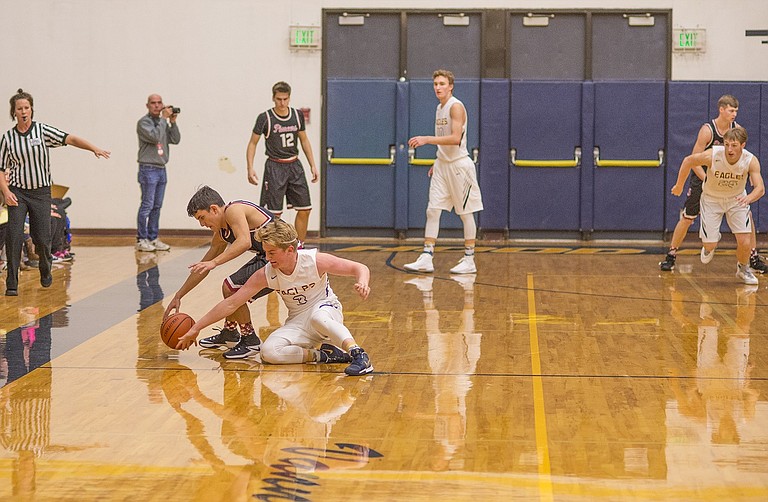 Saturday, December 9, 2017
The HRV boys basketball team was back on the road Tuesday as they traveled to Vancouver for a game against Heritage.
Before Tuesday's matchup, the boys were coming off a 66-63 loss to Redmond, a game they had a chance to force into overtime, but came up short in the final seconds.
Four days later and it felt a little like déjà vu.
Once again, this game would come down to the final minute, but Heritage was able to pull away with the 64-60 victory and after a 1-0 start, HRV is on a two-game losing streak.
However, before the second half against Heritage, the Eagles were in full control and "played a great first half," said Head Coach Christopher Dirks.
The Eagles held Heritage to a 7-point second quarter and were ahead going into the third by a score of 35-21.

The 14-point halftime lead was led by seniors Jonah Tactay and Dakota Kurahara with efforts on both ends of the floor.
But after the first half is when this game started to turn the wrong direction for HRV.
"In the second half, we did what they wanted us to do rather than play our game," said Dirks. "They wanted to speed the game up and rush us into quick shots and bad decisions, (and) that's what we did."
After the third quarter, the Eagles were still in the lead, but momentum was definitely on Heritage's side as they got their home crowd back in it and gained some confidence.
The rhythm they were able to gather turned into a 26-point fourth quarter for Heritage.
Those points came off of HRV playing out of their game and into Heritage's and with under two minutes, left Heritage tied it up and would eventually go on and win by four, stealing what could've been a big win on the road for the Eagles before they travel to Madras this weekend for a tournament.
Statistic leaders against Heritage: Jonah Tactay led the way for the Eagles on offense with 17 points on 7-9 shooting from the field. Behind Tactay was Dakota Kurahara who had 15 points, going 7-10 from the free throw line, and he also added six rebounds and four assists to his stat line. Tactay and Kurahara were the only Eagles to score in double digits, as JJ Mears (9) and Trenton Hough (8) were just on the outside.
The boys went 19-45 from the field and 3-15 from three due to a combination of both poor shot selection and playing into Heritage's up-tempo game.
"As much as it hurts to drop two early road games where we led in the first half, we must continue to make corrections and learn," said Dirks. "We need to do a little self-reflection as a coaching staff and as players going into our tournament in Madras this weekend."
The Eagles still have a long way to go until conference play, with their first game being at home versus a tough Pendleton team Jan. 18, but Dirks is setting a goal before that day comes.
"We want to be playing our best basketball once conference play starts and we have time to get there," said Dirks. "I believe in this team so much that I have no doubt we will figure it out and give ourselves a chance for post season play. We have some really strong leaders that want to see success."
With two more road games left before HRV comes back home to play Gresham on Tuesday, Dec. 12, Dirks emphasized, "We will keep making adjustments and come out of this two-game skid a better team."