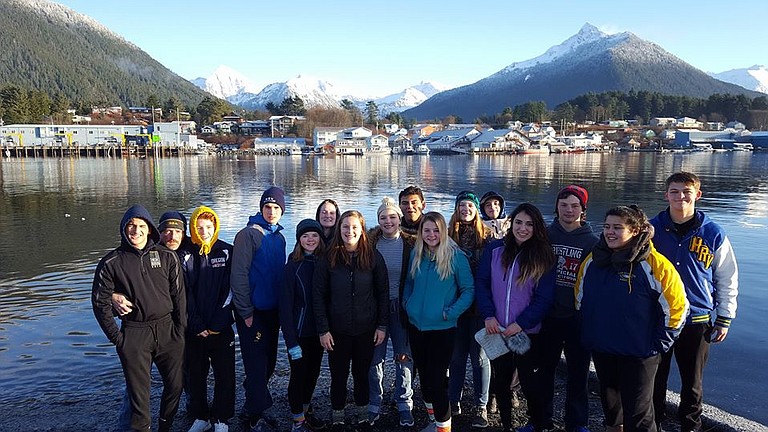 Saturday, December 9, 2017
The wrestling season is underway at HRV, with its first piece of action coming on the road and through the air to Alaska.
HRV wrestling traveled to Sitka, Alaska, this last week to compete in the Mt. Edgecumbe Tournament.
Fifteen wrestlers and three coaches were able to compete thanks to Head Coach Mike Kimber of Mt. Edgecumbe wrestling team, who invited the Eagles to the tournament. Kimber is a former college teammate of HRV's Head Coach Trent Kroll.
Once the team arrived in Alaska, "We were able to get a good workout in on the mats at Mt. Edgecumbe High School to prepare for the tournament," said Kroll.
On Thursday of last week, the girls had a dual meet, and on Friday and Saturday, both the boys and girls were in action.
"We competed well last weekend," said Kroll. "It was a great experience for these kids and a nice way for both the athletes and coaching staff to get ready for our season."
Girls results from the Mt. Edgecumbe Tournament: Gracie McCafferty, wrestling at 106 pounds, won second place in her weight class. Monique Verduzco (132), fourth place. Lexie McCafferty (132) did not place. Grace Miller (145), third place. Elena Kroll (145) did not place. Anna Galbraith (145) did not place. Emily Mitchell (160), fourth place. Christine Marquez (220), third place.
Boys results: Justin Lane (106), second place. Ryan Zeller (126), first place. Chad Muenzer (132), first place. Jason Shaner (138), first place. Cade Parker (138), third place. Tristan Keely (152), fourth place. Adrian Ramirez (285), first place.
On top of competing at this tournament and doing well, the student-athletes from HRV attended classes at the high school, which is predominately a Native-American school, hiked the shore and forests of Sitka, visited museums, a fish hatchery, and the Alaska Raptor Center, and experienced the totem hike.

"We were also treated to a Yup'ik dancing class, and ate moose and salmon by Yup'ik International Cultural Dance Group at Mt. Edgecumbe," said Kroll. "It was an experience we'll carry with us forever."
For the dance and more from this trip visit www.facebook.com/HoodRiverWrestling.