Originally published December 13, 2017 at midnight, updated December 13, 2017 at midnight
NORCOR's treatment of juveniles and immigration detainees dominated Hood River City Council discussion on Monday.
Several citizens urged the council to do what it can to separate the county, as one of five counties funding NORCOR, from the Immigrations and Customs Enforcement (ICE) because of alleged poor treatment of detainees, and recent deportations of Gorge residents.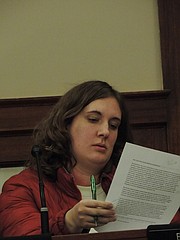 "There are many people who see (NORCOR) as a hand that will rip their families apart. It is not an institution I want to be supportive of," said MariRuth Petzing of Hood River.
Monday's outcome will be a plan in which the city will formally call on Hood River County to seek massive changes in the relationship between ICE and the jail facility in The Dalles. Council will carry a draft letter on the subject to their Hood River County counterparts and ask them for feedback.
The letter, as written, calls on the county to end its NORCOR contract "as soon as it is feasible."
"The City of Hood River desires a strong, healthy and safe community for all our residents. We believe reducing or eliminating ICE's presence at NORCOR will help
create that community," it states.
Council members will hold one-on-one meetings with County Board of Commissioners to review contents of the draft letter, and review the discussions at the next council meeting, Jan. 8, 2018, before submitting the letter itself.
The city has no fiscal or operational hand in the operation of NORCOR beyond its police department sending some arrestees there.
"This a good way to go about it. People appreciate it when you come and talk to them about something," Mayor Paul Blackburn said, adding, "Hopefully, this could be a moment for (the county) to take the bull by the horns and do something."
The working draft of the letter was described as "softer" version than one originally written by Councilor Megan Saunders.
"This is the start of a conversation," Saunders said. "We don't want to ram in there like a train engine. We want them to get communicating with us and then try to deal with it as a community issue."
Sarah Kellems was among those calling for a strongly-worded letter that specifically calls for an independent fact-finding study, establishment of a citizen advisory board for NORCOR, and termination of the ICE contract. Those measures are not specifically called for in the draft.
Citing severe limits on visitations among other conditions, Rev. Vicky Stifter called conditions at NORCOR "a morally reprehensible situation," adding, "it is inconsistent with the city's declaration of Sanctuary."
Stifter also claimed that the letter as it stands lacks a "direct ask." Stifter, pastor at Riverside Community Church, is one of 10 Gorge Ecumenical Ministry pastors who take turns visiting ICE detainees, who are allowed to see only clergy or legal counsel, and even then, under limited conditions.
Stifter said, "You need to say, 'This is not okay and we will work to change your decision-making.'"
Council members spoke of several possible variations to the final paragraph of the working draft of the letter, which currently reads, "… Council would be happy to discuss these concerns and their potential solutions further."
Excerpts from the working draft include:
"The ongoing presence of ICE officials within the community in general and, especially, reports of information sharing between local officials and ICE creates an atmosphere of fear and mistrust among City of Hood River residents.
"We are also concerned about reports of poor detention conditions for ICE detainees. Immigration detainees are held on civil, not criminal, charges, but are subject to the same treatment as inmates.
"All ICE detainees should be treated with humanity and dignity throughout their stay at NORCOR, including adequate access to legal material and legal assistance, family contact, clothing, hygiene products, and nutrition."