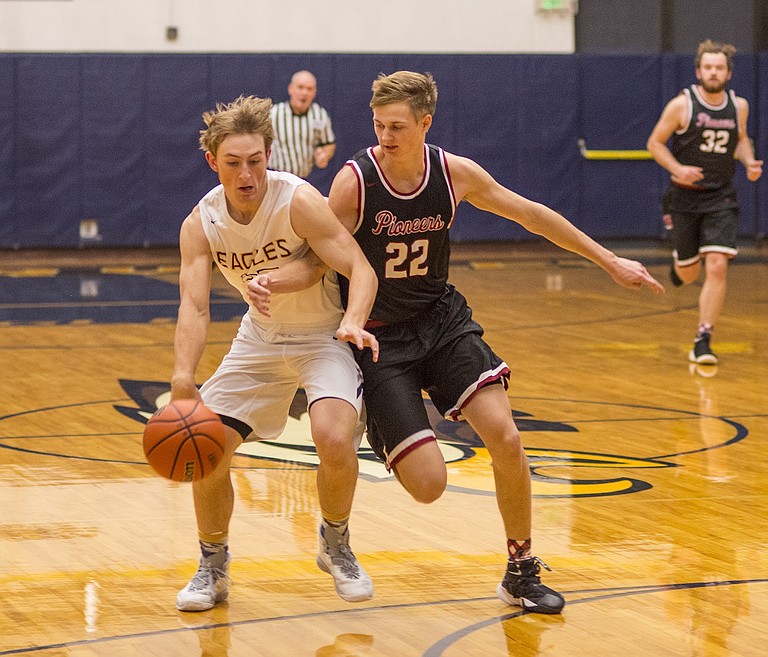 Originally published December 13, 2017 at midnight, updated December 13, 2017 at midnight
The HRV boys basketball team headed into this past weekend's Madras tournament on a two-game skid, losing only by a combined seven points in these games — a three-point loss to Redmond on the road followed by a four-point loss at Heritage in Vancouver.
However, the boys were finally able to get things going in the right direction this time around.
They came out of the Madras tournament winning both games, both by comfortable margins.
The Eagles opened the tournament beating La Grande by a score of 72-60.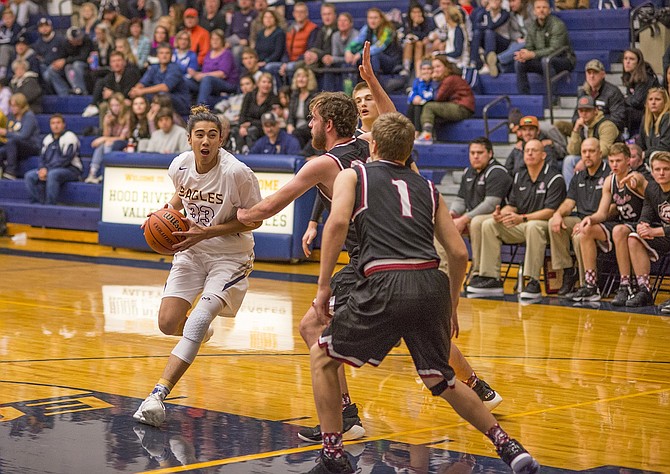 HRV was led in this game by junior guard Carson Flores, who looks to be the go-to man for this Eagles team, as he had 20 points against La Grande and went 4-7 from downtown and a combined 8-12 from the field, including a buzzer beater three at the end of the first half.
HRV was down by three heading into halftime. The boys then outscored La Grande 21-9 in the third "and we didn't look back," said Head Coach Christopher Dirks. "The third quarter has been troubling so far this season, and this showed me what kind of young men I have on this team. They have been dedicated to watching film and adjusting their play style the past week in preparation to turn our close losses into wins, and we saw that in this game."
The scoring efforts by Dakota Kurahara and JJ Mears were also influential in the boys beating La Grande, as Kurahara ended with 17 and Mears finished with 15.
Kurahara also notched 11 rebounds for his second double-double of the season.
Also picking up his scoring was senior wing Trenton Hough, who had eight points on the night along with three rebounds, two assists and a steal.
Defensively, the Eagles were led by Kurahara's four blocks and Mears' four steals.
The 72-60 win over La Grande would get HRV their rematch against Redmond, who they lost to earlier this month by score of 66-63.
And HRV would get their payback in a big way.
The Eagles in the final game of the tournament dominated Redmond, beating the Panthers by a score of 65-40, ending Redmond's three-game winning streak that started with their 66-63 win over HRV.
"Saturday was again an impressive third quarter," said Dirks. "They showed the resolve this team has, and how bad they want to win. We were the more physical team and were able to create a lead and hold onto it in the second half."
In this game, the Eagles offensively were led by Kurahara, who had his biggest game of the season offensively, scoring 20 points and going 10-16 from the field.
Kurahara also grabbed eight rebounds and had three of the Eagles' five total blocks.
Senior wing Jonah Tactay had a perfect shooting night, going 5-5 from the field and putting up 12 points on the scoreboard.
Flores and Mears had off shooting nights, combining 6-21 from the field, but despite the struggles, Flores was able to put up 10 points while Mears had seven.
And although senior forward Erik Siekkinen went scoreless against Redmond, he led the Eagles in both rebounding and assists; his final stat line was 12 rebounds, six assists and one steal.
Defensively, the Eagles were led by Braxton Wilson's four steals and Kurahara's three blocks.
"We won the tournament and, more importantly, are learning how to show we are the better team," said Dirks. "I'm very proud of how this group of guys are becoming a complete team with support for each other on and off the court. It's been impressive to watch and we will continue to grow in that area."
Now at 3-2 on the season, the Eagles are currently ranked eighth in state and are now on a two-game winning streak as they head into this week's matchup at home on Tuesday, Dec. 12 against Gresham.
After their matchup with Gresham the boys will travel to Ridgeview to face the Ravens who are cuurently 1-5 on the season.
After these two games they will be in Newberg for the Newberg Tournament Dec. 18. The boys will play Franklin in their first game.