Wednesday, December 13, 2017
Makena Zorza and Janessa Castañeda, both Hood River Valley High School seniors, have been selected as the Hood River Elks Lodge November Students of the Month.
Zorza is the daughter of Kris and Marcie Zorza and has one sister, Kyla, who is a freshman at HRVHS.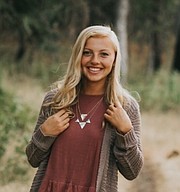 Zorza's resume of academics, activities, and volunteer work is extensive. She maintains a 3.97 GPA, is a National Honor Society member, and was chosen by the staff to be a Student Ambassador at HRV. At HRVHS, she directed parents at Open House, gave tours to incoming freshmen at Orientation Night, and was a LINK Crew leader for incoming freshmen. Zorza was president of the Relay for Life Fight Club and helped raise money for the club by walking laps at the relay and working at the Relay for Life rummage sale. She has packaged Christmas boxes for the Hood River Christmas Project, made fleece blankets for the warming shelter through the 4-H Ambassador Program, prepped walls for murals at the Columbia Gorge Center for the Arts, helped students make Christmas ornaments at May Street School's Art Night, and was a camp counselor at Peace Village day camp and at Camp Morrow overnight camp, where she worked with children for a week, leading them in activities and helping them to have a positive camp experience.

Zorza a has played soccer all four years of high school, three years on the varsity team. She has dedicated many hours volunteering as a camp counselor at the Eagle Soccer Camp, and as a referee and a coach for Community Education Youth Soccer. She has also participated in high school track. When an injury kept her from competing, she went to work as a volunteer, clerking middle and high school track meets and assisting at HRV's Learn By Doing track clinic. She also volunteered at the Gorge Kids Triathlon, The Super Hero Run, and the Lila May Tutu Trot.

Makena has studied Spanish all four years of high school and this year is in AP Spanish. Her Spanish skills came in handy last spring when she travelled to Costa Rica and lived on a farm for two weeks, working as a volunteer to help refurbish school buildings and teach the local children English. Her stay in Costa Rica was a truly meaningful community service experience because it made her realize why she really wants to become a teacher, she said.
Zorza plans to study at the University of Idaho, majoring in Elementary Education with a minor in Spanish. Her experience working with children as a counselor, teacher, and coach will serve her well as she pursues her university education.
•
Janessa Castañeda is the second Elks Students of the month for November. She is the daughter of Kara and Felipe Castañeda. She has three brothers, Cristofer, who attends HRVHS, Diego, who attends Wy'east, and Dylan, attends Mid Valley Elementary.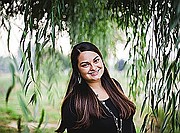 As a member of the HRVHS National Honor Society, Castañeda helped run the induction ceremony and assisted with the Evening of Excellence. She's worked for the local Christmas Project, helping to assemble baskets for needy families in Hood River County. Castañeda has also worked on Community WorkDay, then donated her salary to a local charity. She loves working with children, and served as a youth camp counselor, as well as tutored AVID students at Wy'east Middle School. She coached a little league majors softball team, and took her team all the way to winning the local Little League championship. She serves her church as the Mia Maid Class President, and currently serves as the Laurel Class President, helping to plan activities and making sure new members feel welcome. She serves all ages: she is a former member of the Youth Heart of Hospice volunteer squad, visiting people on hospice and even bringing them care packages. She's also a practiced bingo player, thanks to her volunteer hours at The Dalles Ford Museum and Anderson Homestead.
Castañeda stays busy pretty much all the time. She takes advanced, AP, and honors classes at HRVHS. She babysits for numerous families, including nannying for seven children this year. She was also a varsity softball player, and she says that her most meaningful service experience has been coaching the girls little league softball team. She loved getting to know each girls, and nurturing their softball skills.
Her first-choice college is Brigham Young University in Provo, Utah, to possibly study business management.