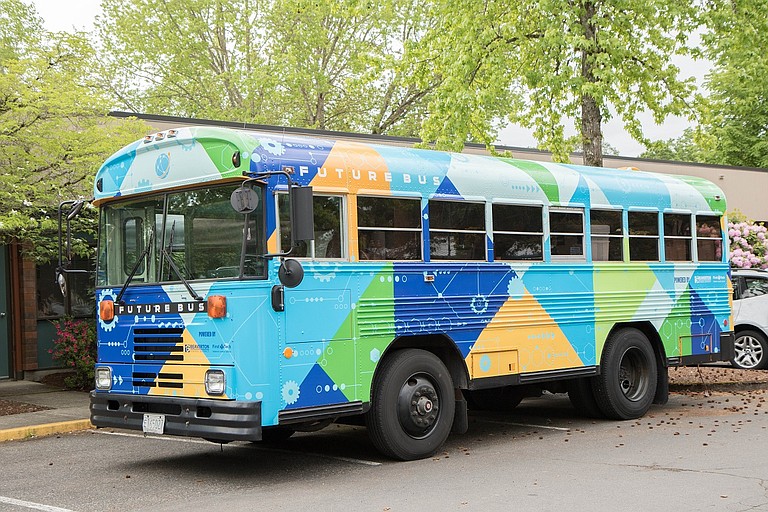 Saturday, December 16, 2017
The Beaverton School District's "FutureBus," a mobile maker-space and design studio, visited Cascade Locks Elementary School Dec. 14. In this unique partnership, a team from Beaverton shared design-thinking and robotics curriculum as well as what they've learned in two years running the FutureBus, stated a press release.
The Hood River County School District has embarked on their own journey to create a mobile makerspace, the "Gorge Fab Bus," set to roll in Fall of 2018 across the Columbia River Gorge.
"The collaboration between the students and staff across two school districts known for innovative programming and high levels of student learning is super exciting and will surely make for improved programs for our students here in Hood River County as a result," said HRCSD Superintendent Dan Goldman.
Beaverton's FutureBus was conceived by a team in the Beaverton District to deliver innovative learning experiences as part of the district's Future Ready initiative. In two years on the road, it has delivered inspiration and excitement for integrated science, technology, engineering, arts, and science (STEAM) learning to thousands of students, teachers, and parents in the Beaverton community, said a press release.
Hood River Valley High School engineering teacher Jeff Blackman visited the Future Ready Team in Beaverton in 2016 and knew they were on to something big.
"I saw what Beaverton was doing and knew it would make a big impact in more rural communities like ours," said Blackman.
Hood River's regionally-oriented Oregon Fab Bus — initially funded by a large grant from the Mills-Davis Foundation of Eugene — can directly address equitable access to integrated, hands-on STEAM learning opportunities in schools from Cascade Locks, to Whitson Elementary in White Salmon, to Dufur and all points in between.
The Beaverton Future Ready Team shared their innovations in mobile STEAM programming while they learn from the eCar, Robotics, and Engineering programs in Hood River.
For more information about Beaverton's FutureBus, visit www.futurebus.org.