Originally published December 16, 2017 at midnight, updated December 16, 2017 at midnight
As temperatures begin to drop, stress levels start to lower for seniors at Hood River Valley High School applying to college.
With Early Action deadlines behind them, seniors now look to Regular Decision deadlines and scholarship applications. Acceptances don't make an appearance until late December, so the waiting game has begun for countless eager 12th graders. Students are in a stressful season right now: just kicking off the next chapter of their lives, whether it be working, attending a trade school, community college, or four-year university.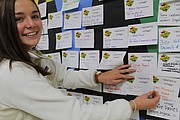 HRVHS Teacher remembers 'figuring it out on his own'
One teacher shared his experience in a time when paths to post-high school education were not quite as well guided.
Cary Mallon, a math teacher at HRVHS, has experience with secondary level education. He attended high school in Hood River before graduating at 17 years old, as he began first grade at the age of 5.
Attending Mount Hood Community College was his next step to higher education. "I didn't have career ambitions at the time. I just wanted to be on their ski team. High school ski team was a big part of my life, and all I wanted was to keep being a ski bum," said Mallon.
After attending MHCC for two years, Mallon transferred to Portland State University in the hopes of studying health. "I'm pretty sure I just walked into admissions and picked up a course catalog," he said. Without a counselor at the time, he had to figure it out on his own. "My transcript was sent, and I began school at PSU." He studied health to start, but eventually switched because there were more jobs available in math education than health education.
This process took Mallon nearly 10 years, as he began to pursue his bachelor's degree in the fall of 1977 and received his degree in 1986. "I'm sure the process is much more stressful now. I see students, for example, preparing for the SAT multiple times, and I was just never involved in that process," said Mallon.
"It's fun because it's a new chapter and a new step. There's still lots to do, though," said senior Avrie Van Tilburg.
Nov. 1 marked the Early Action deadline for many four-year universities and beginning the college admissions process is surely stressful. Early Action simply means that students can get a head start on their applications and receive a decision sooner. There aren't any extra application requirements on this track, however.
Some applications require essay questions to be completed. Others may ask for the personal essay only. In addition to the essays, several universities require other components — for example, letters of recommendation which involve asking instructors and coaches to fill out paperwork. Guidance counselors are a huge help with it all, as they send transcripts and complete counselor recommendations for students.
Applying to community college or trade school is similar, requiring the completion of an application form and registration. These schools require students to have a high school diploma or to have obtained their GED in order to enroll. Many private/public universities and community colleges or trade schools in Oregon make regular visits to Hood River Valley High School, helping answer questions students may have about the application process. Deadlines for four-year schools continue into January, but many students chose to get a head start on their applications by completing some by the beginning of November.
Van Tilburg, for example, applied to several four-year universities on their Early Action deadlines. Her colleges include University of Oregon, Oregon State University, University of Utah, Western Washington University, Montana State University, and University of Washington. She said she chose these universities because of their majors and interesting locations.
"I want a big school with strong math or science majors in a larger city. I grew up in a small town and want a new experience," said Van Tilburg. The schools she chose to apply to were solely her decisions, and she doesn't feel that her parents or another source had much impact on her choices; she's appreciative, because she had the freedom to make her own choices. Her application process isn't quite completed, as she plans to apply to University of California, Los Angeles and California Polytechnic State University when their later deadlines draw closer. To add more stress, scholarship deadlines, like the Oregon Office of Student Access and Completion (OSAC) scholarships, come soon after applications are completed. She made the mistake of misjudging the requirements for some of her universities, so she was left with limited time before deadlines to complete letters of recommendation and some short essays. "I only had two days to work on a few applications before they were due. It was very, very stressful," she said. "My ideal situation for next year is to be attending the University of Utah in Salt Lake City. The location is great for skiing, and I want to experience a big city," said Van Tilburg. She's excited but nervous for the upcoming years.
Lilly Robarts, who will be attending Lane Community College in the fall, decided easily that LCC was the place for her. "I really like the campus, and you can dual enroll with University of Oregon, which is a great opportunity," said Robarts. She is planning on studying dental hygiene. "I chose Lane mostly because of the location and the great dental hygiene program." Robarts said she's most excited to continue her education and become more independent by living on her own in a new place. Her final deadline for registration is April 5, and she's also very ready to be finished with the process. "Everything has been mostly my choice, but the help and support I have gotten from my family has made it all much easier," said Robarts.
Some students take the opportunity to apply Early Decision to a university. This is a binding application that involves signing a contract agreeing to all the terms and conditions. If you are accepted to the school you choose to apply to, you are required to attend.
Audrey Becker took this chance by applying to Tufts University, in Boston, on their Early Decision track. She chose Tufts because of the location, academics, and athletics. "Despite being far away, I loved the campus and the fabulous academics. Also, I would be competitively sailing at the varsity level in the hardest region of the country," she said. Her deadline, Nov. 1, approached fast, and she said she was "tired of talking about herself" by that time. After submitting her application, she struggled with finding the motivation to start others, as she will have to retract them if she is accepted to Tufts University. Since Early Decision is binding, you're required to withdraw any applications you've previously submitted to other schools if you're admitted.
Becker also applied to University of Oregon on Nov. 1, but on the Early Action, non-binding, track. "I am excited to see where I go. Moving across the country sounds hard and leaving my home will be even harder, but it is because of the Hood River community that I have the confidence to take this leap and believe in myself," she said. Becker is also grateful to her parents for raising her to believe in opportunities like this one. She has shifted her idea of what she might major in, but she is currently thinking about becoming a math professor. Hopefully, she'll get the chance to complete this secondary education at Tufts University. "Nothing compared to Tufts. That is why I chose ED."
By Christmas, several students will, ideally, have acceptances to choose from. Then begins the process of choosing the single school, but that's all in time. Whether a student plans on working, attending a four-year university, community college, or trade school, the process of applying and receiving financial aid to fuel their future is nonetheless stressful.
---
News intern Rosie Dillon is an HRVHS senior.