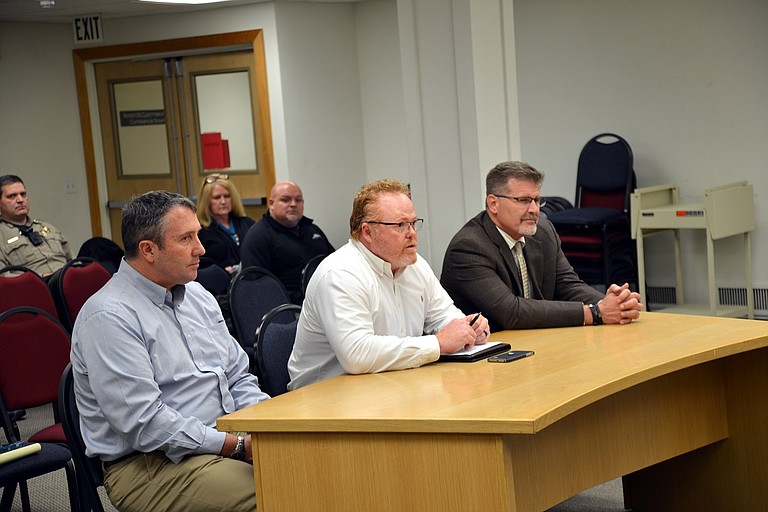 Originally published December 20, 2017 at midnight, updated December 20, 2017 at midnight
The Hood River County Board of Commissioners on Monday made clear their confidence in Northern Oregon Regional Correctional Facility, following public concerns over treatment of youths at the jail.
However, the board voiced intentions that their upcoming county-drafted letter of support also call for improvements and an independent review of the jail — concepts NORCOR leaders have discussed.
Commissioners held a dialogue Dec. 18 with three officials — Bryan Brandenburg, NORCOR administrator; Jim Patterson, Hood River County juvenile department director; and Jeff Justesen, NORCOR juvenile detention manager.
The board and trio of speakers had a back-and-forth over particular issues a Disability Rights Oregon investigation raised.
"We of course looked at the report very thoroughly and we disagree with much of the report. Where we don't, we will accept criticism and make adjustments as necessary," Patterson said.
"But I do think the report leaves people with the impression that youth are treated inhumanely while they're there, and I strongly disagree with that — from my experience as juvenile director as well as working within the facility — I have seen nothing to support that," he said.
DRO released the report Dec. 5. A week later, the NORCOR board sent out a letter on behalf of member counties — Hood River, Wasco, Sherman and Gilliam — arguing certain aspects of DRO's report were "exaggerated or inaccurate."
After NORCOR's response, DRO reasserted the validity of their analysis.
"We stand by the findings of our report," said Sarah Radcliffe, DRO managing attorney, in an email.
NORCOR's letter did acknowledge the changes the jail is making to improve conditions for youths held at the facility, some in light of DRO's research. They include more flexible use of journals and books, increased social opportunities, and removing rules such as "do not look around" and asking what time it is.
Last week, Hood River City Council members talked about plans to meet with their county counterparts to discuss concerns over juvenile treatment at NORCOR as well as the jail's contract with Immigrations and Customs Enforcement (ICE).
On Dec. 18, the county board talked at length with the three criminal justice officials about juvenile conditions and the DRO report.
Patterson addressed length of stay at the jail, contending that comparisons to other facilities were misleading because NORCOR has different programs aside from detention, while the report lumped them together.
The jail has an average of two to three juvenile inmates at the facility in The Dalles, the officials said, but the number was higher when DRO conducted the report.
Brandenburg said the judicial committee for the Oregon Legislature contacted him Monday and he will be testifying alongside Radcliffe (DRO author) on Jan. 12 about the jail situation.
Law enforcement leaders from Hood River were present at Monday's meeting, and they made brief comments. Hood River County Sheriff Matt English said he had no concerns from a public safety standpoint and supported NORCOR, and Hood River Police Chief Neal Holste encouraged the jail to make improvements.
Commissioner Les Perkins in dialogue with the NORCOR representatives said much of the report addresses state issues, and not particularly those of the jail.
Commissioner Rich McBride thanked the jail officials for their "hard work," but said, "it's also incumbent upon you to reach into those resources and extend your processes to make those situations as positive as possible for those kids."
He voiced support for changes like additional reading material and journaling, and "bringing color into their lives."
After board discussions with County Administrator Jeff Hecksel, Commissioner Karen Joplin proposed drafting a supportive letter to NORCOR that also calls for improvements and an outside review or assessment of the facility.
Commissioners mentioned changes to the existing multi-county juvenile oversight committee at the jail, but decided to wait until the situation becomes clearer to issue a stance.
"I'm much more interested in expressing support so our community members know we've vetted this situation," Joplin said.
The panel of four commissioners (Chair Ron Rivers was absent) reached agreement to direct Hecksel to draft a letter to NORCOR and circulate it among members before a commissioner signs off on it.