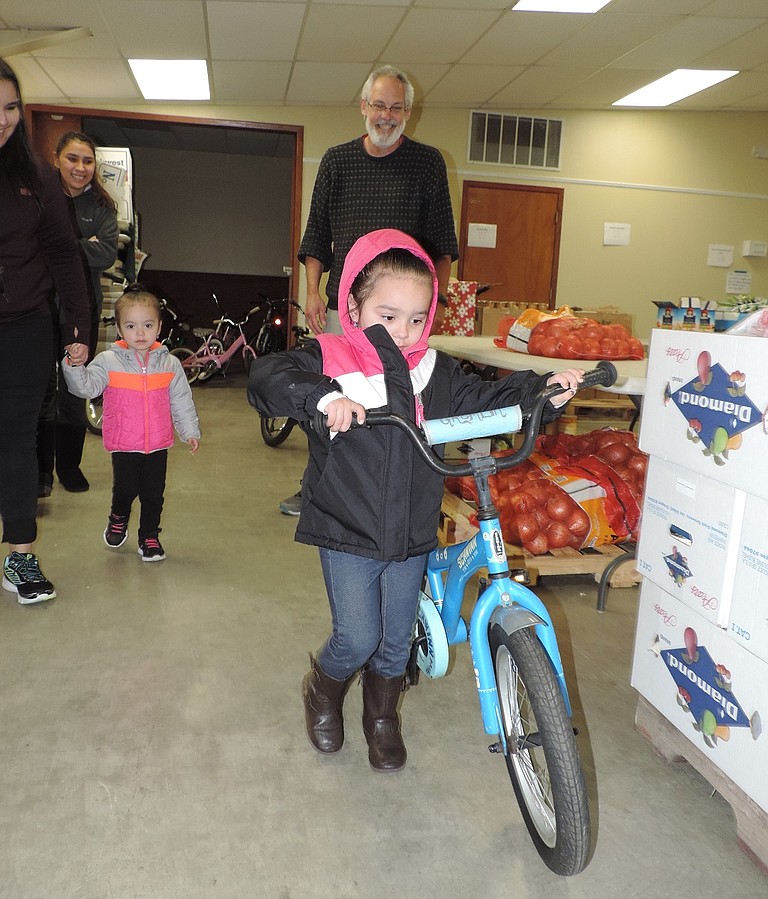 Originally published December 20, 2017 at midnight, updated December 20, 2017 at midnight
Plenty of food and gifts, with fewer recipients, was the hallmark of this year's Hood River Christmas Project effort, which concluded over the weekend.
On Friday and Saturday starting at 1 p.m., most of the 465 recipient families and individuals came to Hood River County Fairgrounds to pick up boxes of food and toys — including new and refurbished donated bicycles. A total of 76 recipients had their gifts and food delivered. The overall number is down 20 or so from 2016, and the 2015 program served well over 500.
Project volunteers spent a total of nearly $7,000 for toys at Walmart, G. Williker's, Waucoma Bookstore, and Hood River Hobbies, facilitated by a Lions Foundation grant and community donations. Food stocks were donated by local merchants and the Christmas Project purchased canned goods from Oregon Food Bank at a discount. Hood River Valley High School students split its food drive collection between the Project and FISH food banks, as it does every year. Donation barrels around the county reaped more toys than food this year, "though some years it's the opposite," Project Coordinator Bruce Holmson said.
The annual fashion gala to benefit the project was cancelled this year in part due to declining attendance, so the Christmas Project tried another approach for the first time: a donation request letter to 375 residents that proved highly successful, according to Holmson.
"The letter got a huge response, bringing in something more than the fashion show would have, a little over $15,000," Holmson said, adding that the Christmas Project has always appreciated gala organizers and merchants, and event founder Cathy Carter, as the gala in its 20-year run raised approximately $100,000.
The project board drafted the letter with help from a consultant hired via a grant from Ford Family Foundation, which Holmson said "helps non-profits get on track."
"Yes, we needed help," Holmson said. "We really needed to get our headlights focused."
The consultant worked with the board in September and October on how to write a letter and do other outreach.
The success of the letter "was amazing. It was an eyeopener," he said. For the letter, the board interviewed clients and got their stories and what it meant to them, focusing on how bikes are gathered and distributed.
"We're not there yet," in terms of improving the organization, Holmson said. "We were under the gun to get the letter out, and mailing took a while, so now in January we will start up again and do a strategic plan and look long-term.
"I know we need to do things with our website and Facebook, we're getting there," he said. "We also have a donation button with PayPal. We are trying to keep up with the times."
"We'll know everything next October when we do this again," joked board member Kym Zanmiller, who was succeeded after many years as volunteer coordinator by Heather Walker.
The project serves an estimated 1,900 individuals, by Holmson's count. "We know there are 900-plus families getting benefits in the county, so we are still at only around 50 percent. I think there are families embarrassed, and with politics right now it's hard to say, but FISH (food bank, enrollment) is up slightly. I think more education will help, and changing peoples' perception of what Christmas Project is about. That's what we're going to try to figure out in the next couple of months."