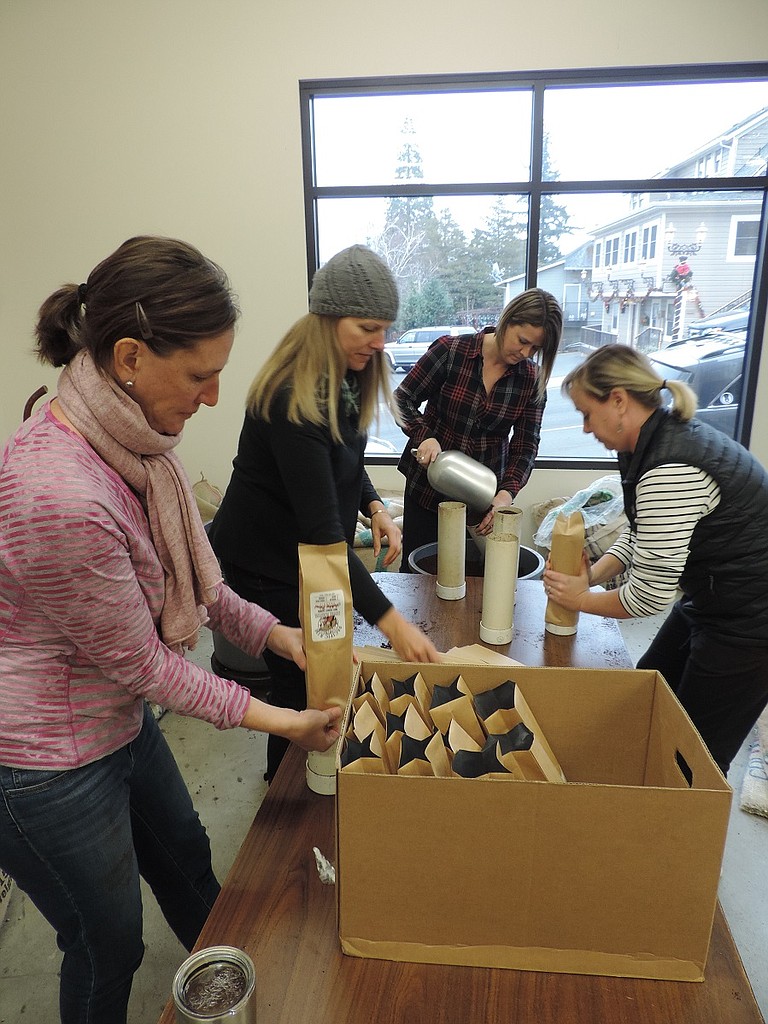 Saturday, December 23, 2017
Christmas is a time of fragrant traditions, none more so than the eighth annual May Street Elementary School coffee sale.
Brian Graves, Pacific Rim Coffee owner and May Street parent, donates the ground and whole one-pound bags of roast coffee to the Parent Teacher Organization, and students sell them at the school and throughout the community for $15 per bag.
The project raised $81,000 from 2009-10 to 2016-17. The tabulations aren't in yet for the current year, but Graves said 2,000 bags have been filled with his roast coffee.
Funds have been used for assembly and field trips, playground equipment, and technology updates.
"It's needed, obviously. It's a good thing. Last year we bought a ton of iPads. It's well-used. It's pretty cool," said Graves, who founded Pacific Rim 15 years ago. He and his wife, Jennifer, have three children who have all attended May Street.
"I think it's very generous. Brian is very easy at work with and he just wants to help the kids," project coordinator Nicole Faaborg said. "That's his total motivation. It's a big deal fundraiser, and the kids are super-motivated."
Parents work in teams each year to fill bags, seal and label them, and box them up for delivery to the school. Coffee is sold from tables before and after school, and students have filled orders they deliver themselves.
Initially the coffee was sold from the May Street office, and then in 2011, the PTO changed the fundraiser to a coffee sale contest for the students, complete with sales incentives for top sellers and top classroom and prizes for students participating in the sales effort.
"In 2013, (that) was our record year when the students sold a record 2,415 bags," Faaborg said.
"It's funny how things have evolved," Graves said. "The first year we had a different kind of grinder that would grind one bag at a time, and four years ago we, started grinding it in a larger machine." Facilitating bag filling are sleeves Graves made from PVC pipe; volunteers put the sleeve into a pound bag, pour in the coffee and pull out the sleeve for a must faster operation.
"I don't know how it could be more efficient, without different equipment," Graves said. "It goes pretty well."
Pacific Rim distributes mostly as wholesale, in six-pound bags, making the annual fundraiser an avenue to get Graves' coffee.
"A lot of people don't know where to get his coffee the rest of the year," Faaborg said.
The answer: bags are available at Hood River Hotel and, for a limited time at Rosauers.