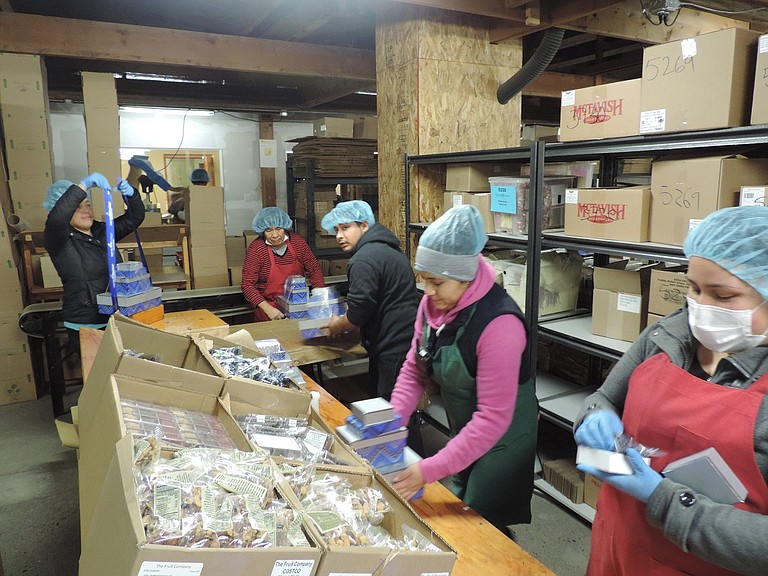 Originally published December 23, 2017 at midnight, updated December 23, 2017 at midnight
Care to send a fruit tree to a loved one?
The Fruit Company, Inc., of Pine Grove made it possible this year.
The online purveyor of fruit baskets and towers has expanded its customization abilities in recent years, with specialized chocolates and bottles of cider among the delicacies available for order.
Orders are up 15 percent over 2016, meaning things have been hopping the last eight weeks at the processing lines at the historic Pine Grove headquarters as workers fill orders in time for Christmas delivery.
The company has 300 seasonal employees this year, up from 250 for the same period in recent years. (It employs 30-40 people the rest of the year.)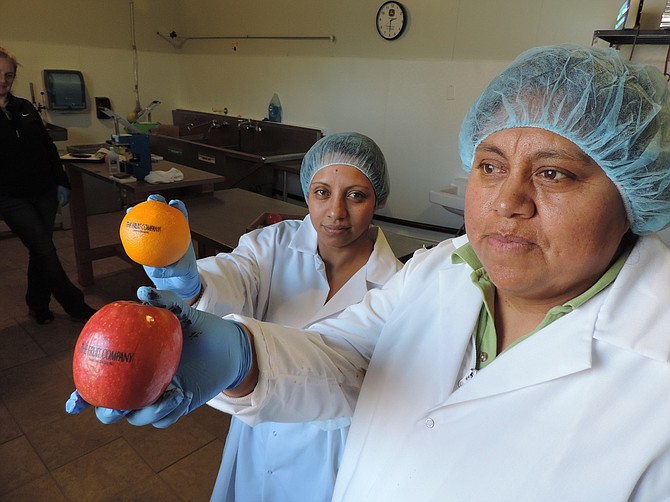 Innovations this year include a fruit tree, suitable for shipping. Through a partnership with the Portland company Phytelligence, The Fruit Company can send a miniaturized tree, with a far smaller root ball than a typical nursery tree.
Want your company name on apples or pears? The Fruit Company is now able to do that, too (photo, page A3).
"We've been really busy," said Founder and CEO Scott Webster. "Corporate's really grown, and our hats are off to Director of Corporate Sales Jodi Losee and Director Operations John Stoddard, who has done a fabulous job with his team." Corporate orders and "residential" ones — small numbers of similarly-designed products — have separate areas at the plant. Contract work for Williams Sonoma (way up this year) and Costco are done in a separate part of the building.
"We are the number one mover for Costco," Webster said. "They sell more of the Fruit Company products over 10 days during the holiday than any other product they do. We're on the lead for all their web marketing right now."
Fruit Company's stock in trade is the multi-faceted baskets and ribbon-tied towers of three or more boxes of fruit, stacked and tied tight with colorful ribbon, and shipped all over the country and internationally.
The company is also emphasizing "add-ons" such as a bottle of cider or dessert items, including a repackaged Fruit Company favorite, chocolate-covered Comice pears. ("They can't put them in my office anymore because I eat them," Webster joked.)
New this year, customers can order boxes of dried fruit, which is also available as a basket element.
"We have a unique way of drying them, using no sulfur, and they're dried thin, and put in a pack that allows the pack to breathe but pulls the ethylene out of it so it keeps it really preserved," Webster said.
Many of the elegantly-packaged towers and baskets are familiar, while others, including a metal pail filled with fruit, are part of the annual effort to "freshen the line," Webster said. "We always try to mix it up."
The contents change and are customizable, and new packaging "prints" are offered this year, including a blue one evoking a frosty blue winter's evening.
And the company offers "fruit printing" that, while labor intensive, is preferable to stickers, which have to be peeled off before eating.
"Customization is really appealing to corporate," Losee said. "We tell people, 'We can brand your fruit.'"
The prompting for the innovation found them, rather than the reverse. Losee explained, "A marketing company working for Disney wanted to promote 'Snow White and the Seven Dwarves' by putting their name on apples and putting them in baskets and delivering them to all the TV stations.
"They said, 'Can you put the logo on?' and we said, 'We'll figure this out.' We found a company that had machines that use edible ink, the same ink used in M and Ms." The company tried it out in 2016 and have used it for more orders this year.
Two years ago, the company added a Portland office to attract marketing talent. Director of Marketing Bonnie Mueller is based there with one other employee.
"We are looking to expand it, though we want to keep customer service here, so it would maybe be some overflow," Webster said. The company is exploring ways to attract more agritourism, a big company goal in 2018.