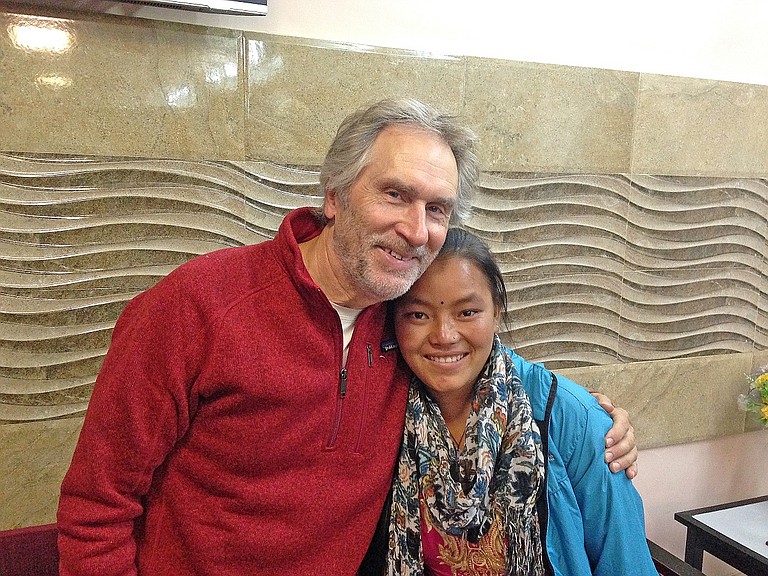 Originally published December 27, 2017 at midnight, updated December 27, 2017 at noon
Second of two parts
Sleep did not come that night. My mind was on fire contemplating and reviewing all the options, pros and cons. If I continued on, there was a high probability of sustaining permanent damage, maybe surgery, and possibly risking my life.
Summit day on Island Peak would require crossing over four large crevasses, twice, requiring the secure placement of each footstep on the rungs of long metal ladders in the dark. Retreating on foot for four days would also be too painful.
It's one thing to have a knee go out climbing a backyard peak like Mount Hood. The decision would be easy to stop and hobble back to safety. But lying alone in a plywood shell of a room, in sub-freezing temperatures, halfway around the world, with only my over active mind to keep me company ... Let's just say it was a long dark night of soul searching. The only thing left to nourish my thoughts was the stale bread of despair. In 2013, my hopes of summiting Lobuche ended due to being weak from a stomach ailment. This trip was meant to heal that wound.
I shifted my sleeping bag so I could sit upright and look out a small window at the serrated ridge lines of Ama Dablam. With the first smear of daylight, the tears came slowly followed by a torrent that brought a sweet release from the torture of decision making. The opening of the floodgates swept out all the pain of recent and ancient losses, from my mother's premature passing, the death of a friendship, rejections of grant applications, and many of life's inescapable traumas.
•
With the curtain of stars giving way to a magenta dawn, I pulled away from the window, took a deep breath, and with overwhelming clarity I knew I had to end the journey here. An immediate wave a of peace and serenity came over me. But I needed a few more miracles to happen before I could secure a path to safety.
Cell phones had rarely worked but within minutes of making my decision, a single bar of coverage showed in my phone. I had taken out medical evacuation insurance with Global Rescue and I was able to reach them and begin the process of a helicopter evacuation. Turns out that not only was my location just minutes from a designated helipad rescue spot, but the exact location had been visited by my insurance representative's supervisor, so they were acutely aware of the terrain and the need to get me out. Within hours, I was notified a helicopter was on the way.
While thrilled that things were falling into place, I had merely minutes to say good bye to Agata and Erwin. Our guide Thile seemed genuinely sad to see me go. We had developed a great rapport. He loved calling me Papa, though just 10 years his senior. He was constantly sharing fascinating facts from an app on his phone. His favorite, that made him giggle, was that women, on average, use 700 words to describe something that men would only need 200 words to do.
I gathered my gear and hobbled up a hill to the helipad. In the distance, one could hear the approach of the chopper, but the scale of the Himalayas reduced it to the size of blue speck of metal. Upon landing, the power of the rotor blades created a dust storm and blast of wind that kept us pinned to the ground. My companion was the elderly mother of the Sonam Lodge owner. From the moment of lift off, she grabbed my hand and held it tight. I was only too happy to oblige as it was a source of mutual comfort. The euphoria of being rescued quickly faded as the reality of being whisked through the Himalayan land of giant peaks and bottomless canyons made for a harrowing, white knuckled adventure.
Upon landing in Kathmandu, I was taken to a hospital for the required examination. After hours of waiting, the doctor confirmed possible ligament or meniscus damage and asked if I would be willing to take an x-ray. When informed it may take a few hours, I politely declined and was taken back to my hotel by Summit Climb staff.
•
Just to make things more interesting, the universe decided I wasn't done being tested. Upon reaching my room, I immediately became violently ill and for the next two days, the toilet was my constant companion. Meanwhile, Jagat and Sumitra were expecting to meet with me before I left for home. I wondered how I would manage to pull this off, but I agreed to meet briefly that evening in the lobby of the hotel at 5 p.m.
At the appointed hour, first Jagat and his wife stepped into the lobby, followed by Sumitra, whose face revealed a mix of nerves, joy, and uncertainty. We had met just once, two years ago, during my earthquake relief visit and the subsequent establishment of her college scholarship. For close to an hour, with Jagat serving as interpreter, I asked the gentlest of questions and learned more the obstacles she faced as a woman and her fierce determination to follow her heart. I told her how much I admired her perseverance and that her resilience was an inspiration to me. Tears streamed down her cheeks which she tried in vain to wipe away. Jagat explained that her home life was difficult, that her father was often drunk, offered no support for her aspirations, and that she often had to step up as head of the family.
Her tears were a mix of appreciation about the scholarship but also because she is rarely praised. I noticed how impeccably dressed she was for the occasion. When I glanced down at her feet, I saw the tough, weathered skin of a young woman who has carried the load for her family, as many Nepali women have done for centuries. Fighting my emotions, I reached into my pocket, pulled out a crisp $10 bill, and gently placed it in her hands. I told her she has given so much to her family and village that she deserved to do something nice for herself, like buy a dress or a comfortable pair of shoes. More tears, all around now.
My ailing stomach let me know it was time to end the visit. She kept glancing back and bowing with her hands in Namaste gratitude prayer formation. As I crawled back into bed, I was filled with a silent wonder of it all, that this glorious exchange between myself, Jagat, and Sumitra was the greatest gift I could ever hope for on this journey.
The soul of a wild heart is filled with passion, determination, and a willingness to embrace the unknown. It's also a person who is a survivor, someone who has suffered emotional pain, but nonetheless dreams big dreams.
In this season of giving, I am blessed with the gifts of inspiration that are Jagat and Sumitra. This moment of intersection with our three wild hearts will stay with me longer than the impermanence of any summit experience.
My Himalayan journey will continue, forever linked to their wild hearted dreams.