Originally published December 27, 2017 at midnight, updated December 27, 2017 at midnight
A long-delayed land swap on Mount Hood that sets out areas for commercial development and protected forest land has cleared Congress.
The bill unanimously passed the Senate on Thursday night, Dec. 21, which means it's headed to President Donald Trump's desk to be signed into law.
The bipartisan legislation written by U.S. Senators Ron Wyden (D-Ore.), and Jeff Merkley (D-Ore.) and Representatives Greg Walden, (R-Ore.) and Earl Blumenauer (D-Ore.) was aimed at protecting and enhancing Oregon's land conservation and recreation priorities on the mountain.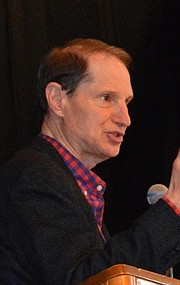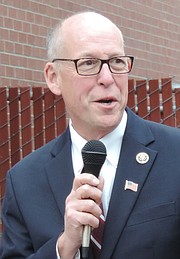 The act allows development of about 100 acres near Government Camp while protecting more than 700 acres on the north side — including a swath of acreage in Hood River County — as forest land. Mt. Hood Meadows ski resort has supported the concept of developing the south side for years.
Wyden, Merkley, Walden and Blumenauer introduced the "Mt. Hood Cooper Spur Land Exchange Clarification Act" in the Senate and House earlier this year to help resolve a nearly nine-year-long dispute over proposed development on the northeast side the mountain.
Congress passed a broad public lands bill in 2009 that included the land exchange as part of the Mt. Hood Wilderness designation. That law directed the U.S. Forest Service to complete the exchange within 16 months.
Delays since then sparked a lawsuit. A watchdog group, Hood River Valley Residents Committee, sued the Forest Service over the stalled process. Hood River County joined their side as a co-plaintiff in August 2015.
Since 2016, the Forest Service has taken early steps to complete the land exchange, such as releasing a draft Environmental Impact Statement. But policymakers argued legislation was necessary to make sure the process goes through without further delay.
The four members of Oregon's Congressional delegation involved in the bill lauded its passage.
"I'm proud to have worked with my colleagues on both sides of the aisle and in both houses of Congress to put this long overdue land exchange in the history books," Wyden said.
"Our soon-to-be-law closes this frustrating chapter of Mount Hood's past and makes it possible for the local community to finally go forward with wilderness protections and responsible development so wildlife and visitors can enjoy Mount Hood far into the future."
"At long last, the Mt. Hood community will have the development and preservation my colleagues and I have been pushing for," Merkley said.
"This bill will help to preserve unique and beautiful wilderness areas on Mount Hood while also creating new economic opportunities in the surrounding community."
Walden said, "Completing the Cooper Spur land exchange is key to protecting Crystal Springs, the water source for the City of Hood River and the upper Hood River Valley, while also encouraging economic and job growth around Mount Hood.
"These communities have waited nearly nine years for the Forest Service to complete the exchange Congress gave them 16 months to finish. This is long past due and I look forward to President Trump signing this bill into law so the job can finally get done."
Blumenauer said, "The land exchange is the culmination of years of work to protect important habitat and recreational opportunities on Mount Hood. This legislation is important for the future of the mountain, and I welcome its passage."
Les Perkins, a Hood River County commissioner, spoke in favor of the bill on his own behalf in an email to the News.
Perkins said, "With this bipartisan bill, we will finally be able to put this issue to rest. I want to thank all of the community members who pushed for the completion of this exchange and I want to thank our representatives in both the House and Senate who did not give up."
He called it a "unified effort" that's "unusual in these political times and I'm proud that it comes out of our little community right here in Oregon."
---
Heather Staten, Hood River Valley Residents Committee executive director, expressed the group's support for getting the bill passed.
"We have been working on this historic solution for more than 15 years, and we are very thankful to have the support of Oregon's Congressional delegation for these community-led efforts.

"This land exchange is going to protect the Crystal Springs Watershed, it will create new Wilderness on the north side of Mount Hood, and it will support the economies of both Hood River and Government Camp."
Staten said work remains in the land swap, as guided by the bill.
"The last piece of the puzzle is for the Forest Service and Mt. Hood Meadows to agree on the final details of the land exchange to equalize the values.
"This legislation provides additional tools and sideboards to ensure that the north side of Mount Hood is fully protected as always intended and that Mt. Hood Meadows focuses new development in Government Camp.

"We call on the Forest Service and Mt. Hood Meadows to wrap this up now."